After quite a rough week, Aaron Carter is saying goodbye to his family for a little while.
It was just a few days ago that a judge ordered the 31-year-old performer to surrender his firearms as part of a hearing over his twin sister, Angel Conrad's protective order against him.
However, on Friday, the star received more bad news as his older brother, Nick Carter, has officially been granted a separate, one-year restraining order him, too.
Related: Aaron BLASTS Justin Bieber While Showing Off New Face Tattoo
As our readers will recall, the Backstreet Boys star filed for legal action against his brother back in September and claimed he needed court-ordered protection from Aaron because he's afraid the embattled star will listen to the "voices in his head and cause harm to [his] family." The 39-year-old also alleged his little bro owned six "readily available" firearms, and feared he might use them on his then-pregnant wife, Lauren Kitt.
At the time, Aaron gave up a few of his guns a sign of good faith that he was not a danger to those around him.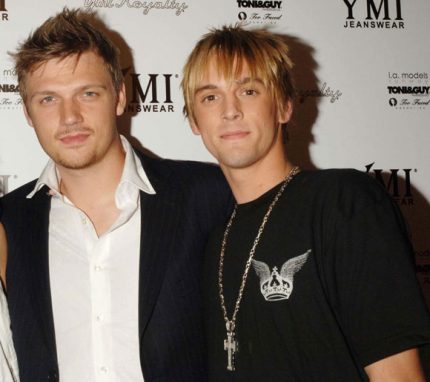 It turns out the court decided otherwise and has prohibited the I Want Candy singer from contacting either of his siblings and their respective families for 365 days.
After learning the news, Carter took to his Instagram to speak about the ongoing situation in the video post (below):
Speaking to the camera, Aaron told fans he's enjoying skiing as part of a little "vacation time" at an undisclosed location while everything cools down. He said:
"Basically, after everything that's happened with the court stuff and everything, you know, I just want to stay away from my family for a while."
(He doesn't have much of a choice, does he?)
Alongside his clips, the Aaron's Party crooner issued a lengthy statement, which reads:
"Good morning world and All my LMG, I just wanted to make a statement, and let you know that I would never want to hurt anyone my family and being a silence breaker has been a very difficult task but something I just want to see people who have done wrong apologize for. I am who I am, I'm good to people, I get back, and I really love making music. To everyone who didn't believe in me and then I thought back against when they took it advantage of me when I did start to succeed again in the last couple of years I forgive you too I just ask that you do the right thing and let me live my life and stop with the smear campaign because my children are going to see this one day and I'm trying to better myself every day with my sobriety my mind my body and my soul taking care of myself going to the doctors and people always say I have to ignore proving myself but there's a reason why I do and that's to show you Who I really am. #almg"
If we're being honest, a little rest and relaxation might be exactly what the dude needs right now amid his legal woes.
Not to mention, Aaron was also temporarily hospitalized after being "exhausted from a hectic schedule" just earlier this month. So, taking it easy sounds like the best option right now!
[Image via Aaron Carter/Instagram]
The post Aaron Carter Wants To 'Stay Away' From His Family After Nick Carter Granted 1-Year Restraining Order Against Him appeared first on Perez Hilton.