Nearly two months after announcing her pregnancy with fiancé Paul Michael, we're finally getting an update on Amanda Bynes.
The actress' lawyer David Esquibias revealed on Monday how his client is not expecting her first child, though there was no elaboration. In a short statement to E! News, he spilled:
"Amanda is not pregnant. And she is sheltering in a safe location."
Additionally, Esquibias told Us Weekly:
"She is not living in a sober living facility."
Considering how contagious the novel coronavirus is, it's possible that's due to safety reasons rather than a remark on her sobriety. Still, it leaves us with little info concerning the Easy A star's health!
Related: Amanda Bynes Spotted At The OBGYN Ahead Of Pregnancy Announcement
It was just on March 17 that Bynes announced her pregnancy to her Instagram followers by uploading an ultrasound pic with her name attached, adding the caption "Baby on board!" Even Paul shared the happy news by posting the same black and white photo, along with the message "Baby in the making."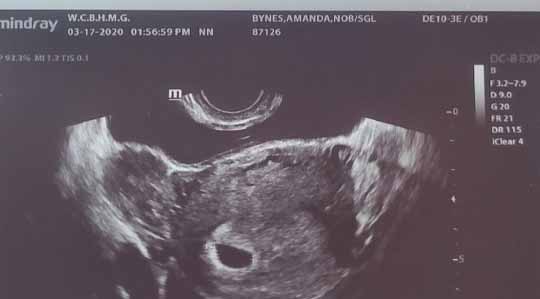 Mere hours later, the engaged couple deleted the sonogram image (above) from their accounts, leaving us to wonder what was truly going on.
One source spoke to E! News at the time, confirming it was "true" the 34-year-old was pregnant, adding how her parents were aware. Additionally, they noted she was still "very, very early" on in her gestation when she made the announcement.
What followed was especially interesting as Esquibias released a statement on behalf of his client the very next day, except it shared nothing about how his client was expecting a baby with her fiancé!
Instead, he stated:
"Any reports that Amanda is suffering from drug or alcohol addiction issues are completely false. She is seeking treatment for ongoing mental health issues. We ask for privacy during this time, and for any speculation about her personal life from the public and the media to cease so Amanda can focus on getting better."
An insider speaking with knowledge of the former child star's fruitful news told Us Weekly later how her mother was less than thrilled about her daughter carrying a child:
"Amanda's mom is furious she is pregnant as treating her mental health issues has become complicated. Amanda doesn't want to take some of the meds because of dangers to [her] baby."
Of course, there was also the fact that the FIDM graduate was engaged to be married to Paul Michael, which would really raise some issues under Bynes' conservatorship!
Now, it seems like there are more questions over Amanda's health, and it's unclear if we'll ever get those answers. Our only hope is that the aspiring designer is actually doing okay!
[Image via Instagram]
The post Amanda Bynes' Lawyer Announces She's 'Not Pregnant' Months After Sonogram Reveal appeared first on Perez Hilton.