Amber Rose surprised us over the weekend by debuting her brand new ink, a sweet tribute to her children… across her forehead.
The tattoos read "Bash" — her nickname for Sebastian Taylor Thomaz, her nearly 7-year-old son with Wiz Khalifa and "Slash" — for her 3-month-old baby Slash Electric with BF Alexander Edwards.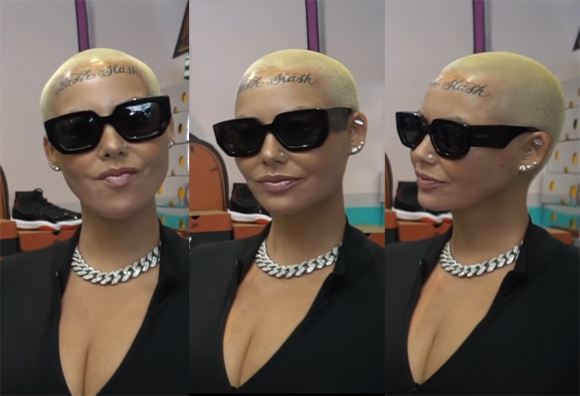 Fans were left perplexed as images of the model momma spread.
Related: Presley Gerber Also Got A Face Tattoo
Now she's responding to all the criticism, first on Instagram where she finally showed off the new ink in some high quality pics with the hilarious captions:
"When ur Mom lets you draw on ur Barbie."
and
"Beauty is not what's on the outside…. it's what's on the inside that counts. Inside of my P***y and inside of my heart."
Ha! OMG!
In a later post she also responded to commenters, saying:
"For the people that are telling me I'm too pretty for a face tat are the same people that would tell me that 'too pretty' even if they thought I was ugly and lie to me lol. Or they would just tell me I'm ugly so either way the moral of the story is do whatever the f**k you want in life."
OK, Muva, will do! LOLz!
However, in an interview on the One on One with Keyshia Cole podcast, Amber got more serious about indulging in the ink she wanted, everyone's opinions be damned.
The event that pushed her over the edge? The death of Kobe Bryant. She explained:
"I gotta be honest. And I don't want this to sounds corny or whatever. After Kobe died… it made me reflect on my life. And I don't want people to be like, 'Oh Kobe died and you went and got a tattoo.' But it was kind of like that."
But Amber was also feeling a connection to her own mortality for a more personal reason. She recalled:
"My dad had cancer when he was like 40. And he went through remission and he's good, but he almost died and I'm 36 and I was like… I've been wanting this tattoo for a long time. I was like, 'Life is so short,' just do it. Just live your best life. It's just like — with no regrets. That's just how I felt and I'm happy I did it."
Well, it definitely sounds like Amber isn't letting any critics rent space in her head.
What do YOU think of Muva's facial ink??
[Image via WENN/Avalon/Cool Kicks/YouTube.]
The post Amber Rose Reveals Kobe Bryant Tragedy Inspired Her Face Tattoos appeared first on Perez Hilton.