If Bachelor Nation needed something to keep their fans' attention in between weekly episodes of Bachelor in Paradise, well, one former contestant just delivered big time!
Infamous Bachelorette and BiP villain Chad Johnson — not the NFL star — has been going AT IT on Twitter with pretty much all of the reality TV show's beloved recent stars for a few days now. Really, to call it a meltdown doesn't do him justice; this is a full-on assault directed at literally dozens of the show's current and former recent stars!
Related: What'd Kendra Wilkinson See In This Loser?!
Johnson's not one to hold his tongue on the social media platform anyways, but as best we can tell, this particular breakdown started late last week. Shocking at first, the extended rage-fest became increasingly more pathetic — and more vile — over time, as the villainous jock tried desperately to keep eye balls facing his way.
Let's go through Chad's entire social media fiasco (below)…
On The Warpath!
It all started late last week with a series of tweets about Nick Viall. Those morphed out of the villain's take on the Blake–Caelynn situation, which has been a point of contention throughout Bachelor circles for a couple weeks now.
But the luxury real estate agent's opinion on the pair quickly devolved into a straight-up attack on Viall, complete with adult language and threats of violence, as you can see (below):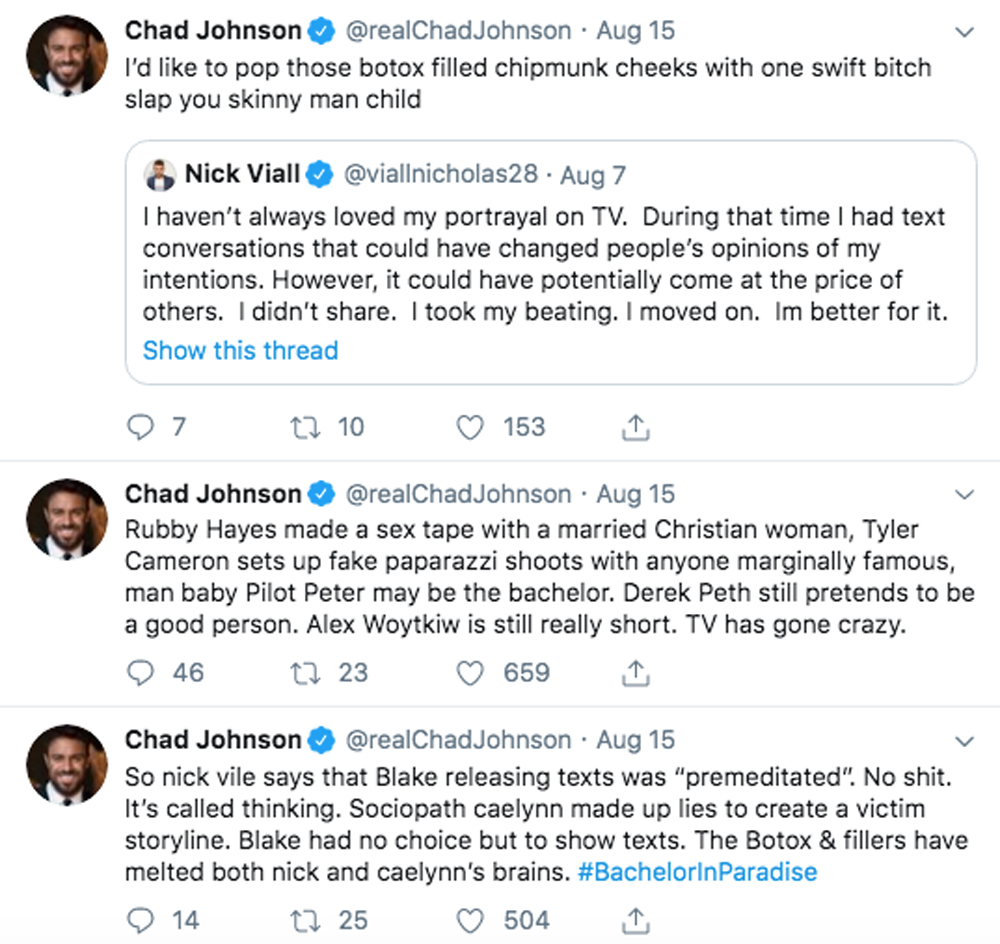 Ummm… wow?
Super random! And he went from 0 to 100 REAL quick! But… OK?
Clearly, Chad (of course his name is Chad! LOLz!) must have loved the attention these "edgy" opinions brought him, because from there, he quickly decided to go all in on, well, everybody.
Chad Hates Charity?!
Here's his next set of mean tweets, sent a day later, and centered on attacking current Gigi Hadid love interest and most-recent Bachelorette runner-up, Tyler Cameron, over charity work the model has done in the past (below):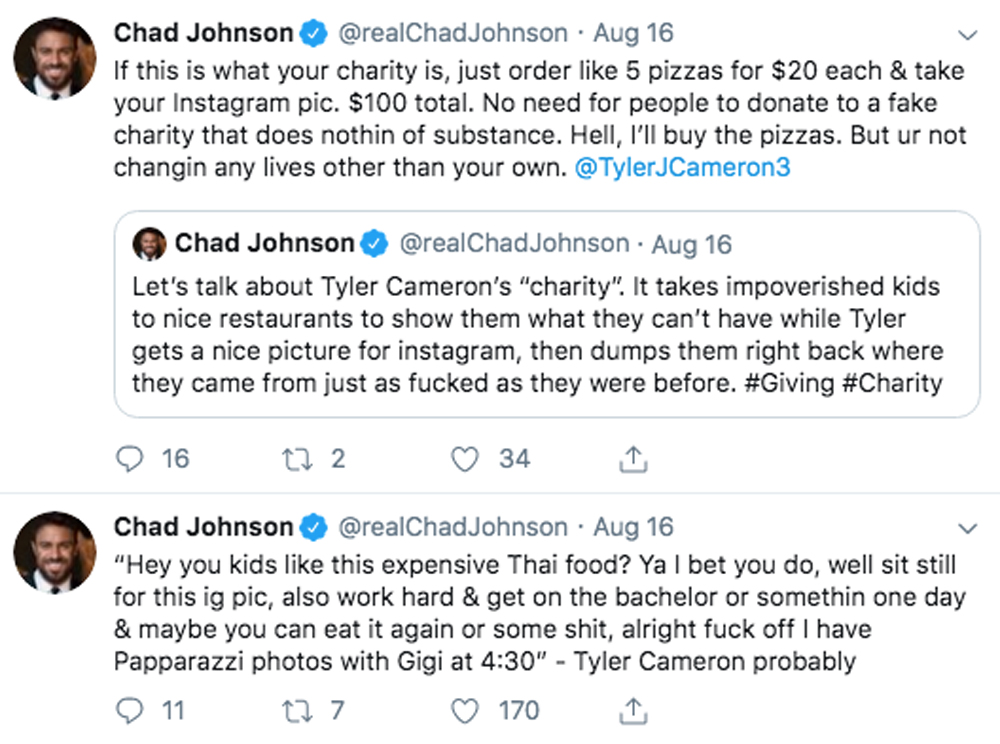 So rude!
Talk about a low blow!!!
Related: Chad Sues Movie Producer Over Alleged Sexual Misconduct!
BTW, for those not in the know, Tyler's charity — ABC Food Tours — takes kids from underserved communities to restaurants in their area in order to introduce them to new foods, customs around dining out, etc., and hopes to give them an appreciation of different cultures and expanding world views.
It's actually a really cool idea for a charity!!!
Going After Dean & Sarah
The height of the 32-year-old controversial Twitter takes arguably took place Saturday, when he tweeted about his past ugly name-calling of contestant Sarah Herron (bottom tweet, in the picture below):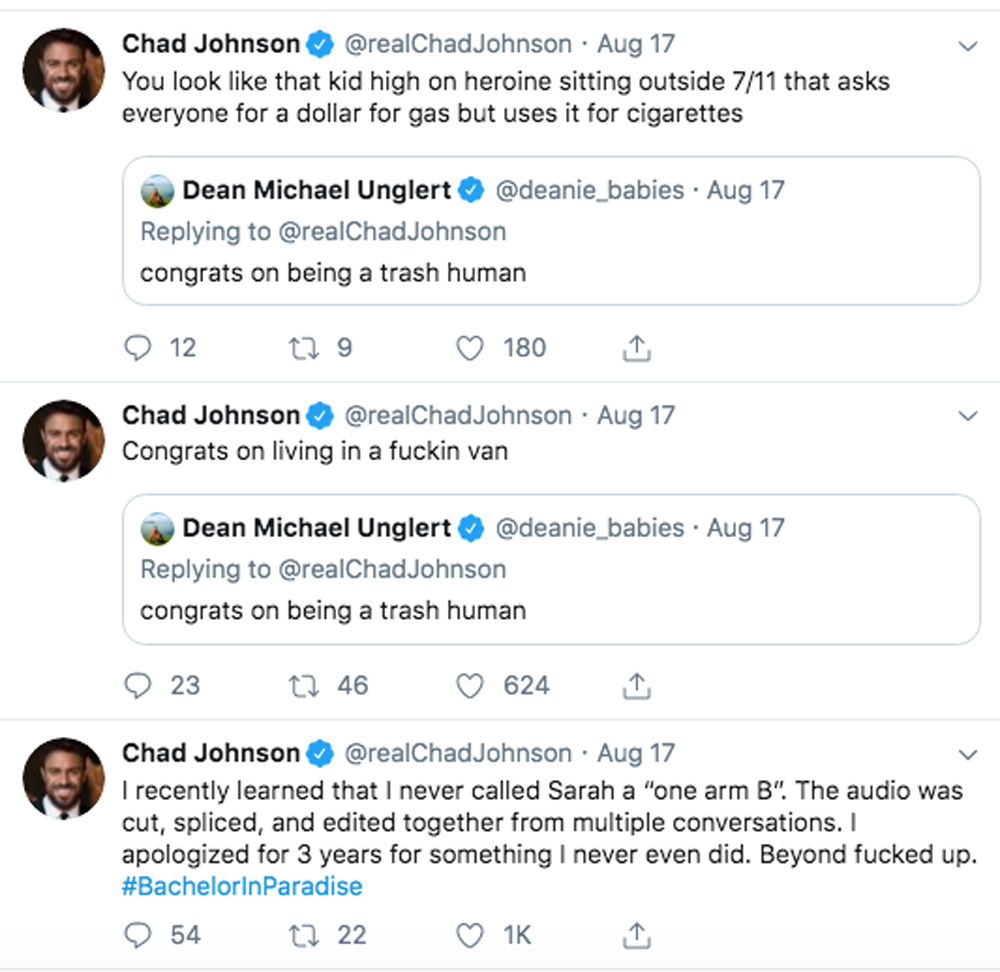 As you can tell, that drew the attention of current BiP suitor Dean Unglert, who called Chad a "trash human," only for the real estate agent to fire back about Dean's mustache, and the fact the guy lives in a van. (Neither one is an insult, as far as we can tell, they're both just, um, true facts?).
BTW, Dean was very vocal about the recent Blake-Caelynn controversy — and he's since been linked romantically to Caelynn several times now outside of the show — so clearly Johnson saw a foe in the van-lovin' mustachioed man.
Related: Hannah Brown Has Been 'Struggling' Since The End Of 'The Bachelorette'
The muscular thumb didn't stop at Dean, though, opting to also share screenshots of messages from Herron, as well. Here he is trying to show the world how the two of them had previously made peace (below):
Okay @sarahherron. Maybe don't like the "chads trash and he should get help" tweets then. pic.twitter.com/QovdwG8E76

— Chad Johnson (@realChadJohnson) August 18, 2019
You literally Facebook messaged me and said it wasn't a big deal. We laughed about it & have the texts. I apologized 100 times. You even were interested in me afterwards. If it hadn't been for my comment that never even happened, your charity would not be known. And still, this? https://t.co/PXrX2VCn3O

— Chad Johnson (@realChadJohnson) August 18, 2019
It's no wonder he loves Blake… because they both love to share screenshots of private messages!!!
Trash, meet trash!!!
The Man Can't Stop…
Early Sunday morning, the controversial reality star returned to a familiar topic of conversation: Nick Viall.
But he also included former Bachelor star and one-time wannabe politician Ben Higgins in the attacks, too, calling the second man out for apparently making no money on his podcast (below):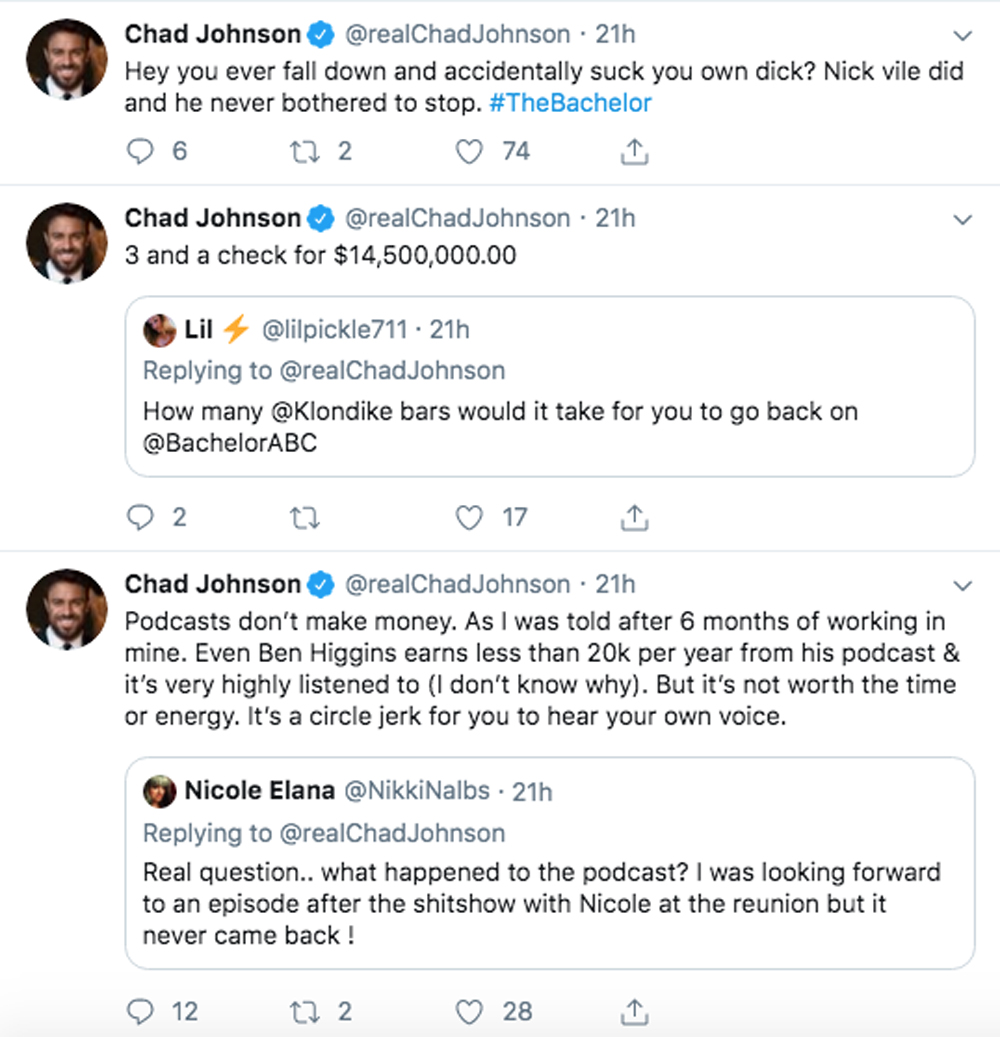 Yeah… For the record, Higgins was quick to dismiss Johnson's money claim, but it didn't much matter — villains gonna villain!
Also, something tells us the Bachelor producers are NEVER going to come up with $14.5 million for him to return to the show. NOT A BAD THING!
Related: Gigi And Tyler Keep Moving Forward…
From there, he started responding more to questions from his followers, including using one fan Q to threaten four Bachelor Nation men in short order (below):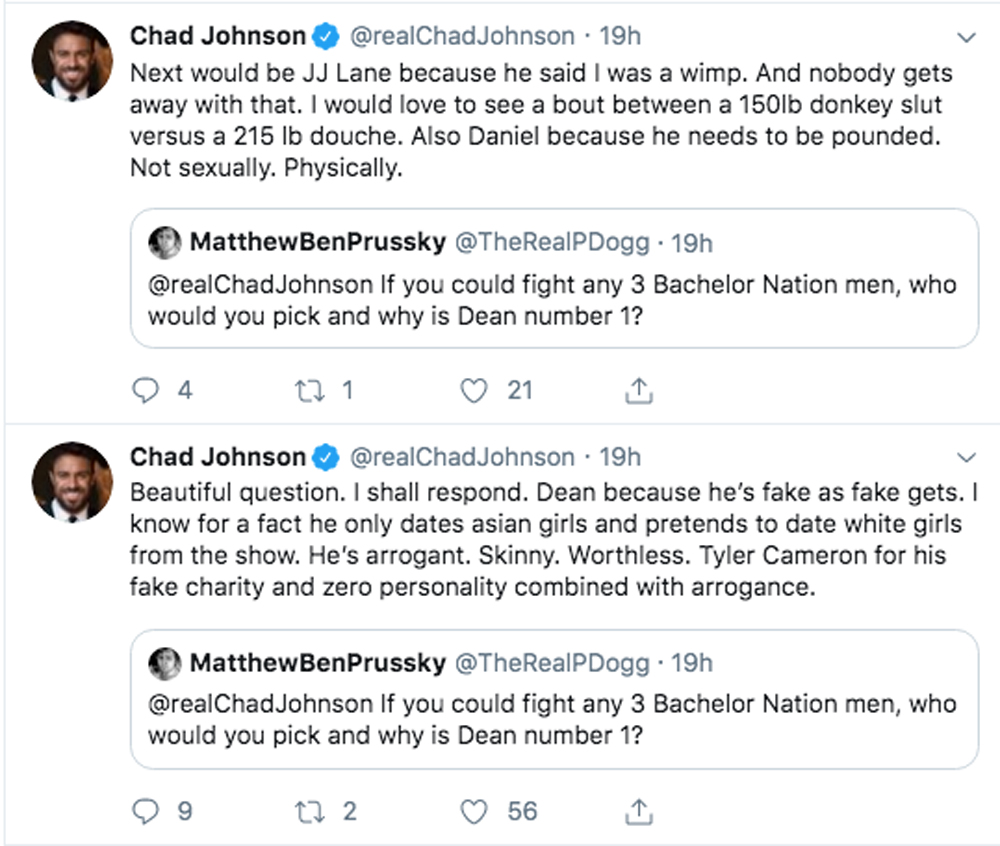 We get it, dude, you're muscular and violent and you think you're an alpha male, but also calling out Daniel Maguire and JJ Lane??
True Facts Or Fake News?
Then, still at it days later, the now completely-disgraced (former) reality TV star opted to start sharing things about random show contestants. Some tidbits, he claimed, were true, and some were "falsified to add dramatic effect."
Hmmm…
Now, we will admit the one about Wells Adams' name being backwards is legitimately funny. In fact, it may be the only funny thing this tweeter has said… like, ever? in his whole life??
Read 'em for yourself (below), knowing most of them are more phony than funny: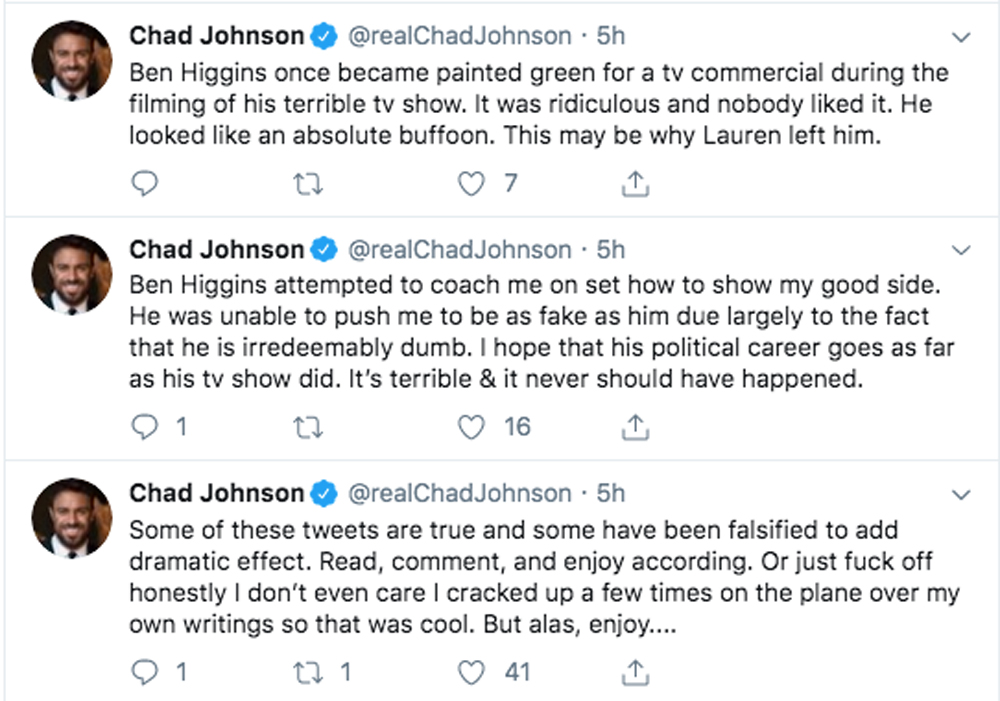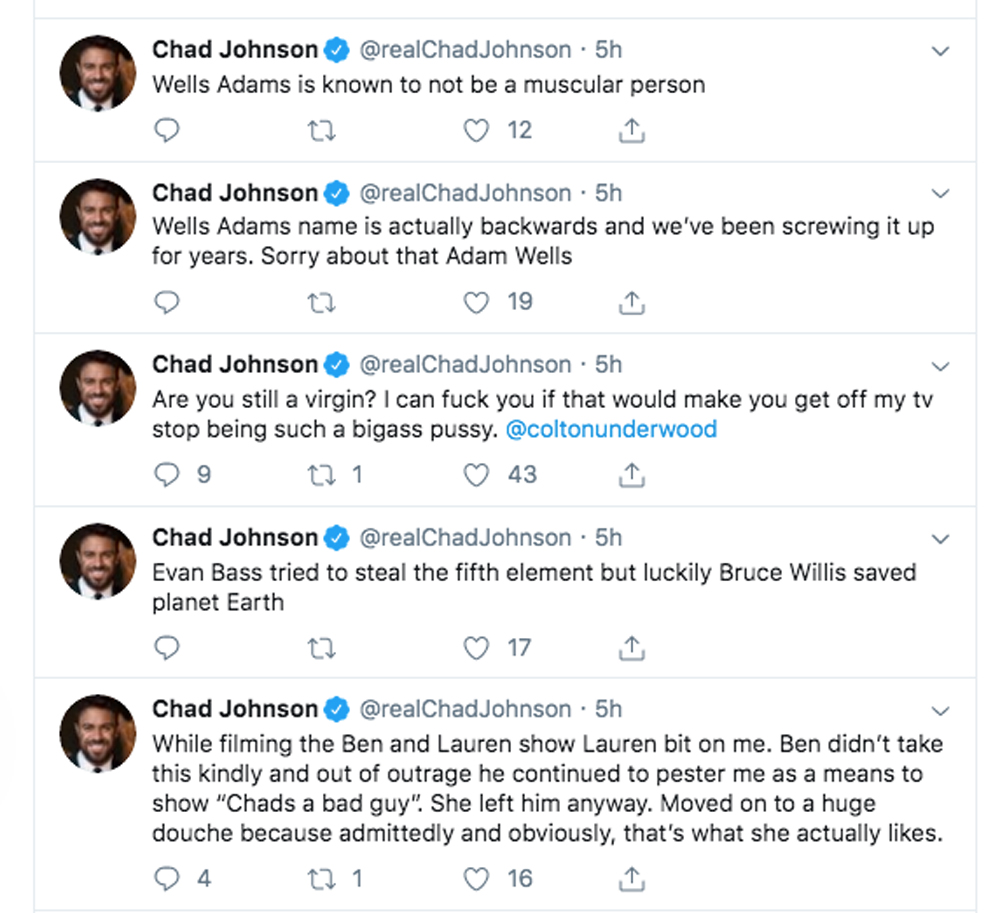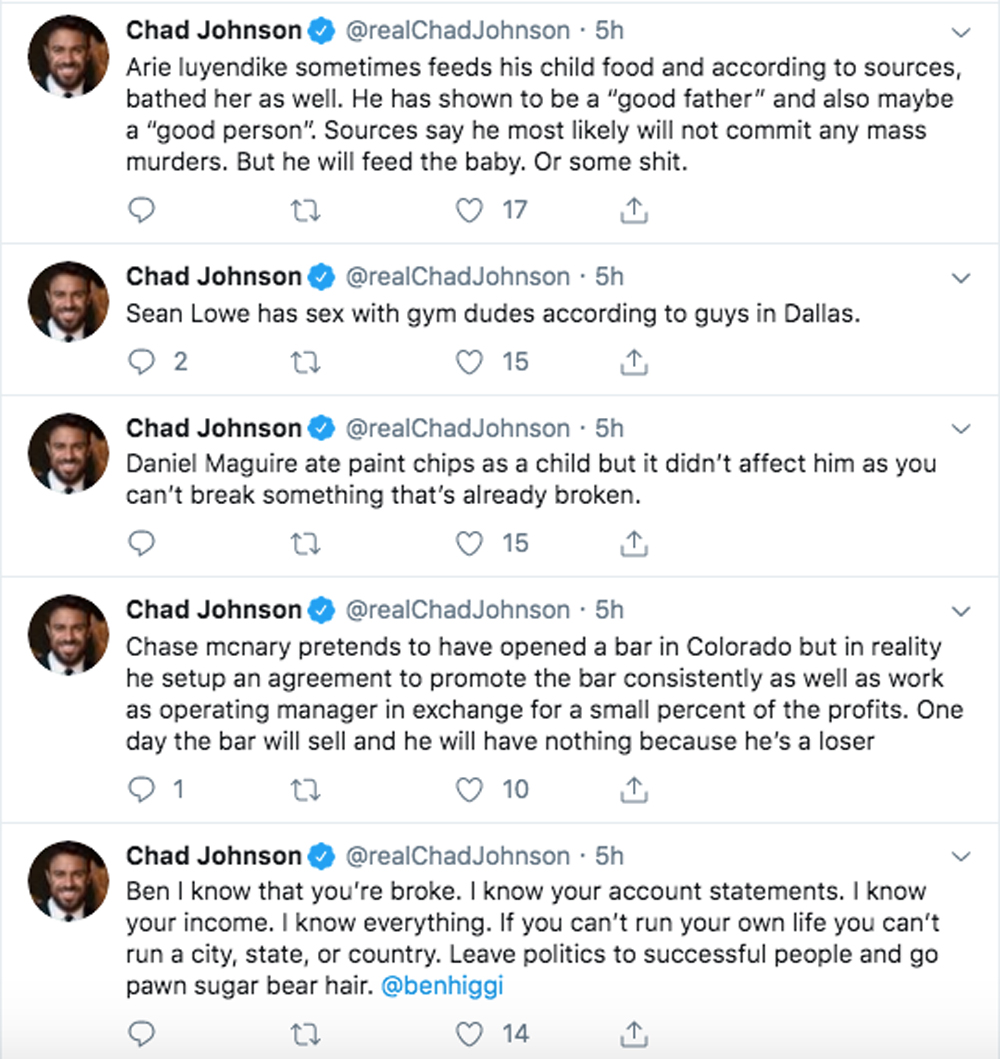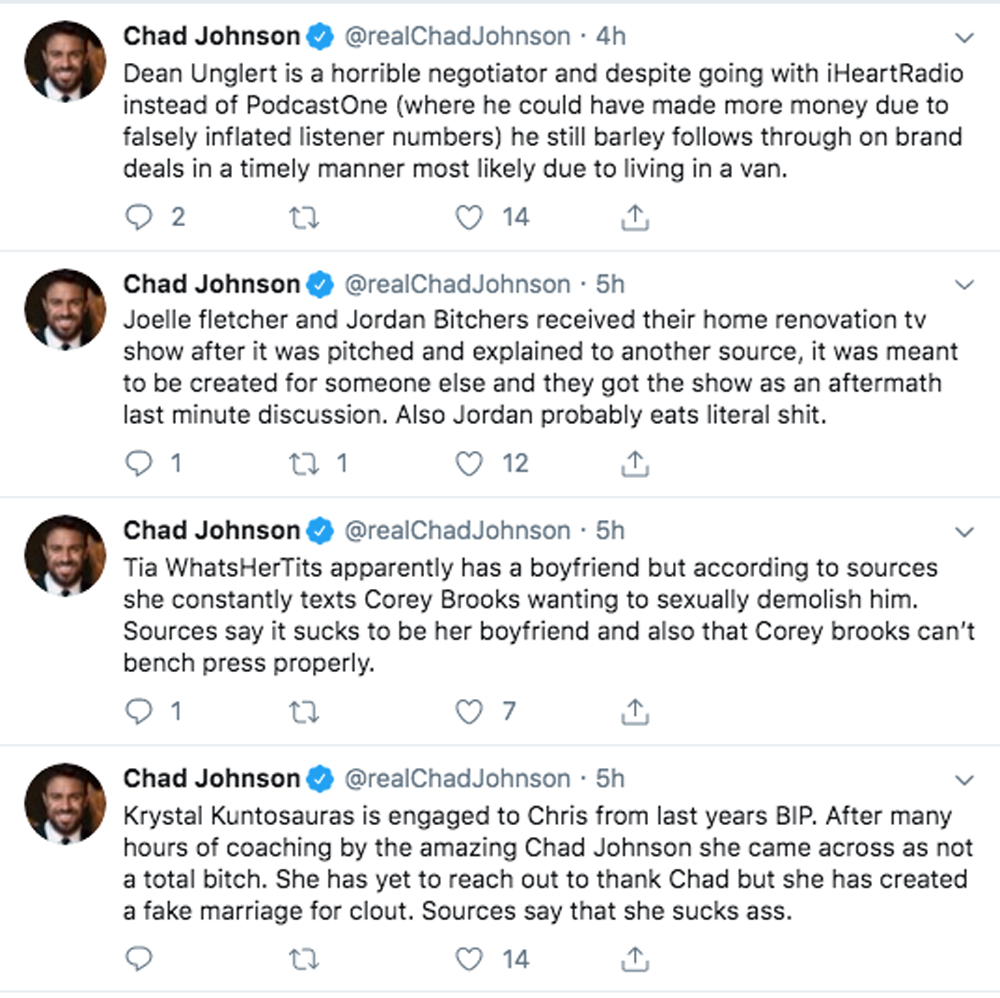 Think Colton Underwood, Evan Bass, Lauren Bushnell, Arie Luyendyk Jr., Sean Lowe, Chase McNary, JoJo Fletcher, Jordan Rodgers, Tia Booth, Krystal Nielson, and Chris Randone will have anything to say about these garbage tweets??
Quite a bit to take in, isn't it?! Shocking at first, too, but it feels like he's trying really hard to bait attention. In other words, this whole thing is definitely newsworthy to start, but is it going to change the Bachelor world at all? Like, even just a little bit?
Nahhh.
What do U think, Perezcious readers?! Did Chad just flip Bachelor Nation on its head with all this dirt?? Or are we all gonna promptly forget about this clown in a few hours later Monday night when we tune into another new episode of Bachelor in Paradise???
Sound OFF about all of it and more in the comments (below)…
[Image via Instagram]
The post 'Bachelorette' Villain Chad Johnson Is Having A Multi-Day Twitter Meltdown Bashing Former Contestants! appeared first on Perez Hilton.