At this stage in his life, Brad Pitt is not afraid to own up to his personal mistakes.
In a new feature for Interview Magazine, the 55-year-old actor confirmed a little known fact about him, revealing he isn't always as even-tempered as he may seem.
This goes beyond "butt-kicking Flight Club" Brad or any of the star's memorable roles — the real man behind the screen says he struggles with his own set of demons from time to time.
Related: Brad Pitt & Alia Shawkat Are 'Absolutely Just Friends,' Insider Claims
Pitt sat down with his former Legends of the Fall co-star Anthony Hopkins for the interview and it's the 81-year-old Academy Award winner who breached the topic when he called Brad "as easygoing as ever." In response, he admitted:
"Pretty much, it's my gliding speed. But I lose it at times. I get sucked into something, and I can lose it. I take my hands off the wheel. … I'm human."
We've all been there before, dude!
While he didn't provide any specific examples in that tidbit, one could assume those anger issues might have reared their ugly head during an alleged altercation the Once Upon a Time… in Hollywood star had with his now-18-year-old, Maddox, while flying on a plane with their family back in September 2016.
The father and son have had a rocky relationship ever since Pitt and Angelina Jolie ended their marriage that same year and would reportedly get into heated, screaming matches often. In fact, during the previously mentioned argument, things escalated so quickly that Brad and his eldest child allegedly went nose to nose (but not fully physical) during their sky-high fight, too.
As our readers know, the thespian and his ex-wife are co-parents to the college student as well as Pax, 16, Zahara, 14, Shiloh, 13, Vivienne, 11, and Knox, 11. However, the Ad Astra star is currently not on the best terms with his estranged brood.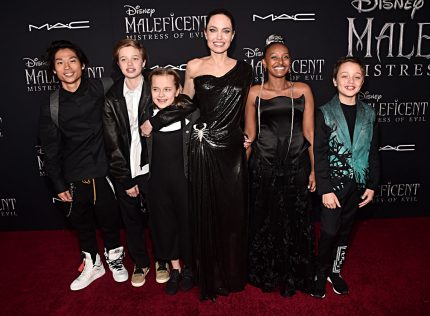 In an appropriate turn in his conversation with Hopkins, Pitt then opened up about turning all mistakes — past, present, and future —  into lessons.
"I'm realizing, as a real act of forgiveness for myself for all the choices that I've made that I'm not proud of, that I value those missteps, because they led to some wisdom, which led to something else. You can't have one without the other. I see it as something I'm just now getting my arms around at this time in my life. But I certainly don't feel like I can take credit for any of it."
Brad went on to explain that real growth and learning happens in what we do after we fall short:
"We've always placed great importance on the mistake. But the next move, what you do after the mistake, is what really defines a person. We're all going to make mistakes. But what is that next step? We don't, as a culture, seem to stick around to see what that person's next step is. And that's the part I find so much more invigorating and interesting."
Wow. This is certainly a healthy perspective to have and we're glad to hear he's taking a deeper look at the full process of healing, atonement, and also his drinking.
Celebrating being sober, he shared with Hopkins:
"I just saw it as a disservice to myself, as an escape."
More in touch with his emotions, Brad continued:
"I am quite famously a 'not-crier.' Is that a term? I hadn't cried in, like, 20 years, and now I find myself, at this latter stage, much more moved — moved by my kids, moved by friends, moved by the news. Just moved… I think it's a good sign. I don't know where it's going, but I think it's a good sign."
It's shocking yet refreshing to hear these honest admissions from the A-lister and it wasn't too long ago that he bared his in a New York Times interview for his film The Project, where he spoke at length about why it's important for him to be so candid about personal shortcomings these days.
"Probably 98 percent of us, that makes us us, is all the same, it's universal. And I think we all carry deep pains to different degrees and regrets, and we're very good, certainly in my culture, at burying those."
Speaking highly of a more honest approach to life, he added:
"I think it leads to a more well-rounded, certainly more comfortable existence within yourself, and greater peace of mind. And I find that you can enjoy the good stuff more."
Wise words all around, Brad!
What do YOU guys think about his candor, Perezcious readers? Got anything to say? Let us know in the comments section!
[Image via WENN/Instar]
The post Brad Pitt Talks Past Mistakes & Hidden Anger Issues, Admits He Can Completely 'Lose It' At Times appeared first on Perez Hilton.