It feels like just yesterday Jersey Shore was premiering on MTV... that is, if yesterday was 10 YEARS AGO!
The hit reality show, originally starring Mike "The Situation" Sorrentino, Ronnie Ortiz Magro, DJ Pauly "D" DelVecchio, Vinny Guadagnino, Nicole "Snooki" Polizzi, Jenni "JWoww" Farley, Sammi "Sweetheart" Giancola, aired for the very first time on December 3, 2009 — and it wasn't long before it became a defining moment in pop culture history!
Related: Jen Harley Accuses Ronnie Of Hooking Up With Her Friend…
Running for six seasons until 2012, the series also featured Angelina Pivarnick and Deena Cortese, and was also filmed in South Beach, Florida, and Florence, Italy. Yes, you're not limited to GLT-ing (gym, tanning, laundry) just down the Jersey coast!
The show's success inspired numerous knockoffs, like the UK's smash hit The Only Way Is Essex and the ill-fated Deep South version, Buckwild. But the original is still the greatest.
So now a decade later, where is the cast now?? Of course, MTV's recent revival answered a lot, but here's the quick rundown…
Mike "The Situation" Sorrentino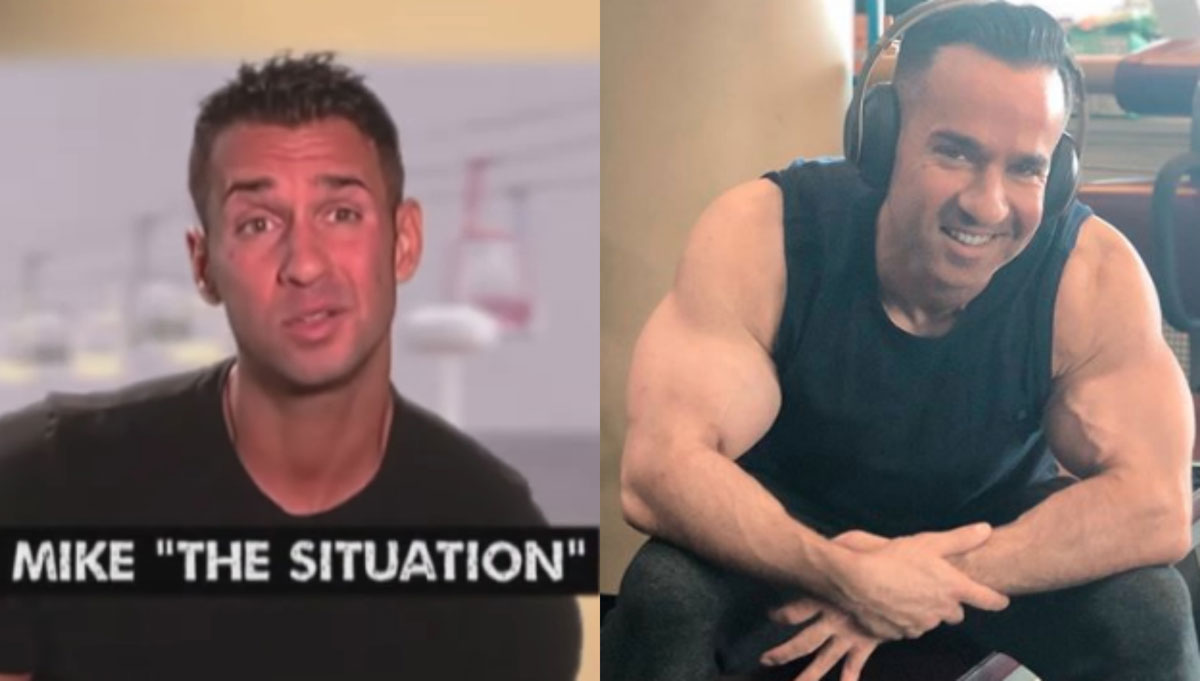 If we're going to start with a then-and-now, it's gotta be with The Situation!
Mike joined the Jersey Shore as a bright-eyed 27-year-old with a 10-pack for abs from Manalapan, New Jersey. It wasn't long before he and his nickname were a hit — just maybe not so much with his fellow cast members!
The Situation usually found himself in something of a situation with the rest of the group, but he remained with them until the end of the series in 2012 when he revealed his addiction to prescription drugs. He entered rehab that March but left only a few weeks later. After relapsing again in 2015, he entered rehab a second time.
The now 37-year-old remains sober, though he did face hard times in 2014 when he was indicted for tax fraud. After marrying his high school sweetheart, Lauren Pesce, he served an eight-month sentence in January 2019. Sorrentino was released from prison in September 2019. Since his return, he and his wife have been trying to start a family!
Jenni "JWoww" Farley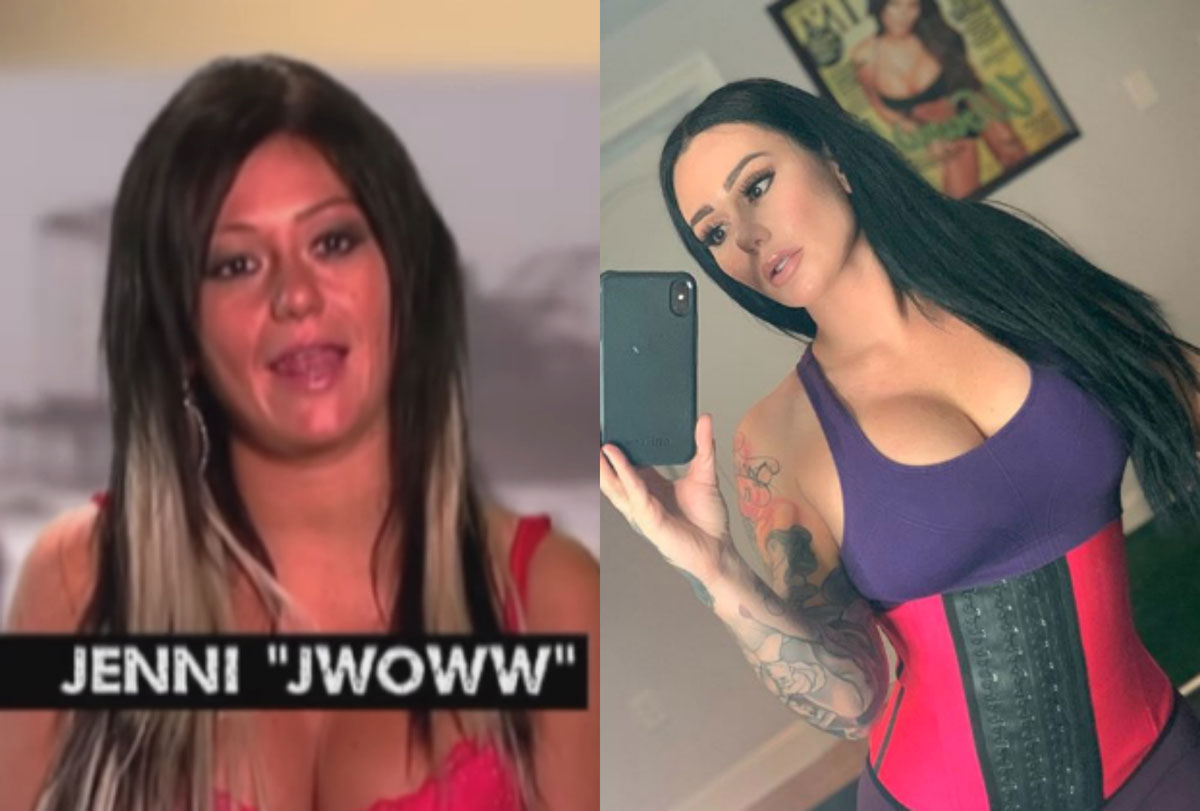 Jenni, another constant on the show, gave viewers plenty of drama when the then-23-year-old arrived at the Jersey Shore house in a relationship. It wasn't long before her old guy was out of the picture, and she was the most eligible bachelorette in the tri-state area!
But by season three, she had found love again, this time in Roger Mathews. Meeting at Karma nightclub, it was clear the two had a connection. In 2015, they married after welcoming daughter Meilani in 2014, before she later gave birth to their son Greyson in 2016. Sadly, the parents decided to go their separate ways in September 2018, just a few short months after JWoww revealed her Greyson's autism diagnosis earlier that year.
By this past April, 33-year-old Jenni started dating Zack Clayton Carpinello, a 24-year-old wrestler she knew from her past. They unfortunately split after some Jersey Shore: Family Vacation drama involving a costar spilled out off-camera — and some antics captured by the cameras told her a different story than her man!
Sammi "Sweetheart" Giancola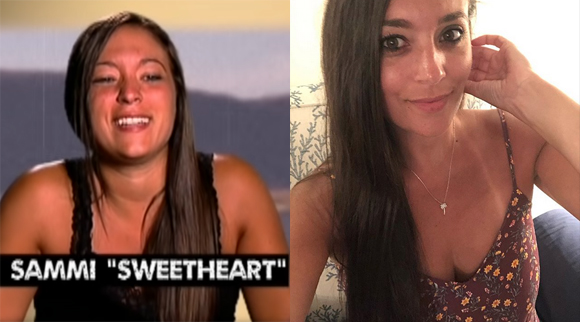 Oh, Sammi! She truly was the jewel of Ron's eye!
At just 22, Giancola moved into the house, where she captured everyone's attention with her tumultuous on-again, off-again relationship with Ortiz-Magro! It wasn't just the fans who felt involved in their coupling, but the rest of their castmates, too, who weren't sure when it was time to meddle or not.
Still, she and Ronnie made it last, later moving in together after the series ended. Like we all saw coming, they did end up breaking up again in 2017, and the self-proclaimed "sweetest bitch you'll ever meet" started dating Christian Biscardi in April 2017.
Sammi was the only cast member to NOT sign back up for MTV's reboot, and an Us Weekly source at the time was perfectly blunt explaining why at first:
"She is super happy with him and she didn't want to do the show mainly because of Ronnie. She didn't want the drama, the reliving of the relationship… It would of [sic] been a big problem for her new relationship if there were any drama with Ronnie, and her new guy is more important to her than the show."
The now-32-year-old did end up addressing her choice to be MIA in an Instagram post, writing:
"I have chosen not to join the show this season because I am at a completely different place in my life right now focusing on my business and relationship. I am not the same person as I was when I was 22. At 31, I am currently extremely happy in every aspect of my life and want to avoid potentially toxic situations. However, it was a difficult decision as I love my roomies. I've decided to focus on me, my future and what truly makes me happy. I will forever be grateful to Jersey Shore and everything it has brought to me! I've just decided to live my life for me these days. Also I am forever grateful & thankful for all of you!! Special shoutout to my fans, but I'm not going anywhere11 Follow me and stay tuned you never know what I could be up to next!"
As it turns out, another insider revealed she had no regrets or FOMO about missing Jersey Shore: Family Vacation:
"She's so happy that she didn't do the show now. She's happy with her life and has moved on with her boyfriend. He's the one. They have a great life together and have their own business. She doesn't regret not going back on for a second."
Which brings us to…
Ronnie Ortiz-Magro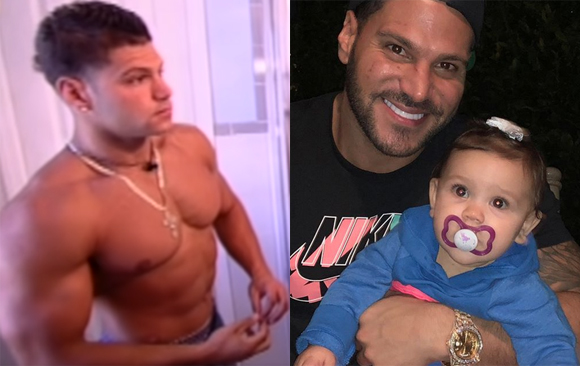 Where do we even begin?? While he sometimes goes by "Ron," most fans know and love Ortiz-Magro as "Rawwwwn," as Sammi used to call him when they were arguing!
As we discussed, the two had a very rocky relationship throughout the original series, and as it turned out it didn't get any easier for him when he joined back up for the reboot!
Guess going from his 20s to his 30s didn't change him all that much, at least in the romance department…
His life certainly turned when in 2017, his girlfriend Jen Harley became pregnant with their first child. She gave birth to a baby girl, Ariana Sky, in April 2018, but having a child didn't solve any of their problems. Between allegations of cheating and sadly, domestic violence, Ronnie has really been through it all in just the past couple of years. In January 2019, he even entered a rehab center for depression and alcohol.
An arrest in October 2019 didn't help, and he was charged with seven misdemeanors: domestic violence, brandishing a deadly weapon, criminal threats, willful child endangerment, false imprisonment, and two counts count of resisting arrest.
Paul "DJ Pauly D" DelVecchio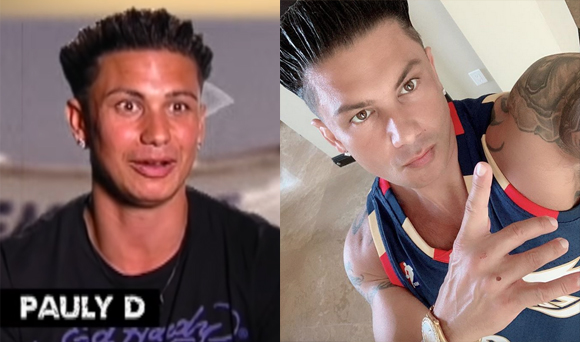 The oldest of the original gang, Pauly came down to Jersey from Rhode Island as a 27-year-old aspiring DJ.
Besides filming for the show, he made his dream of being a professional disc jockey come true!
In more personal news, the 37-year-old was also blessed with welcoming a little girl in 2013, Amabella Sophia Markert, with a woman with whom he had a one-night stand.
Such is the life of a Pauly D.
Nicole "Snooki" Polizzi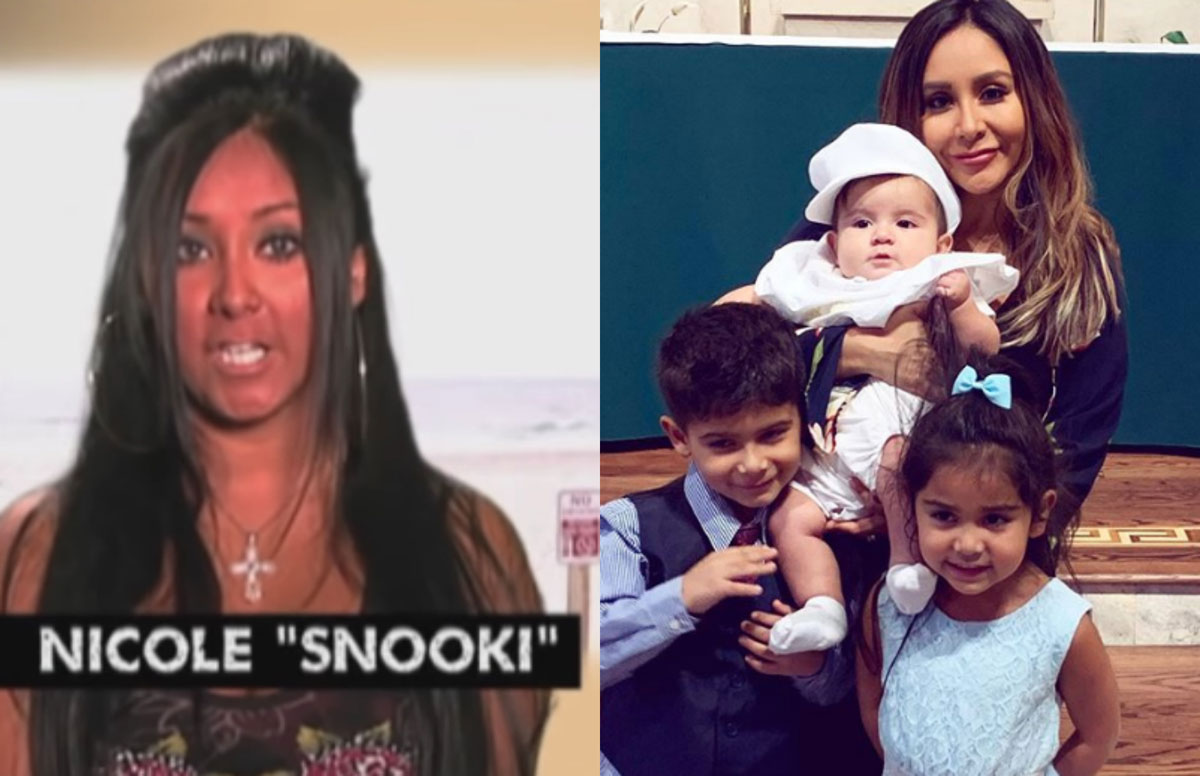 Another Jersey Shore partier turned parent is Snooki, who shares three kids, Giovanna, Angelo, and Lorenzo, with husband Jionni LaValle.
But the 32-year-old lived a different life when she first starred on the original series in 2019…
At just 22, she was a wild party girl who ended up being arrested and charged with disorderly conduct in 2010! We mean, she was the most infamous one in the group — and considering this cast that's saying something!
It's a moment many fans will find hard to forget!
Of course, Nicole managed to bounce back when she met and hooked up with her now-hubby during season three. The rest is history — sweet, sweet history!
Vinny Guadagnino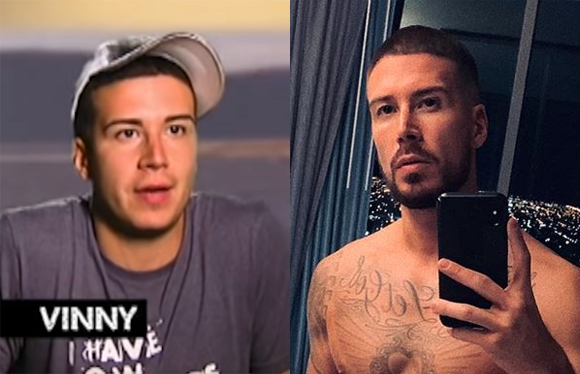 Not one for scandal, Vinny also entered the house at 22! Becoming BFFs with Pauly D seemed like destiny, especially when they hosted their dating show, A Double Shot At Love, in 2019 — but sadly, neither of them seemed to find what they were looking for.
Since his time on the revival series, Guadagnino has become more of a sex symbol than ever, even doing a guest residency on the the world-famous Chippendales show in Vegas this past April!
Angelina Pivarnick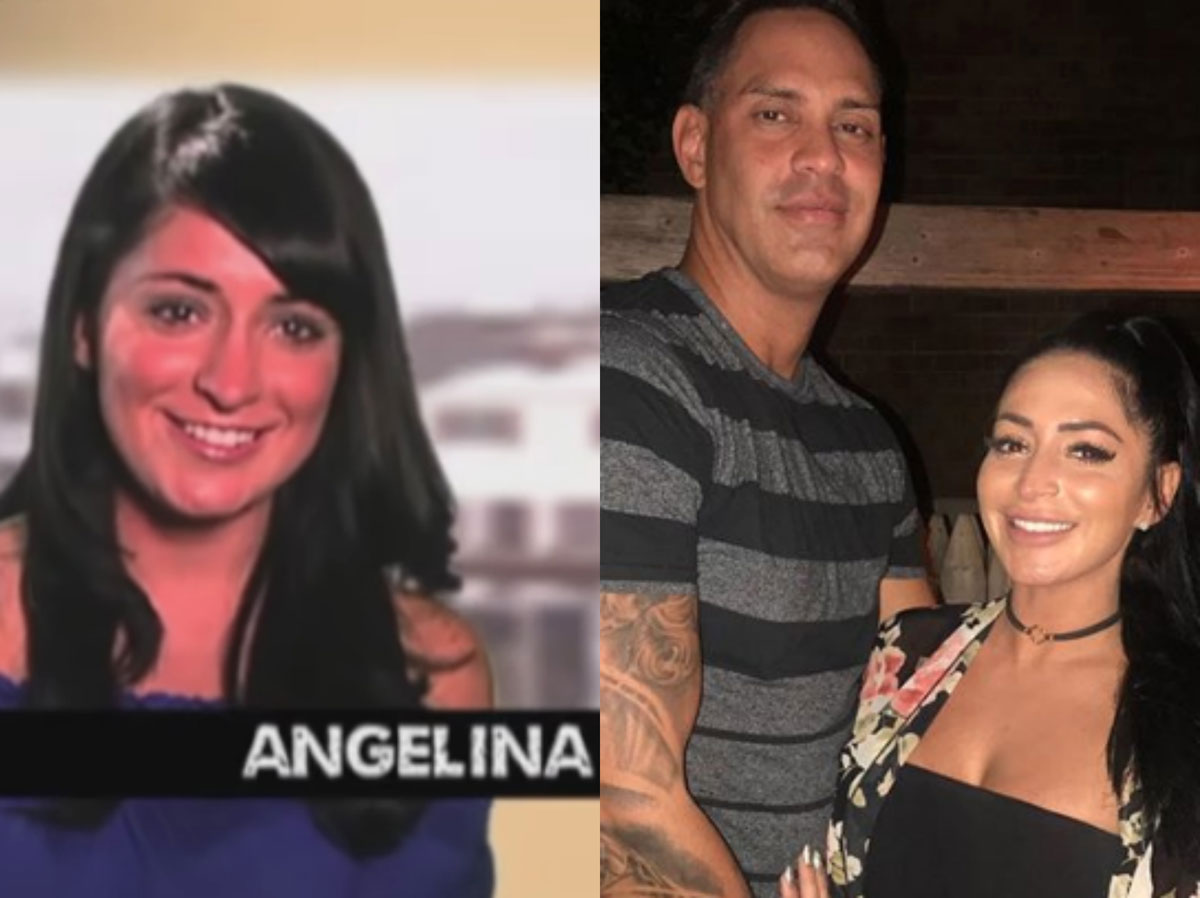 Anyone else remember when Angelina got kicked out of the shore house during season one because she refused to work??
Ah, to be 23 again!
That could have been the end of Pivarnick's Jersey Shore story, but she returned to the series again for season three and lasted until season six. Seemingly never clicking with the rest of the cast, she had several altercations with her co-stars over the year… including when she rejoined for the reboot!
Somehow still fighting over boys, the 33-year-old inadvertently caused the breakup of JWoww and her most recent beau… Meanwhile her own love life is going great as she just married her fiancé Chris Larangeira late last month!
Deena Cortese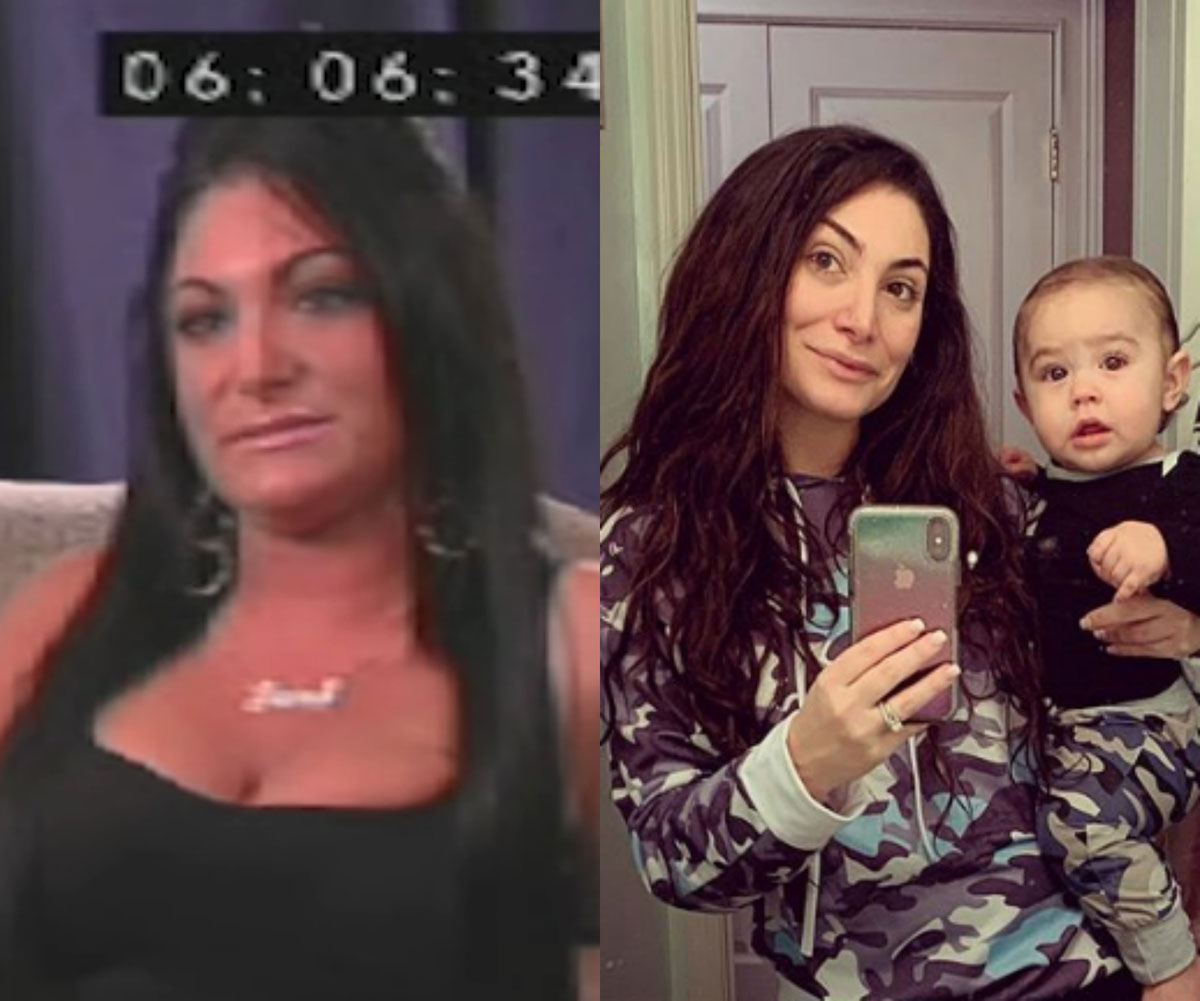 Deena came onto the original series in season three thanks to her friend Snooki, despite auditioning to be on the first season! At least she finally made it??
In 2017, she married Chris Buckner and they welcomed a baby boy in January 2019.
So, Perezcious readers?? How are U feeling now that you're caught up on the last ten years?
[Image via WENN]
The post Celebrate The 'Jersey Shore' 10th Anniversary By Looking Back At The Cast Then & Now! appeared first on Perez Hilton.