Just a bit over two years ago, the world lost Chris Cornell.
The Soundgarden frontman was found in a hotel room in Detroit on May 18, 2017. His death was ruled a suicide by hanging.
It's hard to believe it's actually been so long; fans around the world are still in mourning over the sudden loss.
Related: Teen Actress Mya-Lecia Naylor's Death Ruled An Accidental Suicide
But over the past couple years, those closest to Chris have been forced to deal with a whole other set of difficulties — mostly coming from one another.
The singer's widow, Vicky Cornell, filed a petition to administer her late husband's estate as she and the Cornell Family Trust were the sole beneficiaries listed in Chris' last will and testament.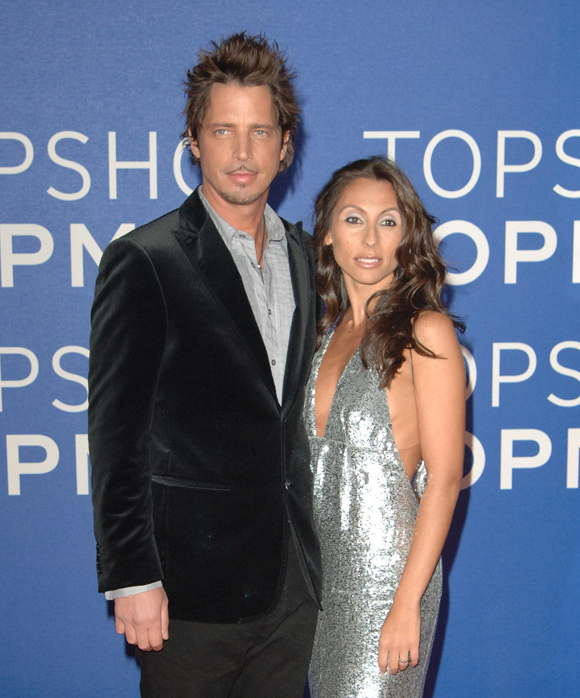 Apparently that document dates back to 2004, the year he married Vicky — and also the same year he divorced his first wife, Susan Silver.
Susan and Chris began dating way back in 1985; she quickly became Soundgarden's manager and continued in that role through the years, overseeing their rise to grunge superstardom. The two had a daughter together, Lillian Jean.
They first split in 2002 and officially ended their marriage in 2004, but the legal battles continued for years. Chris filed a lawsuit in 2005 claiming Susan cheated him out of royalties and was holding his Grammys and guitars hostage. In 2007, there was scandalous report that Susan even hired a private eye to break into Chris and Vicky's home. So it was never all that civil between the exes, but the legal fighting did seem to end in 2008.
Video: Chris' Haunting Cover Of Johnny Cash's 'You Never Knew My Mind'
OK, fast-forward to 2019.
Back in June, Susan went to court saying she and Lillian were entitled to a cut of the estate, which is estimated to be worth somewhere in the neighborhood of $20 million. Word was, she and Vicky were trying to settle the matter amicably.
Vicky successfully persuaded the court to seal portions of the court records — she voiced concerns about the spread of disturbing fan conspiracy theories that she'd had Chris killed, yeesh — so we haven't heard too much since then.
But now The Blast reports Susan has officially filed suit against Vicky and the Cornell estate — over formerly agreed upon child support payments.
According to the outlet, Chris and Susan's divorce settlement eventually included $5,000 a month in child support, as well as a promise to pay for college. Now Susan says Vicky has refused to continue the payments.
Susan claims Lillian Jean is now "attending college and is incurring expenses associated with her post-secondary education as described… as well as ongoing health insurance needs and related expenses." She says Vicky is not honoring Chris' agreement and is asking the court to force her to pay.
We hope this can be resolved more easily than the divorce — we'd hate for legal drama to continue to make an already awful situation for Chris' surviving loved ones even more stressful.
[Image via Sakura/WENN/ABC/YouTube.]
The post Chris Cornell's Ex-Wife Is Suing His Widow — Details HERE! appeared first on Perez Hilton.