Colton Haynes gets real about his long battle with substance abuse and mental health issues.
On Sunday on Instagram, the Arrow actor shared throwback photos of his hospital stay last year following a drug and alcohol bender.
Related: Colton Haynes SLAMS Paparazzi!
In the caption, the 31-year-old began:
"Throwback. I don't want worrying about if I look hot or not on Instagram to be my legacy. I don't want to skirt around the truth to please other people or to gain economic success. I have far more important things to say than what magazine I just shot for or what tv show I'm a part of (Although I'm very thankful I still get to do what I love)."
The Teen Wolf alum then revealed he gets "immense joy" when others are inspired by his sobriety journey.
"I no longer want to project a curated life. I get immense joy when someone comes up to me & says that my willingness to open up about depression, anxiety, alcoholism, & addiction has helped them in some way. I've struggled the past year with trying to find my voice and where I fit in & that has been the most beautiful struggle I've ever had to go through. Worrying about what time to post on social media so I can maximize my likes or being mad at myself that I don't look the same way I did when I was addicted to pills is a complete waste of why I was put on this earth."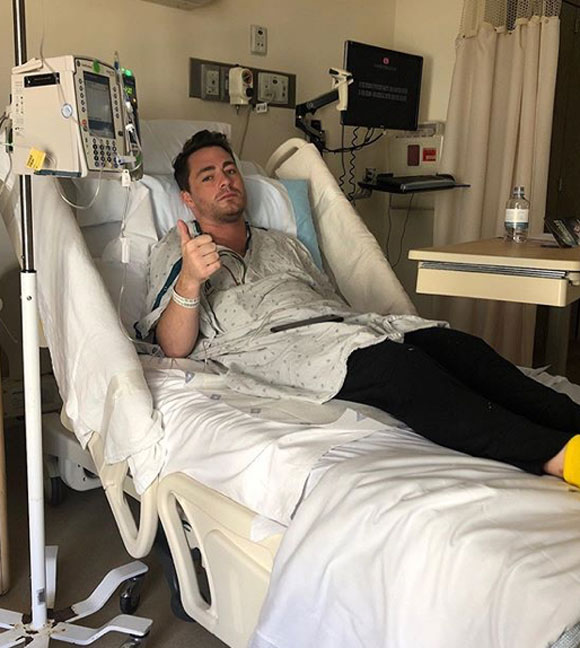 If one is suffering from addiction, the thespian assured them these "dark times" do not last.
"I'm posting these photos to let y'all in on my truth. I'm so grateful to be where I am now ( a year after these photos were taken) but man these times were dark. I'm a human being with flaws just like you. If ur in the middle of the dark times…I promise you it doesn't have to last forever. Love y'all."
As we reported in March of this year, Haynes revealed to Attitude magazine he was six months sober after completing a four-month treatment program.
Though he said he drank alcohol and did drugs for the past ten years, he endured a "downward spiral" after he came out as gay in 2016.
In 2018, amid the death of his mother and divorce from husband Jeff Leatham after less than a year of marriage, Colton "got so heavily involved with drugs and alcohol to mask the amount of pain [he] was feeling."
Ultimately, he hit rock bottom after a seven-day bender at a Los Angeles hotel. He divulged:
"I locked myself in a hotel room at the Waldorf Astoria in Beverly Hills for seven days and was found in my room with these insane bruises all over my body. It looked as if somebody had beaten the shit out of me. I couldn't walk, so I was falling everywhere. I almost ruptured my kidney, ended up in the hospital, ended up in 5150 psyche hold. I was on such a destructive path that I could not function. I lost partial sight in my left eye for a while. I ended up having two seizures. I didn't know any of this was happening until I was sober enough to remember it."
Fortunately, Haynes was able to turn his life around.
[Image via Colton Haynes/Instagram.]
The post Colton Haynes Shares Throwback Hospital Photos To Open Up About Mental Health & Substance Abuse appeared first on Perez Hilton.