Oof, it has been a long time since we've seen a TV interview this cringeworthy — certainly from Ellen DeGeneres!
But the daytime leader tries one of her typical bits during a chat on Wednesday, and Dakota Johnson is NOT biting! But why..?
Video: Watch Ellen Scare Eric Stonestreet YET AGAIN
The convo begins with talk of Dakota's big 3-0 celebration, and Ellen doing her usual wounded act where she says she is annoyed at being left out:
"How was the party? I wasn't invited."
But this time the Fifty Shades Freed star called her on that TV BS — saying:
"Actually, that's not the truth, Ellen. You were invited."
She insists:
"Last time I was on the show, last year, you gave me a bunch of s**t about not inviting you, but I didn't even know you wanted to be invited."
Ellen replies:
"Well, who doesn't want to be invited to a party?"
To which Dakota responds:
"Well, I didn't even know you liked me."
Um. Hmm. Ellen shoots back:
"Of course I like you! You knew I liked you!"
A moment of thick silence. Oh man.
Someone isn't buying Ellen's act at all! She thinks the daytime TV queen is a big Hollywood phony! And she's accidentally revealing it on the air! Awkward! Ellen then asks:
"You've been on the show many times, and don't I show like?"
Yeah, gurl, we think she's implying you show it on TV, and she still doesn't believe it. Something tells us she also doesn't invite Jimmy Fallon to things…
But then Dakota brings it back to this year's party, saying:
"But I did invite you, and you didn't come."
Oh man, that must have sealed the deal on Dakota's impression of Ellen. Meanwhile the host scrambles to find footing, demanding to know if the actress is sure she invited her. Dakota remains adamant.
In fact, she gets backup! After an incredulous exchange, she says:
"Ask everybody. Ask Jonathan, your producer."
And Jonathan corroborates Dakota! Now Ellen has to switch gears, demanding of her employee:
"I was invited? Why didn't I go?"
Thankfully someone who works for Ellen is practiced in coming up with excuses and tosses in:
"You were out of town!"
Which Ellen happily picks up. Then she comes closer to what is probably the actual reason, saying:
"It was probably in Malibu. That's too far for me to go."
For those not in California, this is going to sound like some El Lay nonsense, but we can confirm Malibu is precisely one hour from everywhere. So an hour away too far for a party you really wanted to go to? No wonder Dakota thinks Ellen is full of crap when she shows her like!
Ellen finally concedes, saying she does remember being invited now and "thank you."
Dakota just nods. It's the face of someone who has known the whole convo who she's talking to and is being bemusedly patient with her…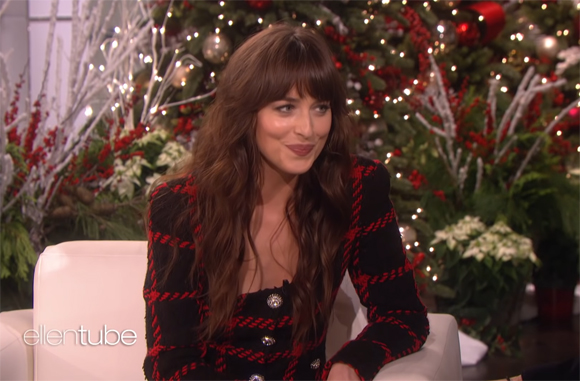 Believe it or not, the discomfort doesn't end there. Instead of moving on to plugging Dakota's movie, Ellen keeps talking about the party! Oh, gurl…
She brings up the fact Tig Notaro performed a surprise standup set, and Dakota explains the One Mississippi star is her "favorite comedian."
The audience already knows what to expect here; they start oohing as Ellen's shoulders drop like sad Charlie Brown. Dakota blurts:
"–other than you."
But the damage has already been done. Dakota can't help but comment on the cringe factor, pretending to end the interview there and just walk away! Ellen jokes:
"I was just talking to my favorite actress the other day, Jen Aniston."
Then she tries to take credit for introducing Dakota to Tig's comedy, pointing out she had first seen her perform at a party Ellen threw…
But that wasn't true either, as Dakota points out she heard about that but had already left Ellen's party before the set. She then notes, for posterity as much as anything:
"Gosh, this isn't going well!"
When Ellen asks why her guest left that party so early, Dakota quips:
"I was out of town."
Savage!
See all the awkwardness (below)!
[Image via Ellen/YouTube.]
The post Cringe At Ellen's SUPER AWKWARD Interview With Dakota Johnson! appeared first on Perez Hilton.