Wondering who will be revealed as the next quarantine bae?
Wonder no longer! That prize goes to Demi Lovato and her new squeeze, Young and the Restless alum Max Ehrich. A source told E! News of the new relationship: 
"Demi and Max have been seeing each other for a few weeks now. They have been quarantining together at Demi's house and it's going really well."
Sounds like these two got together right under the social-distancing wire! 
Related: Demi Lovato Was "Controlled" & "Abandoned" By Team
The source continued:
"Max is very into music and health, and he doesn't like to party. He is a good influence on Demi and they have a lot in common. They have a few mutual friends in common, but Demi has been introducing Max to her closest friends via FaceTime since being quarantined. It's very new but they are definitely hanging out and seeing where it leads. They have spent a lot of time together but I wouldn't say it's an exclusive relationship yet."
The new couple has had some flirty exchanges online, which first lead fans to speculate about the pairing. Ehrich has been particularly active on Instagram since the romance began. On Monday, he posted a shirtless pic with the caption:
"When u realize u should've packed more for your quarantine stay 😅🤦‍♂️ have a blessed Monday filled with health, happiness, safety, joy, love, & laughter <3"
Lovato responded to the thirst trap with a teasing, "Fine by me…"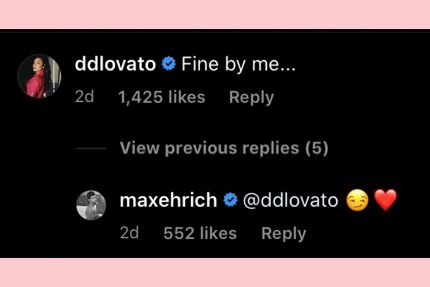 Related: Kendall Jenner Defends Herself Over Coronavirus Concerns
Ehrich has also posted some sweet serenades for the I Love Me singer on his page. On March 11, the former soap star shared a cover of Mario's Let Me Love You with the caption "for my <3". Most recently, he posted himself singing a version of Yellow by Coldplay with the caption "4D🌹<3"
The actor, who most recently appeared in the Lifetime series American Princess, also shared some snaps of Demi's dogs to his Instagram stories — so he must be getting pretty comfortable in this new relationship!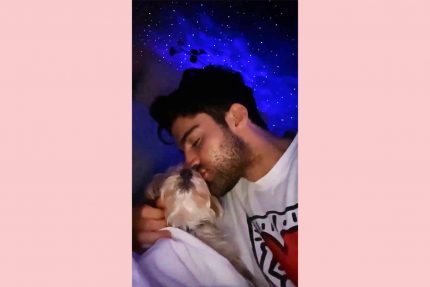 The news might come as a surprise to some, as Lovato just talked about being single on The Ellen Degeneres Show earlier this month. She told the talk show host:
"I was on dating apps for a while but as I've spent some time with myself over the past couple months, I realized that I am the type of person that will find any way to regulate when I'm sad or lonely or whatever. I have to fight those battles on my own and I can't let somebody come in and fix those issues for me. So right now, I'm single and spending my Saturday nights by myself."
The former Disney diva is the latest on a list of new couples quarantining together amidst the coronavirus, joining the likes of pal Ariana Grande as well as Ben Affleck and Ana de Armas. 
What do U think, Perezcious readers?! Is quarantine the new cuffing season? Or should these stars be practicing social distance? Sound OFF with your take in the comments (below)…
[Image via WENN/FayesVision/Judy Eddy]
The post Demi Lovato Dating <i>Young And The Restless</i> Alum Max Ehrich — And They're Already Quarantining Together! appeared first on Perez Hilton.