Demi Lovato has some new ink, and it's her "most meaningful tattoo" to date!
Late Wednesday night, the Confident singer shared her session with the world famous Dr. Woo, where he recreated a photo of the performer's late great-grandmother "Mimaw" on her arm.
So touching!
Related: Demi Lovato Thanks BFFs For Sticking By Her Side Through A Difficult Year!
Alongside the (above) pic, she posted:
"This is for you Mimaw. You at 26 on my arm while I'm 26, and forever. I love you more. Thank you @_dr_woo_ for making her come back to life for me.. it's stunning and the most meaningful tattoo I have ever gotten. "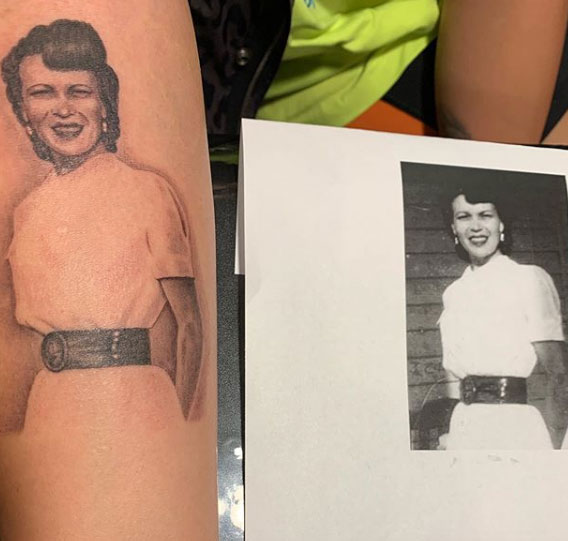 In May 2016, Demi revealed her Mimaw's passing at 93 years old. She shared an emotional statement on Instagram:
"This morning I lost my world and the world's most special woman. I miss her more than words can even describe. There is an emptiness in my heart that only her spirit can fill and I pray that I will feel her by my side every single day until we meet again. I attribute my strength to her.. She held on when she lost the love of her life.. The one she was married to for 53 years. She smiled even though she lost a son just this year. She told everyone she loved them every single chance she got and she joked even when her strokes left her unable to speak properly. The smile that she had not only could light up a whole room but it most definitely lit up the entire nursing home. She was my great-grandmother but we were so close that I never knew it was possible that anyone could have the bond that we shared even 70 years a part. The pain I feel is almost unbearable but because of her strength I will power through it. The love and support I have received has been empowering and so special to me.. I love all of you so much and I am forever grateful for the prayers, texts and fan art my Lovatics have made me. Thank you.

Mimaw, I hope you are with Papa now.. I hate that I can't hear your voice but I love that you are no longer in pain. I love you so much and I miss you more than anyone could ever imagine. I'll miss your smile, your wittiness, painting your nails and your kisses. I really do love you more. Rest in peace and most importantly rest in the Lord. #RIPMimaw"
Related: Demi Lovato Sizzles On Tropical Getaway As She Announces MAJOR Career Move!
We're sure Mimaw is shining down from above, gazing at the lovely remembrance ink! She's also likely proud of how Demi has been working extremely hard in recovery from an overdose last year.
What do you think of Demi's new tat, Perezcious readers? SOUND OFF in the comments (below)!
[Image via Instagram]
The post Demi Lovato Gets New Arm Tattoo For Her Beloved Mimaw — 'It's Stunning' appeared first on Perez Hilton.