Wait, so, Donald Trump lied? But… but… he says he ALWAYS tells the truth, right?! LOLz!
On Tuesday, Trump lied for about the five millionth time when he told reporters at a NATO news conference that he didn't "know" Prince Andrew, the disgraced royal family member who was forced to withdraw from his princely duties as part of the fallout from his association with sex offender Jeffrey Epstein.
Related: Princess Anne's Shrug At Donald Is A YUGE Mood!
It makes sense he'd want to distance himself. After all, he too used to be pals with Epstein — and he does NOT want to advertise that fact.
However, it's a dubious claim for Trump to deny a relationship with the embattled, controversial Prince — because there's jsut SO MUCH evidence of all the time the pair has spent together!
Speaking to the media on Tuesday, the 73-year-old tried desperately to walk away from Prince Andrew (and, by association, Epstein) when reporters in the UK asked his opinion on the enormous Royal scandal. He fibbed:
"I don't know Prince Andrew, but it's a tough story, it's a very tough story…

I don't know him, no."
Uh huh.
It is a tough story, Donald — for Epstein's alleged victims, that is — but to say you "don't know" Prince Andrew is 100% a lie! Shortly after his claim, People was able to quote a story they published back in 2000, where Trump boasted of his good friendship with the Duke, saying:
"He's not pretentious. He's a lot of fun to be with."
Hmmm… but wait, how can he be fun to be with if Trump doesn't know him?
Historical photographs prove that the US Prez has had a long-standing relationship with the 59-year-old royal, too; the pair was snapped alongside future First Lady Melania Trump at Mar-a-Lago way back in 2000, for one. In at least one infamous pic, Epstein is standing like five feet away from them as they pose together!
Hell, Trump and Andrew were photographed together as recently as THIS PAST JUNE when the world leader met the prince for breakfast during Donald's most recent visit to the UK. And in an interview done last year with The Sun, Trump openly bragged about playing 18 holes of golf with Andrew earlier in 2018, and beating him.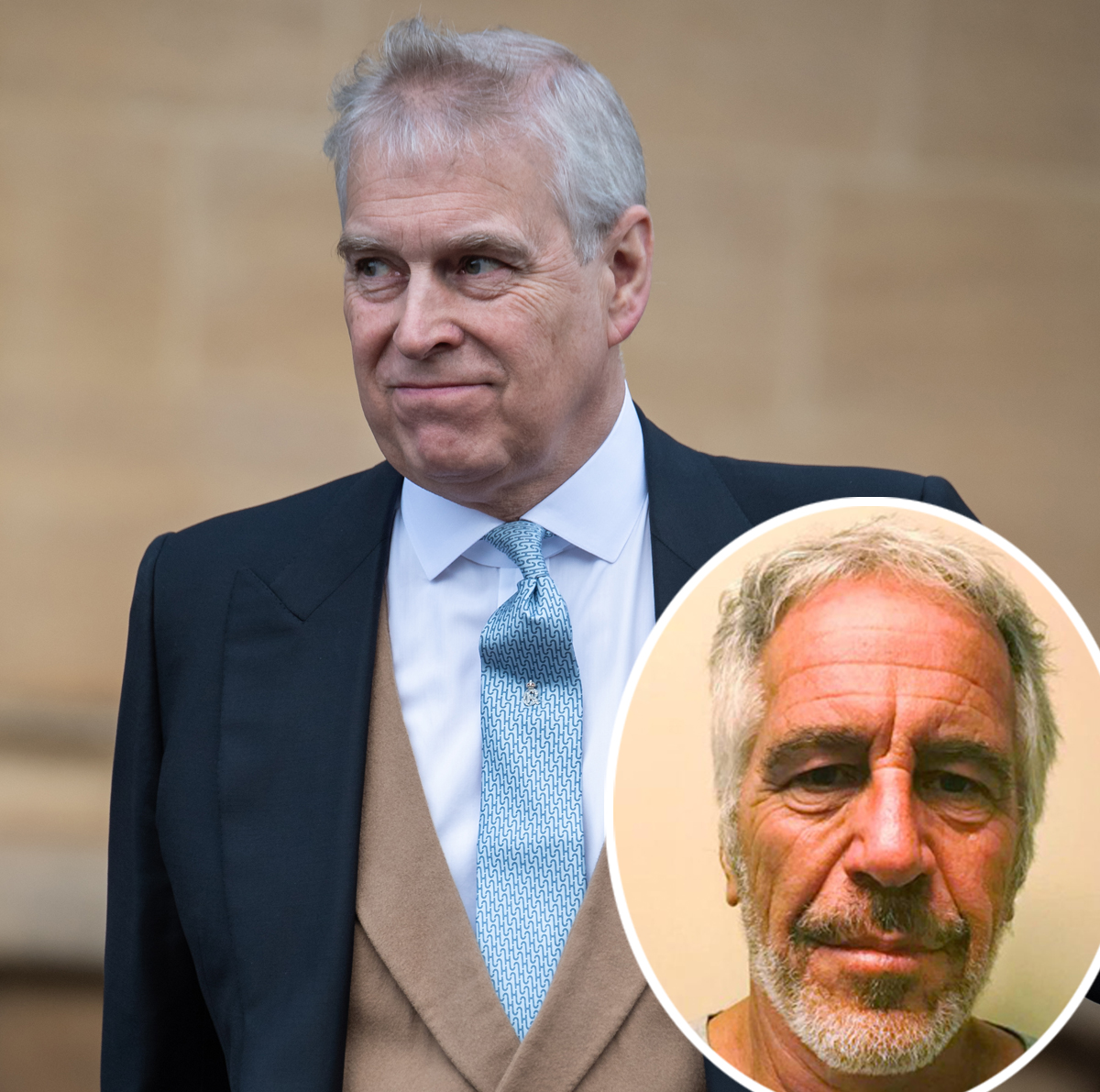 How can The Donald possibly lie about all this s**t, when it's so out in the open like this??? Who does he think he is, Mariah Carey?!
All kinds of media and entertainment outlets are opening up the archives to prove Trump and Andrew have been tight for years; even Jimmy Kimmel is doing it! The late night host showed a series of damning pics of the close friends in his opening monologue last night, as you can see (below), with Kimmel's Trump talk beginning at the one-minute mark:
How about that, Donnie?! Oops!
Related: Donald Trump Jr. Is **Literally** A Moron…
And the connection between these two is so well-documented — and Trump's lies on this matter SO blatant — that even Fox News couldn't ignore it, as you can see in this incredible clip (below):
TRUMP: "I don't know Prince Andrew, but it's a tough story. It's a very tough story. I don't know him, no."

FOX NEWS: Immediately cuts to a photo of Prince Andrew, Melania, and Trump hanging out together at Mar-a-Lago during a party that Jeffrey Epstein also attended. pic.twitter.com/zBIfDBSFXN

— Aaron Rupar (@atrupar) December 3, 2019
Wow.
You know it's bad when even Fox News is straight up calling out the President on his bulls**t!!!
Obviously this isn't the first time Trump has tried to pretend he doesn't know someone. He claims not to know Epstein, too! Even though he famously said of the accused underage sex trafficker back in 2002 in a New York magazine profile:
"I've known Jeff for fifteen years. Terrific guy. He's a lot of fun to be with. It is even said that he likes beautiful women as much as I do, and many of them are on the younger side."
Yeesh.
Reactions, Perezcious readers?! Are you surprised Trump would lie about something like this?? Ha! Of course you're not surprised! No one is!
But seriously… what is Trump trying to hide with these lies? Sound OFF with your reactions and more in the comments (below)…
The post Donald Trump LIED About Knowing Prince Andrew — See The MOUNTAIN Of Evidence! appeared first on Perez Hilton.