Evangeline Lilly has finally apologized for her widely criticized comments on the coronavirus crisis. 
To recap: last week, the Ant-Man And The Wasp star got into it with some followers on Instagram after posting about things being #businessasusual during the coronavirus. The actress suggested she and her family "value freedom over their lives" despite having serious health problems in the home.
Related: Kim K Asks For Quarantine Tips, Gets Trolled by TSwift Fans
As you can imagine, that message didn't exactly go over well in the current political climate. Well, Evangeline is now owning up to her problematic words — and attempting to clarify her thought process. 
In a long IG post on Thursday, the LOST star explained her family has been social distancing since March 18 and following the "directives" of the "small community where [she is] currently living." She wrote:
"At the time of my March 16th post, the directives from the authorities here were that we not congregate in groups more than 250ppl and that we wash our hands regularly, which we were doing… Two days later, those directives were changed and, despite my intense trepidation over the socioeconomic and political repercussions of this course of action, PLEASE KNOW I AM DOING MY PART TO FLATTEN THE CURVE, PRACTICING SOCIAL DISTANCING AND STAYING HOME WITH MY FAMILY."
If only she had kept that "intense trepidation" to herself!
She then expressed her remorse over the situation, saying:
"I want to offer my sincere and heartfelt apology for the insensitivity I showed in my previous post to the very real suffering and fear that has gripped the world through COVID19. Grandparents, parents, children, sisters and brothers are dying, the world is rallying to find a way to stop this very real threat, and my ensuing silence has sent a dismissive, arrogant and cryptic message… My direct and special apologies to those most affected by this pandemic. I never meant to hurt you. When I wrote that post 10 days ago, I thought I was infusing calm into the hysteria. I can see now that I was projecting my own fears into an already fearful and traumatic situation."
The 40-year-old continued by saying she was "grieved by the ongoing loss of life" and other continued complications of the pandemic, and fearful for the political ramifications that will occur. However, she said:
"At the same time, I am heartened by the beauty and humanity I see so many people demonstrating toward one another in this vulnerable time. When I was grappling with my own fears over social distancing, one kind, wise and gracious person said to me 'do it out of love, not fear' and it helped me to realize my place in all this."
Lilly concluded the post by sending love to all her followers, "even if you can't return it right now." 
Related: Taylor & Ariana Donate To Fans Affected By Coronavirus
The Avenger was (rightfully!) slammed for her insensitive comments, most notably from Instagram's favorite tea-spiller, Sophie Turner. Mrs. Joe Jonas had particularly strong words for Evangeline, even if she didn't name her:
"Stay inside, don't be f**king stupid. Even if you count your 'freedom' over your health. I don't give a f**k about your freedom, you could be infecting other people, other vulnerable people around you. So stay inside guys. It's not cool, and it's not clever. And that's the tea."
Lilly's LOST co-stars had some things to say about it, too. Fans praised Maggie Grace for a comment she left on the original post, where she encouraged Lilly to "trust the extensive science" about the disease:
"Sure, it's a free country, but how about choosing to exercise some of that wonderful freedom to have some compassion, trust the extensive science here and not overwhelm health system [sic]. … I say this with all humility , please rethink this. Your kids will be just fine without going to gymnastics, I promise . :)"
Grace also name-dropped their co-star Daniel Dae Kim, who has been diagnosed with the disease: 
"PS Daniel said he is doing a lot better btw . I don't know, Maybe you guys wanna chat?"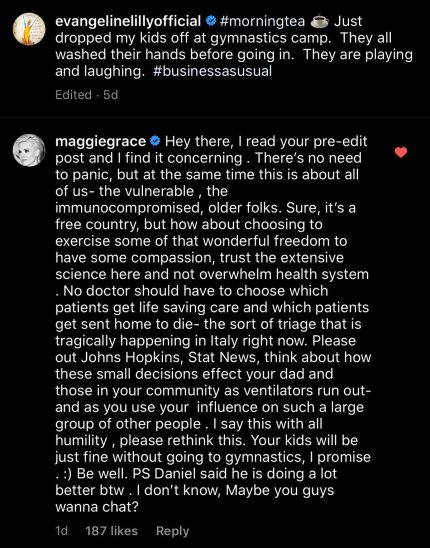 Meanwhile, Josh Holloway posted his own LOST-related coronavirus message to Instagram on Thursday. In what seems like a subtle dig at Freckles, the pic shows a side-by-side of a still from the show with a faux-script that reads: 
"Ext. Survivors Beach – DAY. Peaceful ocean breeze. Cut to: Jack and Sawyer playing cards on the beach. SAWYER: Just me, you and the mangoes, Doc. JACK: Yup. That's what a QUARANTINE is all about, Sawyer."

Shade? Who knows, everything about that show was confusing! LOLz!
If the actress' "heartfelt" apology is to be believed, she's definitely learned her lesson from this round of public shaming! She claimed she's "trying to follow responsible recommendations for how to help," so hopefully some good can come out of this messy situation. 
Ch-ch-check out the apology post for yourself (below)! 
[Image via FayesVision/WENN.]
The post Evangeline Lilly Finally Apologizes For 'Arrogant' Coronavirus Message appeared first on Perez Hilton.