Game of Thrones fans are ready for new rulers to take the Iron Writer's Room and give them the season eight they deserve.
As we've been writing, the HBO series has been leaving many feeling disappointed with its final season so far. There have been countless complaints about battles being too dark, rogue coffee cups popping up during crucial moments, and sloppy storytelling.
While no show is perfect, Thrones has been pretty f**king close to perfection throughout its past seven seasons. The final eighth season, on the other hand, hasn't been sitting well with critics nor fans.
[Spoilers, because we don't want to make anyone more upset.]
In fact, it's been getting torched worse than King's Landing did in Sunday's penultimate episode.
Related:Â Lena Headey Shares Emotional Farewell To Cersei Lannister
Now, as the Emmy winning show heads into its final episode ever this Sunday, fans are calling for HBO to remake the entire season with "competent writers," according to an actual petition started on change.org.
Shaming showrunners David Benioff and Dan Weiss for delivering an overwhelmingly clunky, disjointed season, the petition reads:
"David Benioff and D.B. Weiss have proven themselves to be woefully incompetent writers when they have no source material (i.e. the books) to fall back on. The series deserves a final season that makes sense. Subvert my expectations and make it happen, HBO!"
Yes, like the fickle residents of King's Landing, fans are ringing the bells and demanding that the series surrenders control to newer, more competent showrunners that won't sacrifice character development to meet a *dark* plot twist that everyone saw coming and no one wanted (re: Daenerys Targaryen going mad in the literal blink of an eye).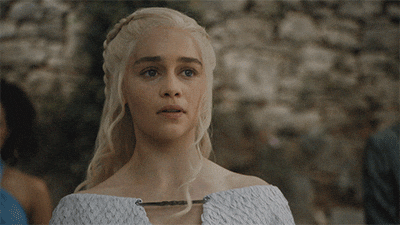 As the petition points out, the sixth, seventh, and eighth seasons of Thrones have deviated from the plot of George R.R. Martin's A Song of Ice and Fire book series — which served as a blueprint for the show's first five seasons.
Many fans believe the show has dropped in quality since it departed from the books, and that season eight has particularly exposed Benioff and Weiss as Mad Showrunners due to what many feel has been a severe mishandling of Westeros' most beloved characters.
While some think the problem is that Benioff and Weiss are too focused on their next Star Wars project, others argue that they simply aren't competent enough to carry this huge story to the finish line without the guidance of GRRM.
At least 400,000 (!) people feel this way, according to the petition, which has asked those joining the fight to explain their reasoning.
Here are just a few things fans wrote:
"I understand it's GOT but don't trust 8 yrs of character building for what they think will shock and awe us.

Because season 8 is a joke and an insult to the fans who have invested 7 years of their lives into this… if HBO wants to keep having fans they should respect them."
Do U feel like this season has lost the plot?
Sound off in the comments (below)!
[Image via HBO]
The post 'Game Of Thrones' Fans Petitioning For HBO To Redo Season 8 With 'Competent Writers'! appeared first on Perez Hilton.