Gucci is in hot water AGAIN for selling a culturally insensitive pice of clothing.
The Italian fashion house is under fire for selling a "Indy Full Turban," which resembles a religious Sikh headdress.
Related: Dolce & Gabbana's Racist Video Campaign Has Everyone Fired Up
The turban first made headlines when it was seen on the runway of Milan Fashion Week last winter, being worn by a white male model.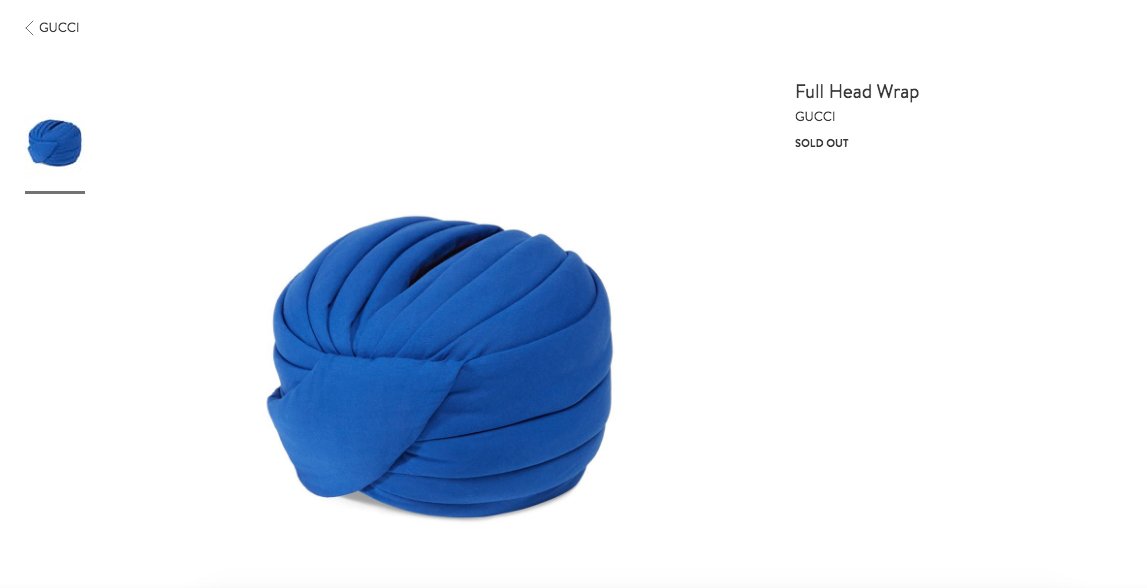 While the item is currently listed as sold out on Nordstrom's website, the name has been changed from "Indy Full Turban" to "Full Head Wrap," as seen from screenshots shared on social media. The product description currently reads:
"A gorgeously crafted turban is ready to turn heads while keeping you in comfort as well as trademark style."
WTF, who okayed this?!
Many online were obviously not pleased by the fashion house attempting to cash in on something with such religious significance. The Sikh Coalition, a community-based nonprofit wrote on Twitter:
"The turban is not just an accessory to monetize; it's a religious article of faith that millions of Sikhs view as sacred. Many find this cultural appropriation inappropriate, since those wearing the turban just for fashion will not appreciate its deep religious significance.

We've reached out to @gucci and @Nordstrom to explain our concerns and will provide updates when appropriate."
Previously, the brand found itself in a similar situation for selling a wool blackface sweater in February. Though they issued an apology, many were still taken aback by the design, which features a long cloth neckline that pulls over the nose, with an opening for the wearer's mouth. The mouth opening is outlined with red, oversized lips, mirroring the images of minstrelsy from the early 20th century.
The $890 sweater was pulled offline and from stores, and Gucci wrote on Twitter:
"Gucci deeply apologizes for the offense caused by the wool balaclava jumper. We consider diversity to be a fundamental value to be fully upheld, respected, and at the forefront of every decision we make. We are fully committed to increasing diversity throughout our organization and turning this incident into a powerful learning moment for the Gucci team and beyond."
Well, seems like that's already been forgotten about!
Not long after issuing their apology, it was shared on Instagram that they would be stepping up long-term initiatives to increase diversity within the brand.
CEO and President Marco Bizzarri apologized in the social media statement:
"We accept full accountability for this incident, which has exposed shortfalls in our ongoing strategic approach to embedding diversity and inclusion in both our organization and in our activities. I am particularly grateful to Dapper Dan for the role he has played in bringing community leaders together to offer us their counsel at this time."
The fashion house also launched a multicultural design scholarship, as well as working on increasing diversity in hiring:
"In partnership with fashion schools around the world, this 12-month fast track program will aim to amplify opportunities for underrepresented groups of talents leading to full-time employment to create a more diverse and inclusive workplace on an ongoing basis."
You'd really think that they would have learned from the last time around not to profit off of something so inappropriate or religious! Sigh…
[Image via Andres Otero/WENN.]
The post Gucci's $790 'Indy Full Turban' Sparks Cultural Appropriation Backlash appeared first on Perez Hilton.