Sunday night's episode of Game of Thrones was deeply unsatisfying to fans in many ways.
Many viewers are upset about the twists and turns and in mourning for the loss of beloved characters…
Others are pissed at the showrunners for making the decisions about what happened; there are even some calling the episode the worst in the show's history! And critics thought they didn't like LAST week's episode.
Related: Man Babies Calling Arya Stark A Mary Sue
Whether you consider the painful plot points to be an intentional punch in the gut or a misfire on a storytelling level, there was one gaffe we can all agree was a straight up MISTAKE.
You probably didn't even notice. But it was there.
During the feast scene, in which the heroes are mourning the fallen, celebrating their victory, or stewing over new growing feuds, there sits…
A modern, paper takeout coffee cup. Just sitting on the middle of the damn table.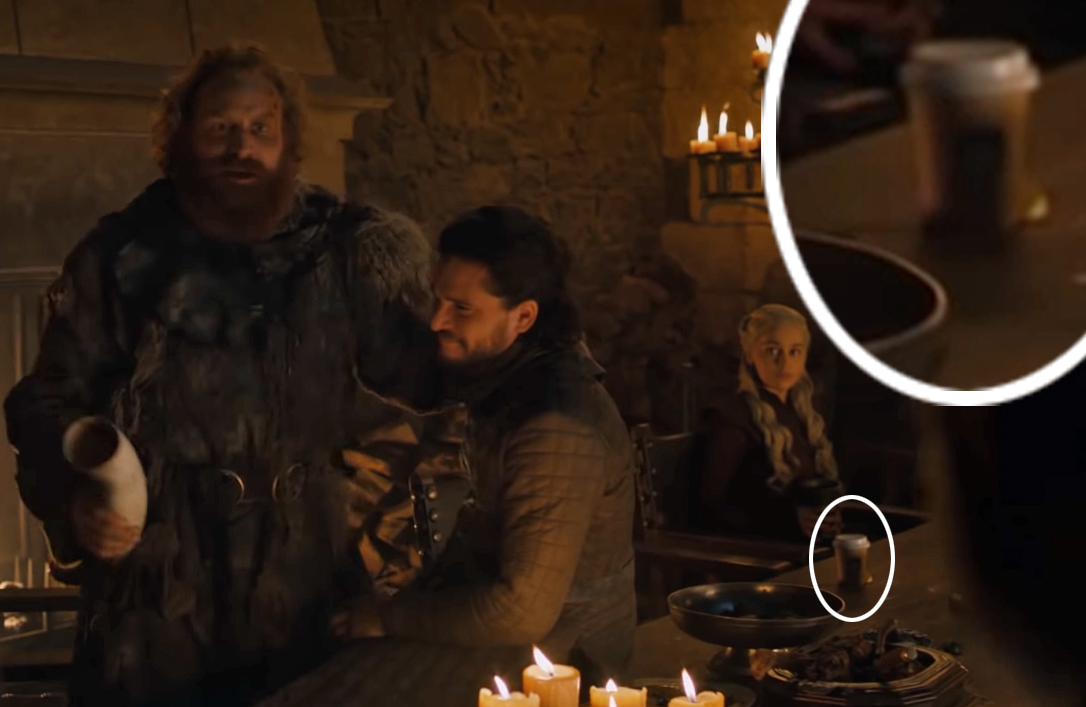 Oof! What an error!
We'd say someone on Thrones was about to get fired, but the show is done filming. Too late for all that!
We kind of expected HBO to try to keep a lid on the mistake — but instead they confirmed it. On Monday the network released the following statement:
"The latte that appeared in the episode was a mistake. Daenerys had ordered an herbal tea."
Ha! Well, at least they have a sense of humor about it.
It's always a problem on period and fantasy film and TV sets. Any hint of modernity might not register as off in our brains, as we see it every day. The cast and crew have their coffee cups all the time, just not on camera.
Thrones art director Hauke Richter spoke to Variety about the mistake, saying:
"Things can get forgotten on set. [The coffee cup error has been] so blown out of proportion [because] it has not happened with 'Thrones' so far."
Well, sadly there is a first time for everything.
Obviously it could have been worse. There are some parked cars visible in the background of the film Braveheart, which takes place in Scotland in the 13th century. And in The Lord of the Rings: The Fellowship of the Ring, there's a moment when a car actually drives along the road, spitting out exhaust fumes while Frodo and Sam talk.
Ha!
So far the worst mistake of this kind in Thrones is that moment in the Battle of the Bastards when Jon's prop sword is visibly floppy.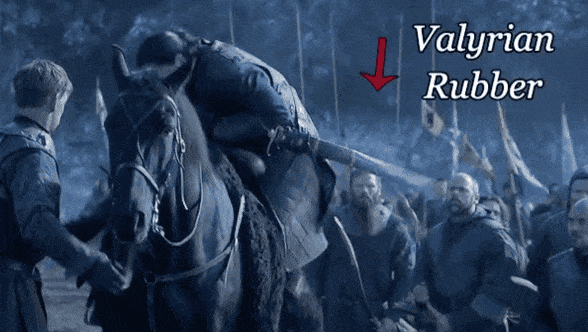 Did YOU see the coffee cup??
[Image via HBO/YouTube.]
The post HBO Admits They Messed Up On This Week's Game Of Thrones! appeared first on Perez Hilton.