It doesn't look like Kylie Jenner or Khloé Kardashian will ever give their former friend Jordyn Woods the time of day again.
But there's one famous fam who still has her back. The Smiths.
ET caught up with Jada Pinkett Smith, as well as daughter Willow Smith and momma Adrienne Banfield-Norris, at an event celebrating their popular Facebook Watch show, Red Table Talk.
Related: Kylie Deletes Jordyn From Twitter
And of course they had to ask about the show's most controversial guest.
See, Jada gave Jordyn a platform to tell her side of the story at a time when people had already heard quite a bit from other sources.
And the Scream 2 star is proud of that. She told the outlet:
"You know, just once again just giving that opportunity for her to tell her story, you know? That's all anybody ever wants, so we just felt really happy to give her that opportunity."
Giving the gurl her day in the court of public opinion seems fair. The question is what did she do with the opportunity?
If you recall, Jordyn told a completely different story from what we'd heard.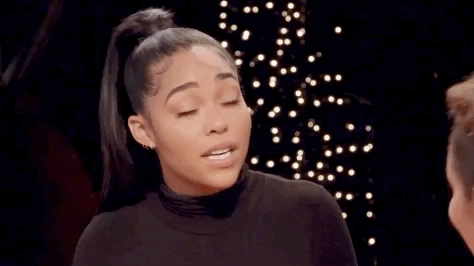 It had been reported Jordyn showed up to Tristan Thompson's house party, and the two immediately started acting too familiar, with her sitting on his lap. You know. Like a couple.
Perhaps even more telling, Tristan was said to have changed the tone of the party and made everyone turn off their cell phones just before gurl arrived. Like he knew what was about to be seen needed to stay hidden.
We couldn't verify those reports, but the aftermath made it pretty clear.
Photos: A List Of Kardashian Enemies
Khloé ended up dumping Tristan for good — this was already his second chance after all — and the entire Kardashian fam shunned Jordyn, including bestie Kylie Jenner.
But the way Jordyn told it, it was a one time thing. She was just hanging out. She never touched Tristan in that way. She tried to leave because she knew it was wrong to be there. He kissed her, not the other way around. It was a goodbye kiss while she was leaving. It was nothing. But also it was so awful she had to put it out of her mind. That's why she never told anyone.
The whole thing seemed like a terrible defense in which she was innocent at every turn.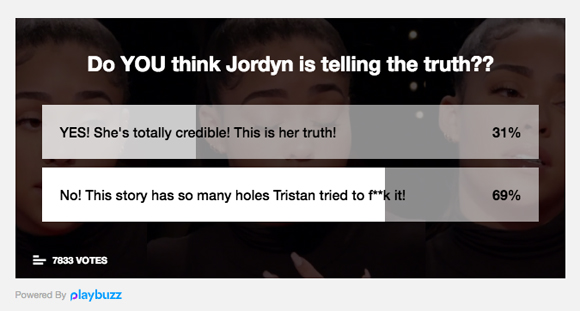 But Jada clearly still thinks Jordyn was just in a rough spot.
She said:
"For us as women to be able to recognize when there's a young girl who just needs a little assistance ushering into grown womanhood and we've all been there.

So as grown women, just kind of going, 'OK what happened and here's a little guidance.""
OK, hold up.
Obviously Jordyn seems pretty young to Jada, but she isn't a "young girl." She's 21 years old. She's old enough to know better.
We know she pulled a real innocent act with that turtleneck and "WHAT EVEN IS SEX?" attitude during the Red Table Talk, but let's be real.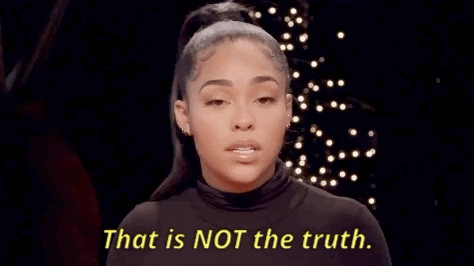 Jada concluded by giving us an update on how Jordyn is doing — because as we said she's probably the only person still talking to her!
"She's doing really well and she learned a lot."
Like don't hook up with your friend's baby daddy?
Yeah, just one of those life lessons.
Do any of YOU think we should all give Jordyn Woods a second chance??
[Image via Facebook.]
The post Jada Pinkett Smith Defends Jordyn Woods Interview, Says Jordyn 'Learned A Lot' From Cheating Scandal appeared first on Perez Hilton.