Chris Pratt is in hot water after his latest Instagram post offended the Protector of the Seas!
The Jurassic World star took to the social site on Tuesday to promote his very own Amazon storefront that features a slew of fitness essentials ranging from apparel to electronics. To help sell the #Ad, Pratt was posed up against a treadmill at the gym, looking off into the distance as he gripped a water bottle.
Obviously, there was a lot to marvel over — but Jason Momoa couldn't pull his gaze away from one object in particular: the plastic water bottle the Parks and Recreation alum was holding!
Related: Katherine Shares Sweet, Thankful Message Of Love For Chris!
See for yourself (below):
Seeing an opportunity to educate the movie star (and his followers), the Aquaman star DRAGGED the Avengers: Endgame actor for his water bottle choice, writing in the comments: 
"Bro I love u but wtf on the water bottle. No single use plastic. Come on."
Harsh, but necessary!
The call-out isn't very surprising, seeing as Jason is a passionate defender of the ocean both on and off screen. On Tuesday morning, he shared his support for a bill to end plastic service ware in O'ahu, Hawaii, writing in a post on IG: 
"Time to actively Turn Off the Tap—An Oʻahu with no single use plastic service wear is possible now—Bill 40 is ready for you to support one final time. We get to make history. We get to lead the way… Businesses don't go out of business from not using plastic, they make change and adapt to better business practices. Mahalo to all of you who have testified, shared, and been a part of this movement already!"
We should also note that Jason and Chris are friends who previously worked together on The Lego Movie 2 earlier this year.
So the dragging of Pratt was really just a bro-ly reminder to be more eco-friendly when it comes to our hydration needs.
Thanks, Aquaman!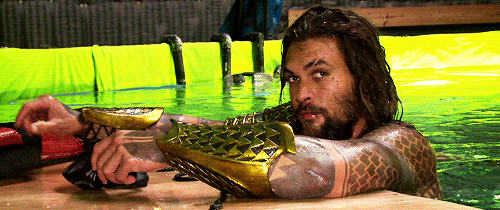 Aside from Momoa's comment, Pratt mainly received support and praise from his many famous followers. His wife Katherine Schwarzenegger commented with three heart emojis and "love it baby!"
Meanwhile, brother-in-law Patrick Schwarzenegger commented:
"Lookin ripped!"
Sean Hayes cut the tension with a jokey reply, writing: 
"Is that a picture of me? Oh, wait. No, No it's not me. Common mistake."
Chris has yet to respond to Jason's remark, but we have a feeling he'll be cropping out any plastic water bottles in his pics going forward! 
[Image via WENN]
The post Jason Momoa Publicly Shames Chris Pratt! appeared first on Perez Hilton.