It's hard to think of another relationship that defines "couple goals" as easily as John Legend and Chrissy Teigen's does!
The 41-year-old musician and 34-year-old model have more than proved themselves worthy of being one of the Internet's favorite romantic pairings. From their palpable chemistry and witty banter, to their knack for remaining unproblematic and supporting each other through their respective career milestones — there's a lot to love about these two. Or hate on, if you're if the jealous type!
Related: Chrissy Teigen Reveals All The Reasons Why She Gets Mommy-Shamed Online!
How exactly did these two get here? Let's take a quick stroll down memory lane and look back on John and Chrissy's beautiful love story!
How They Met
Okay, we'll admit it: this is probably the least relatable part of the pair's romance because how often is it that you meet your future soulmate on the set of a music video shoot? Fate was on John and Chrissy's side in 2007 when the supermodel, who was only 21 years old at the time, was booked to appear in the singer's visuals for Stereo. See the magic they created together, (below):
Ahh! That early chemistry was so serious we could feel it through our screens, y'all. They clearly felt it, too, as Teigen later revealed to Cosmopolitan they went for In-N-Out burgers and hooked up in her hotel room after filming wrapped. A little burger and some booty never hurt anybody, we guess. LOLz!
The Early Days
After that divine encounter, the duo kept in touch through phone calls and texts as they pursued their respective careers. In a lengthy cover feature with Vanity Fair, Chrissy recalled doing her due diligence online before she decided to give it a shot with John:
"He was kind of known at the time for either being in the closet or a modelizer. I used to go on the websites and it was always either how I was his beard, or how he paid his past serious girlfriends, or how he was with some new model. Oh my god, I would read everything."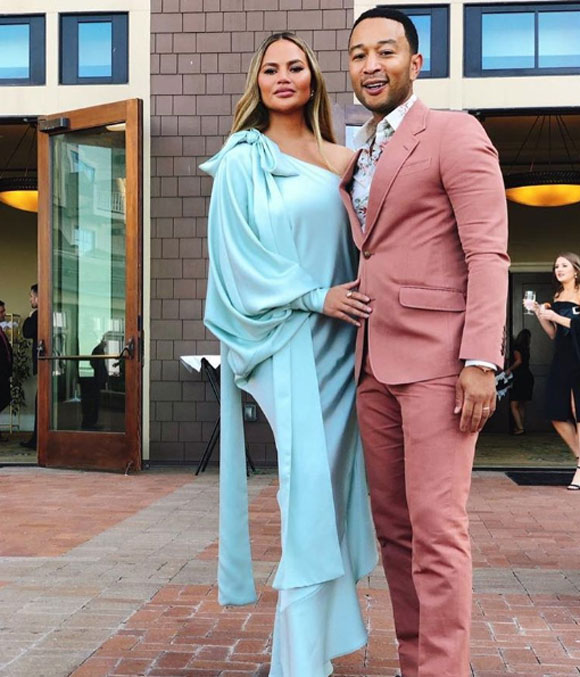 The singer-songwriter noted how witty and fresh the Sports Illustrated star kept their conversation even when they were miles apart:
"It got serious pretty quickly. She just entertained the hell out of me, texting me. What people respond to in her tweets today was the same energy in those texts. I didn't know that I wanted someone funny until I was actually with someone funny."
Once they found a decent break in their busy lifestyles, which included Legend's demanding tour schedule, a long-lasting bond truly began to blossom. Speaking to Entertainment Tonight in 2016, he explained:
"I think that's when I really started to know that this was the kind of person I wanted to be around a lot. Once we started spending more time together between tour stops and all this other stuff, we realized we had such a connection—and then it blossomed into a marriage and a baby."
Wait a minute, we're not quite at the making babies part yet! There were a few "bumps" along away on that journey…
Their Big Little Breakup
Navigating a new relationship while living on the road wasn't an easy task and the lovers briefly (and by brief, we mean in less than 24 hours) ended things at one point due to all of the stress.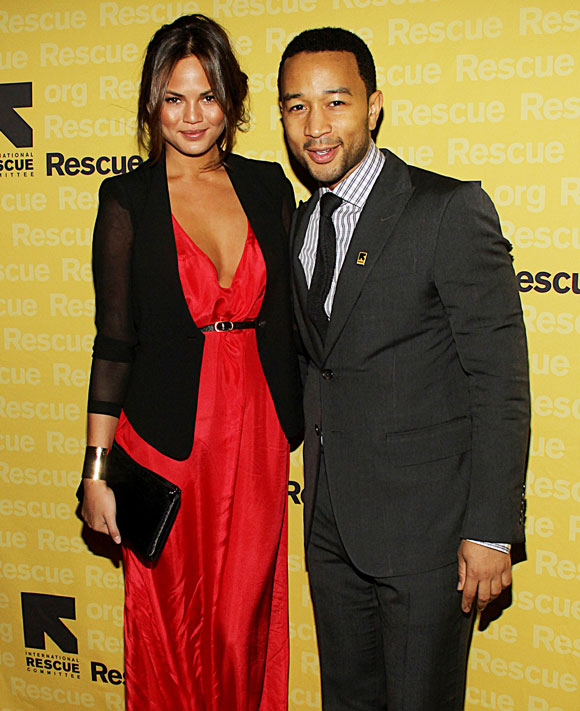 Teigen told Cosmopolitan back in 2016 that John was the one who initiated their breakup:
"Early on in the relationship, I was on tour with him and he'd gotten sick. He was feeling really bummed and stressed out. He was like, 'I can't be in a relationship right now.' That lasted for one day. Literally, a day. I knew it came from a place other than us not working."
Legend added more to that story when he told The Guardian in 2017 that he was "really stressed and busy," but after his feeble attempt to end it with Teigen, they were back together less than half an hour later.
"I was just like: 'I'd just be happier single right now.' And she was like: 'No.'"
We bet he's thankful she persisted looking back on it now, right? Ha!
Wedding Bells Ring!
During a Christmas trip to the Maldives in 2011, John got down on one knee and popped the big question! Of course, she said YES. When it came time to pick a wedding venue, the couple chose a romantic location they visited early on: Lake Como, Italy. Two years after getting engaged, they finally said "I Do" in a beautiful scenic ceremony with friends and family on September 14, 2013.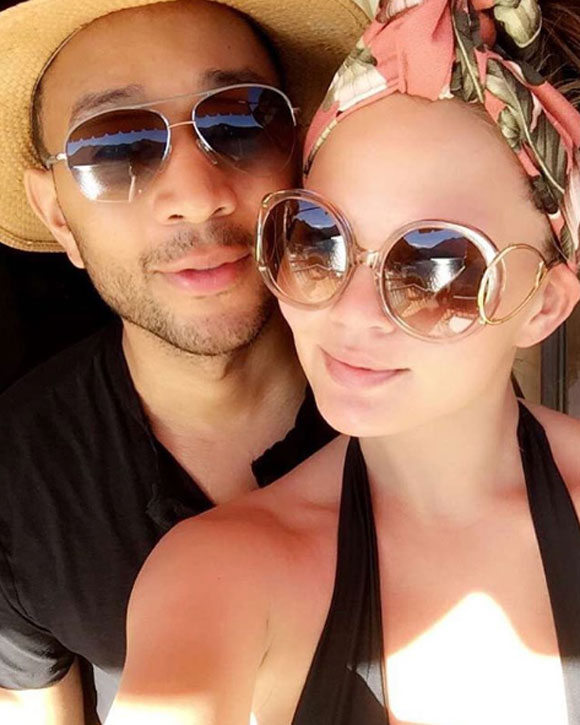 But before that picturesque event, John and Chrissy made a pit stop in New York City for an intimate ceremony so their nuptials could legally be recognized. In one particularly sentimental Instagram post about her anniversary, Teigen gushed:
"Back to where it all began – Lake Como, Italy – first came here in 2007. A boat tour guide took us to a little spot on the lake and told us to make a wish. I asked for this to be the man I marry and have children with. I think John asked for the most perfect bite of cacio e pepe. Both came true, and here we are."
The pair also used the location to film the music video for Legend's ballad, All Of Me, in which they both starred:
Here Come The Babies!
And now, the living breathing byproducts of John and Chrissy's love! On April 14, 2016, the happy parents welcomed their first child together, a daughter named Luna Simone Stephens. About two years later on May 16, 2018, baby boy Miles Theodore Stephens arrived, too!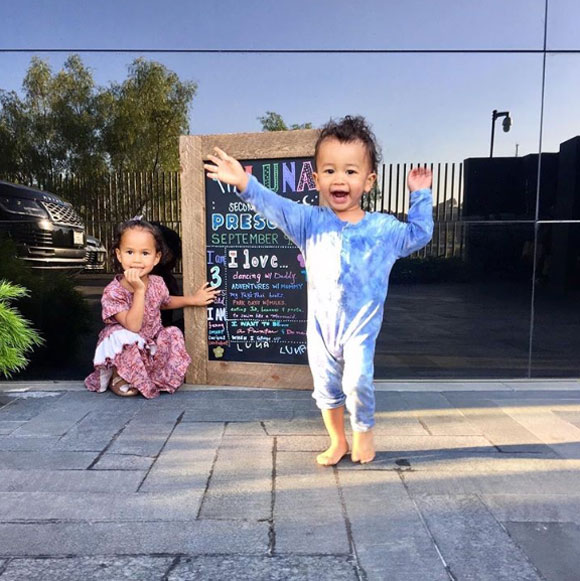 We mean, seriously. How adorable are these munchkins?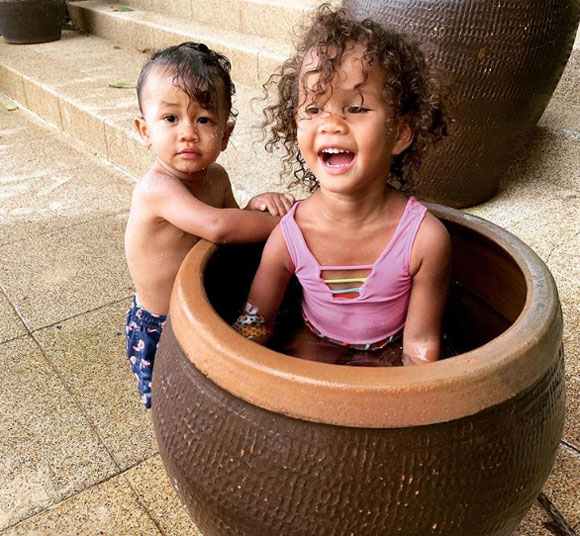 Both children were conceived via in vitro fertilization (IVF) and Teigen previously opened up to The Cut about the rocky but worthwhile path to starting a family this way. However, the power couple isn't rushing to add a third baby to the mix just yet! When a fan suggested the idea on IG, the Cravings author revealed:
"all good! gonna try to wait a few years before attempting again. These guys are exhausting!"
Becoming Stronger Together!
With two kids and over a decade of love between them, the model and EGOT winner have a seemingly perfect partnership that's only getting better with time.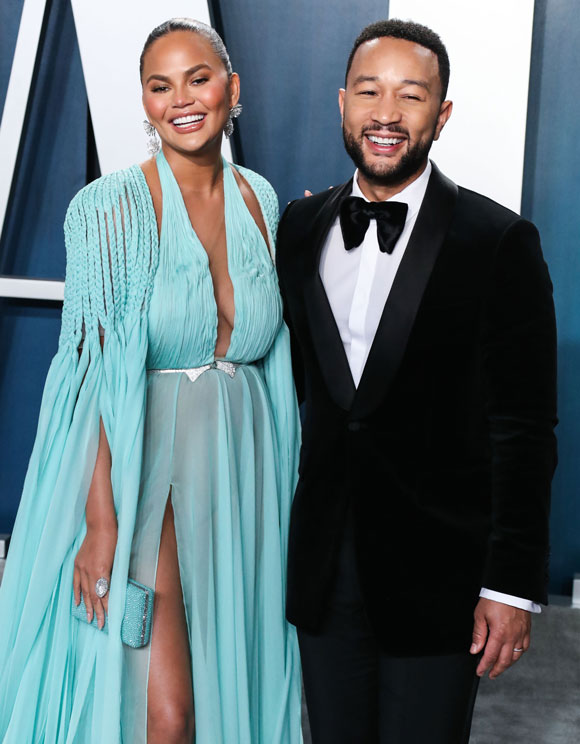 Legend previously gushed over his wife in a 2019 cover feature with People, admitting:
"She's the one. It's clear! We have great chemistry. She makes me laugh all the time. She's a wonderful mother. She's my best friend."
When the power couple landed the cover of VF later that year, Teigen revealed she sometimes gets insecure about what people think of her and John:
"There are some famous couples I look at and I'm like, 'Ugh, we get it. Stop trying so hard, you're so lame.' I think people definitely think that about us but … that's because I think of everything."
But it's safe to say these two were absolutely made for each other!
Just Being Iconic!
We couldn't complete this list without mentioning some of the couple's most iconic moments!! The Queen of Twitter has generated more viral moments than we can count, delivering lethal clapbacks and funny quips with ease whenever a situation calls for it. But when she and her husband aren't putting people in their place online, Chrissy and John are usually just having fun!
Like, remember that time Chrissy balanced a plate of hot wings on her butt and made John work hard for a bite?:
Or the time Chrissy made meme history when this awkward moment from the 2015 Golden Globes (where John snagged an award) was immortalized on the internet forever: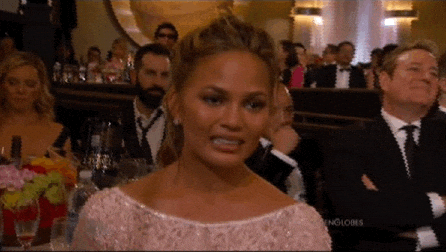 Then, there's this unforgettable vid that had the Bring The Funny host questioning her man's moves:
We were so tickled by this HILARIOUS lie detector test the couple took together for Vanity Fair:
And, we LOL'ed for days when Chrissy made fun of John being named People magazine's Sexiest Man Alive in 2019! She even briefly changed her bio to let the world know she was super proud of her man:

Too cute!
In September 2019, the couple celebrated 13 years together and we couldn't be happier for them! Here's to many, many more!
Perezcious readers, did U enjoy our lovely little recap? Let us know your thoughts in the comments section, (below)!
[Image via Sheri Determan/WENN]
The post John Legend & Chrissy Teigen's Love Story — Relive The Magic! appeared first on Perez Hilton.