For a decade and a half, The Daily Show host Jon Stewart gave hot takes on the failings of our politicians, with a healthy dose of comedy to take the edge off.
On Tuesday he wasn't laughing.
The comedian was giving testimony at a House Judiciary Committee hearing about the September 11th Victim Compensation Fund, which was set up to pay for the health care of those close enough to Ground Zero to be exposed to toxins (and sadly in many cases compensation for the families of the fallen).
Related: Alex Trebek Shares Positive Cancer Update
A great many of these victims are the first responders, the members of the NYPD and FDNY who risked or gave their lives to rescue others after the country's deadliest terror attack.
And yet their need is going unanswered.
Funding has already been lacking. The number of claims has continued to grow over the years as the effects of exposure to carcinogenic materials sometimes take years to manifest.
It was announced in February benefits were about to be cut by up to 70 percent. And in 2020 the Fund expires completely!
That's why Stewart came to Washington, D.C., to argue on behalf of the Never Forget the Heroes Act, which would fund the care of the victims through the year 2090.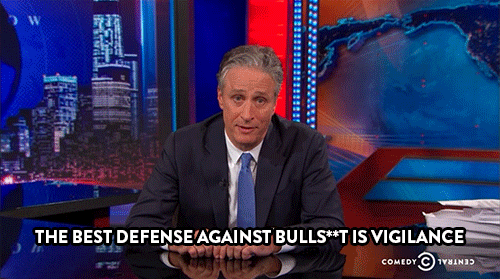 It's something no politician would ever argue against so as not to look like a monster.
Instead they apparently just skipped the hearing, which incensed Stewart from the start. He began:
"As I sit here today I can't help but think what an incredible metaphor this room is for the entire process that getting health care and benefits for 9/11 first responders has come to: Behind me, a filled room of 9/11 first responders, and in front of me, a nearly empty Congress. Sick and dying, they brought themselves down here to speak… to no one."
He then called out the members of Congress who had skipped out on the hearing as "shameful":
"It is an embarrassment to this country, and it is a stain on this institution. And you should be ashamed of yourselves for those that aren't here.

But you won't be. Because accountability doesn't appear to be something that occurs in this chamber."
He's right. This same thing happened in 2014 when Seth Rogen came to testify about Alzheimer's and multiple Senators left. That moment going viral should have been enough to shame members of Congress for years to come, but… here we are.
Stewart pointed out:
"There is not an empty chair on that stage, that didn't tweet out, 'Never forget the heroes of 9/11'… Well, here they are! Where are they [motioning to empty chairs]."
Damn.
That's what the cold, hard truth is with no jokes, y'all.
Stewart got more than angry. The proud New Yorker has been lobbying on behalf of the 9/11 first responders for years and has made good friends who have since lost their battles with cancer.
He nearly broke into tears as he called out the Congresspeople who either hemmed and hawed about the funding or just didn't even show up to make a case:
"Your indifference cost these men and women their most valuable commodity: Time! It's the one thing they're running out of."
Finally, he pointed out the biggest discrepancy between those he came to represent — and those who weren't there.
He concluded:
"They responded in 5 seconds. They did their jobs, with courage, grace, tenacity, humility… 18 years later, do yours!"
Watch the entire fiery speech (below):
[Image via CNN/YouTube.]
The post Jon Stewart Chokes Back Tears While Shaming Congress Over 911 First Responders Healthcare appeared first on Perez Hilton.