We never thought we'd feel bad for a woman married to Justin Hartley, but this is some cold stuff right here!
For those who haven't heard, the This Is Us star and wife of two years Chrishell Stause are getting divorced. In fact that seems to be the only thing they agree on.
On November 22, multiple outlets reported the sad news of the split. That is also the date Chrishell, a longtime soap star known for her work on All My Children and Days Of Our Lives, listed on her official divorce filing.
Photos: Celebrity Breakups Of 2019
However, Justin seems to think they were broken up LONG before then. He listed their separation date as being way back on July 8!
Um… WTF? Which one is right?
Well, based on all the evidence, it seems Justin is the one rewriting history. See that photo up top? Yeah, that was taken September 22, when the couple happily attended the Emmys after party together!
And here they are on October at the 10th Annual Veuve Clicquot Polo Classic in Los Angeles.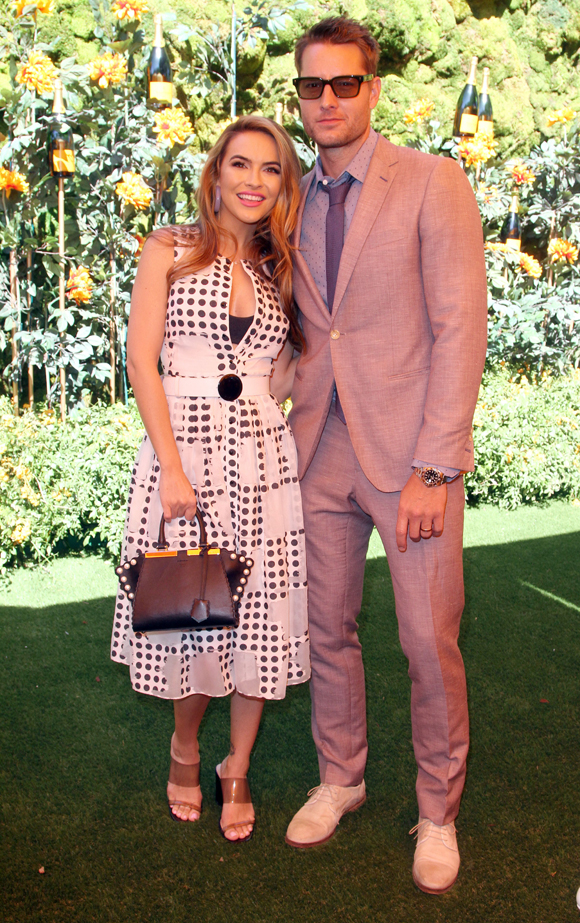 Not only that, just TWO WEEKS ago, she clearly had no idea it was coming — just look at this post from the Hollywood Reporter Golden Globe party!
They sure don't look like they've been separated for months…
Apparently Justin was the first to file, so Chrishell is actually correcting the record.
As to why he wants to erase those four months? Your guess is as good as ours. Or maybe better because honestly we can't think of any up-and-up reasons, just sketchy ones.
But that's only part of the confusion for Chrishell. The fact her husband filed at all blindsided the soap star. A source told ET:
"Chrishell is still shocked that Justin filed for divorce and is devastated how everything is unraveling."
Another source spilled to People:
"Chrishell is still reeling…

Yes, they'd had some problems, but she certainly never thought he would just go and suddenly file for divorce, and not even try to save things."
Suddenly? AND he wrote that they'd separated months ago? Damn, that's cold. So why did it happen in the first place?
One source says it's their different career paths:
"He's reached a new level of fame thanks to the show and he doesn't want to close many doors right now, and that's not necessarily the path Chrishell is looking to take. She thought babies would happen soon after they got married, but it just hasn't worked out."
Another insider goes a step further, calling out Justin as being too big time for his previous commitments:
"Justin is finally getting his big break in Hollywood and it's completely changed him and how he treated his marriage."
Yeesh!
This is… uncomfortable…
A source close to Justin on the other hand said:
"Justin is obviously very disappointed that his marriage didn't work. Justin and Chrishell are both focused on their busy careers."
Hmm. He seems to have cut and run pretty quick for someone so disappointed.
What do YOU think, Perezcious readers? And what's up with that four month difference??
[Image via Adriana M. Barraza/WENN.]
The post Justin Hartley's Wife 'Reeling' From Sudden Divorce — As He Lists Separation Date MONTHS Before Their Split! appeared first on Perez Hilton.