Sometimes, you've just gotta reach out to those in need!
For Kim Kardashian West in this sneak peek of the fam's upcoming 18th season of Keeping Up with the Kardashians, that means extending an olive branch to sis Khloé Kardashian's embattled ex Tristan Thompson in the form of a dinner invitation! Even if Khloé herself wasn't exactly expecting it!
Related: Are Kim And Kanye Struggling Together Right Now?!
The KUWTK team released a brand new teaser clip on Thursday for their upcoming premiere, and in it, Kim calls up her younger sister to discuss how she ended up handing out an impromptu dinner invitation to the most unlikely of guests… True Thompson's daddy!
Speaking to the Good American founder over FaceTime, Kim recalled the invitation, saying (below):
"I was leaving the Mercer Hotel and then I get a call on my cellphone from Tristan. And he was like, 'Oh my god! I'm right next door.' And he's like, 'What are you doing?' And I was like, 'I'm gonna go have dinner with my friends.' So, I was like, 'Do you wanna come?'"
As you might expect, Khlo-money was SHOCKED by the news, and incredulous at KKW for her open invitation.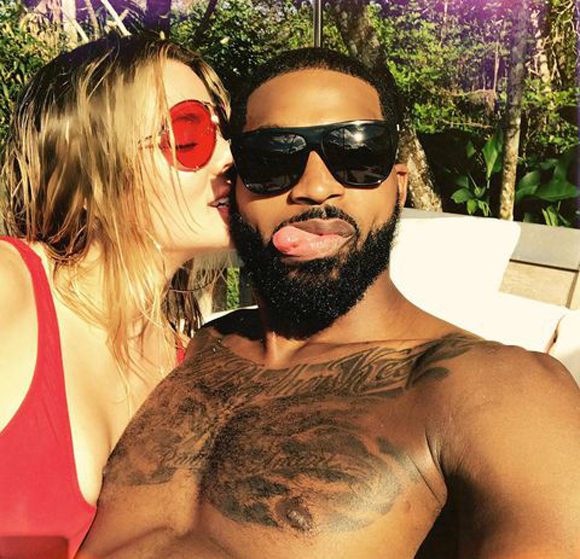 It was so much so soon after their very public breakup, and Kim herself quickly back-tracked against it, adding after a pause (below):
"But I was just like, Oh my god, what did I do? Should I not invite him to dinner?"
Oh nooo!!!
Related: What Did Kourtney Do To Ruin Khloé's Oscars Night, Anyways?!
Fortunately — and surprisingly — the Revenge Body star chose to be the bigger person in this instance, and relayed to her older sis how everything was fine.
Khloé said:
"I think you gotta do what's best for you. If you want him to have a drink at the end, there's nothing wrong with that. That's beyond generous of you. I think forgiveness is the best way."
Indeed, it is, and amen to that!
You can watch the entire awkward convo about dinner plans go down in this week's exclusive first look at the sneak peek clip (below):
Well then! What a smooth way to handle something that could have been VERY awkward!!
And honestly, watching that whole thing was very interesting, wasn't it?! What do U think about Khloé's reaction to the dinner invite, Perezcious readers?! Do you give her props for always trying to take the high road in her never-ending quest to successfully co-parent with Tristan??
Sound OFF with your opinions and more down in the comment section (below)!!!
[Image via WENN/YouTube]
The post Kim Kardashian Invites Tristan Thompson To Dinner — And Khloé's Reaction May Surprise You! appeared first on Perez Hilton.