Is this the next big KarJenner feud??
On next Sunday's all new Keeping Up With The Kardashians, we're given a glimpse of what looks like a serious space battle brewing.
Office space, that is.
Kylie Jenner is getting a big new office for Kylie Cosmetics, and she's super excited about it. Except… momager Kris Jenner has taken over the design.
Video: Kendall Slams 'Rude' Kourtney Kardashian
Instead of talking to one another about their problems, they're talking to other Kardashians behind one another's backs. And when we say talking, we mean trash talking.
Kris is actually in the problematic office when she gets a call from Kourtney Kardashian, who asks how the office is going.
Kris almost immediately begins complaining about Kylie, saying:
"You're going to love it. But lately, Kylie's been so territorial. I'm not sure what's going on."
What's going on is that Kylie is upset since the office is hers, not her momma's!
As she tells Khloé Kardashian:
"Kris Jenner is just doing too much with my office."
She notes:
"My office that I just got and pay way too much a month… I've spent so much time making it perfect."
That's when Khloé reveals she's already seen the space in question, and Kylie FLIPS!
"What? I told her not to show any of you guys until I was there and could give you the grand tour."
Khloé responds:
"Oh, I got the grand tour, honey."
The show even confirms this with footage of Kris giving Khloé and Scott Disick the tour of what she totally says is HER office: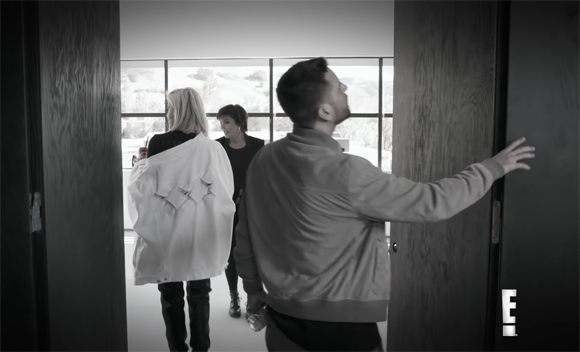 Kylie is, of course, furious. She yells:
"It's KYLIE COSMETICS! How is she gonna hide this when my office is done and you walk up and the door is glass, my logo?"
She also points out Kris has been using her parking spot.
Video: Khloé Tells Kylie About Her Traumatizing First Kiss
Meanwhile, Kris tells Kourtney her side, complaining about being dressed down by her daughter:
"In front of everybody at the office, she's like, 'Don't ever park in my parking space again, it's the one thing that means something to me! I've worked so hard.'"
She throws a LOT of sarcasm into quoting her youngest saying that last part.
And that's when her issue with Kylie becomes all too clear:
"She has this, like, entitlement. No one says anything because she's Kylie Billionaire Jenner."
Kylie Billionaire Jenner?
Is Kris upset her kiddo is more successful than she is??
Green isn't a color that looks good on you, gurl!
Ch-ch-check out the tantalizing preview (below)!
[Image via E!/YouTube.]
The post Kris Jenner & 'Kylie Billionaire Jenner' Feud Over Office In KUWTK Preview! appeared first on Perez Hilton.