It's about time Liam Hemsworth and Miley Cyrus started getting busy!
The 29-year-old actor is the cover boy for GQ Australia's May/June issue this year, and in the mag, he gets real about his relationship with Miley and the family plans he has for the pair as they get older in the coming years!
Related: Miley Cyrus & Other Celebs Send Lots Of Love To Britney Spears!
Speaking about potentially starting a family and raising some kids with his 26-year-old love, Hemsworth opens up about how he sees the future — and it sounds, um, BUSY!
The actor — noting that his family currently consists of seven dogs, two pigs, many horses, and multiple cats, said to the mag (below):
"One day [we'll add kids]. Once we don't have so many dogs. You couldn't bring a baby into our house right now. But one day, we'll know when it's right. But right now? Not for the time being."
It's probably good that he sees that — very realistic!!!
Of course… his future vision may not be THAT realistic, considering he also told the mag he wants "10, 15, maybe 20" future babies with Miley!
Wait, WHAT?! That poor girl — does SHE know what she's in for according to Liam's family vision?! Ha!!! At the very least… they better start getting busy VERY soon if that's the case!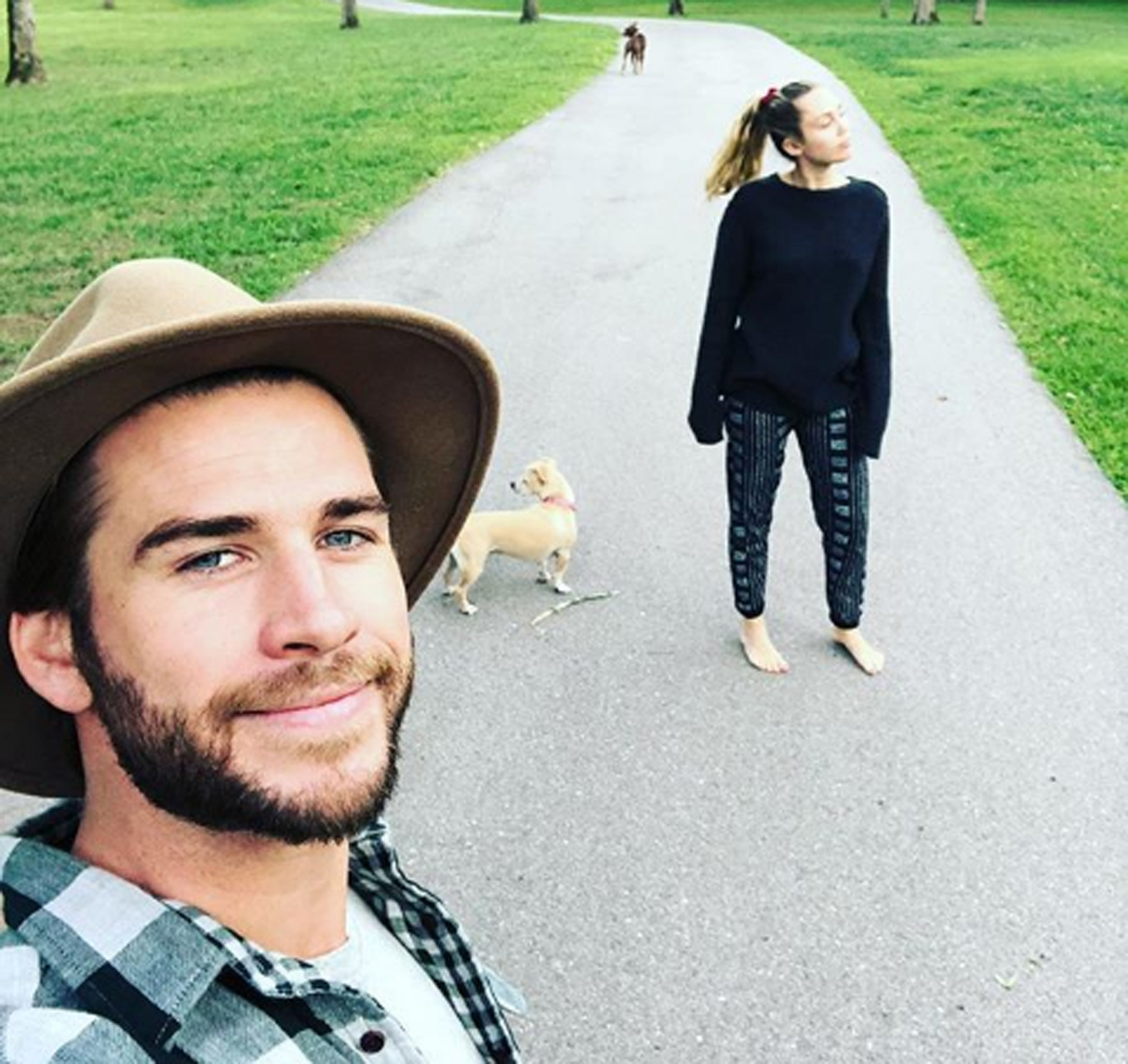 Liam took on more serious topics during the interview, too, discussing how much life has changed in the past year ever since the couple lost their California home to wildfires.
He admitted things had recently been "pretty hectic," and added (below):
"My house was in the middle of the red zone. My property is super dry, with big eucalyptus trees, and I'd been saying for years that if ever there was a spark in the canyons, it was just going to go up. About three or four a.m., I got a call from Miley. She'd found out from a friend, and that was when she told me it was gone. That was pretty gut-wrenching. It was actually real. And it's just a hard, hard thing to come to terms with. Overnight, you literally lose all your possessions and your space, your nest. Obviously there are photos and things like that, but the one thing I wish I did grab was this Rolex that Lionsgate had given me as a present, after the first Hunger Games film came out. I always imagined giving it to my first son or something. I don't hold too much sentiment to possessions, but that was probably the one thing I wish I'd taken."
Oh, man!! Very real — and very sad!
Related: Liam Almost Wasn't Cast In 'The Last Song'! Really!
Interestingly enough, though, having gone through the devastating wildfire experience actually pushed the notoriously private couple to the altar sooner than later, as Hemsworth and Cyrus realized then there was no reason to wait any longer to profess their love for each other.
Liam explained (below):
"I was 18 when I met Miley. We really fell in love quickly and had a really strong connection from the beginning and I think in the back of my head I knew it was on the cards, but we weren't planning to have a wedding anytime soon. Then just going through something this emotional with someone, it brings you closer and we felt like we'd lost a big part of our lives, so we wanted to make a new part of our lives. It was something really good coming out of a horrible situation. It was going to happen eventually, but I think this just sped it up a little bit."
Cute.
Thoughts and reactions to all this Liam-Miley news, Perezcious readers?
Share all your opinions and takes with us in the comment section (below), and read Liam's whole cover story and interview in this month's issue HERE…
[Image via WENN]
The post Liam Hemsworth Wants '10, 15, Maybe 20′ Kids With Miley Cyrus — Whoa! Time To Get Busy! appeared first on Perez Hilton.