If you can't beat 'em, join 'em. Errr, at least plead down to a lighter punishment, or something.
That's the prevailing choice that won out in federal court on Friday, as Full House star Lori Loughlin and her husband, fashion designer Mossimo Giannulli, officially entered their respective guilty pleas in the ongoing college admissions scandal investigation. Well, technically, the proceedings didn't take place in federal court, due to the ongoing coronavirus pandemic, but pleading out via Zoom just doesn't sound as formal, does it?! Ha!
Related: Is THIS The Real Reason Lori And Mossimo Decided To Plead Guilty?!
Anyways, the events on Friday in (virtual) federal court went pretty much exactly as expected: Aunt Becky pled guilty to one count of conspiracy to commit wire and mail fraud, while her Target designer husband Mossimo plead out to one count of the same, as well as one count of honest services wire and mail fraud. All this, you'll recall, in an attempt to get their two daughters — 21-year-old Bella and 20-year-old Olivia Jade — into the University of Southern California as purported athletic recruits. Was it worth it?!
In a no-nonsense statement as part of a press release from the US Attorney's Office regarding the plea deals, the government's lawyers laid out the penalties for both the Fuller House alum and her husband, too (below):
"[Loughlin and the government] have agreed to a sentence, subject to the Court's approval, of two months in prison, a $150,000 fine and two years of supervised release with 100 hours of community service … [Giannulli and the government] have agreed to a sentence, subject to the Court's approval, of five months in prison, a $250,000 fine and two years of supervised release with 250 hours of community service."
The court still has to officially approve the plea deal; on Friday, the sitting judge scheduled the sentencing date to be August 21, though Giannulli's attorney asked for a more expedited process in light of the plea and requested July 30 as the final date. The judge noted he'd take the day in question under advisement, but for now, the sentencing date will remain in mid-August. So while this is all but over, it's not technically over — a judge still has to sign off on the deal and actually hand down the sentence.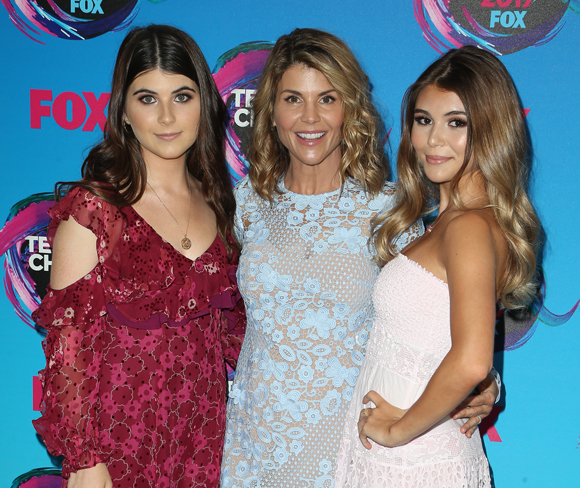 For now, though, Loughlin and Giannulli can at least begin to put all this behind them. A source spoke about that to E! News, citing the couple's desire to be free of the bad publicity as one of the reasons they wanted to plead out and move past this, once and for all.
The insider relayed:
"They are ready for it to be over with and to get on with their lives. This has ruled their lives and has been hanging over their heads for so long, it has really taken its toll. They want to put this behind them and move on. They didn't want to endure the stress of a trial and continue dealing with this on a daily basis. It's time to move on and start over again. They don't know if the judge will sign off or delay their jail time. But they are hopeful and they know there is a chance they will start their sentences and be able to serve at home. They are waiting to find out."
And that, then, will be the next question as sentencing comes up in August: just how much jail time will these two serve?!
Only a judge will be able to answer that in due time, of course. For now, at least, Loughlin and Giannulli have officially admitted their guilt on the record — and in doing so, avoided what might have been a long, drawn-out, drama-filled trial.
Did they make the right decision, Perezcious readers?? Would U have tried to fight for your day in court, or is pleading out the smart move here, in your opinion?!
Sound OFF with your take on the whole thing down in the comments (below)!!!
[Image via Nicky Nelson/WENN]
The post Lori Loughlin & Mossimo Giannulli Formally Enter Guilty Pleas Via Zoom In College Admissions Case appeared first on Perez Hilton.