Taylor Swift fans are going full Da Vinci Code on her latest single, Lover!
As we reported, the pop superstar released the title track off of her upcoming seventh studio album on Friday, immediately fueling Swiftie speculation over whether the singer secretly got engaged to boyfriend Joe Alwyn.
While outlets have since reported the 29-year-old is NOT engaged, the new song still raised eyebrows due to its thinly-veiled wedding references.
Video: Miley Cyrus Addresses Liam Hemsworth Split In New Breakup Song!
Take the following lyrics, for example: 
"My heart's been borrowed and yours has been blue / All's well that ends well to end up with you."
Borrowed? Blue? We see what you did there, gurl!
Fans swiftly took this line as a nod to the popular wedding tradition in which a bride must have something old, something new, something borrowed, and something blue before she walks down the aisle. 
Sure, suggestive lyrics about love are not something new for the singer — but it appears there's another, more subtle nod Swifties are also freaking out about. 
Related: Taylor Surprises Fan By Paying Almost $5K Of Her College Tuition!
Lover clocks in at exactly 3 minutes and 41 seconds — which seems like nothing, at first glance. But if you turn those numbers around (again, we're in Da Vinci Code territory here), you would get 143, which is apparently some type of numeric code for "I love you"!
According to these sleuthing Swifties, the number "1" equates to the singular letter "I," the number "4" represents the four letters in "LOVE," and the number "3" stands for the three letters in "YOU"!
What does that spell!?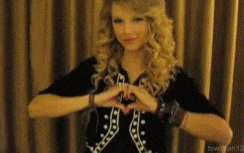 We know, we know. It's a bit of a reach. But Tay FOURs herself some numeric clues, so it's not completely implausible! See what we did there??
Overall, though, it's pretty obvious the song is a love letter to her relationship with the actor, who she's been dating for almost three years now.
The following lyric, as fans have noticed, is likely a reference to the holidays the couple have spent together: 
"We can leave the Christmas lights up 'til January / This is our place / We make the rules."
Another line seemingly hints at the reports of Taylor and Joe moving in together:  
"We could let our friends crash in the living room / this is our place, we make the call / I've loved you three summers now, honey, but I want 'em all."
And let's not ignore the lyric where Tay addresses their sometimes-long distance relationship: 
"Can I go where you go? Can we always be this close forever and ever?"
Awww… sounds like true 4!
Have YOU found any more Easter eggs in Taylor's new song? Take a listen to Lover again (below) and share any potential clues we may have missed in the comments!
[Image via FayesVison/WENN]
The post 'Lover' & Marriage!? All The Hidden Easter Eggs In Taylor Swift's New Single! appeared first on Perez Hilton.