UPDATE 9:55 A.M. PST: Matt Lauer's attorney, Elizabeth M. Locke, responded to the allegation he exposed himself to Melissa Lonner at a work event. She stated:
"Matt never exposed himself to anyone. This ridiculous story has been shopped around for years. Many allegations that are being circulated were never raised during any fact-checking process. And despite repeated requests for an advance copy of this book, we have not been provided one, while many media outlets have. Matt will have more to say at an appropriate time, but he will not take part in the marketing circus for this book."
We'll continue to update you as more information comes out.
---
Brooke Nevils, the woman allegedly anally raped by then-Today anchor Matt Lauer back in 2014 at the Sochi Olympics, detailed the horrific aftermath of the alleged incident as part of Ronan Farrow's new book, Catch and Kill: Lies, Spies, and a Conspiracy to Protect Predators.
Of course, we've been covering Nevils' story quite a bit here recently — but now, we're learning more about what she went through after the alleged rape… and it's truly horrific in its own right.
Related: Lauer 'Categorically Denies' Rape Accusation; Colleagues Reportedly Horrified
Unsurprisingly, Nevils appears to have unfortunately been through hell after Lauer's alleged crime against her, and coming forward about it also took an emotional and physical toll. Farrow writes in his book (below):
"Over the past two years, Nevils had attempted suicide. She's been hospitalized for post-traumatic stress disorder, descended into heavy drinking, pulled herself back. She'd lost fourteen pounds. And gone to doctors twenty-one times in a single-month period."
Ugh…
The woman, now 35, details her extreme weight loss when speaking with Farrow for the book, and ultimately also notes in an interview (below):
"I've lost everything I cared about. My job. My goals."
Seriously so heartbreaking.
But it serves as an important reminder that, while Lauer periodically tests the waters about a possible comeback to television (vomit), Nevils will have to live with the aftermath of this s**t for the rest of her life. And even if a sketchy TV exec eventually lets the alleged rapist back on the air at some point, at least Lauer's wife knew when to toss out the trash.
ANOTHER ONE?!
Farrow's book doesn't just tell Nevils' allegation of rape — unfortunately, it also uncovers yet another allegation against Lauer, this time from a Today show producer named Melissa Lonner who claims things got completely out of line at a work event in 2010.
Lonner declined to comment specifically for Farrow's book, but the author claims the producer previously told colleagues about the TV host asking her to leave a work party at NBC's offices in NYC to go upstairs and "see him in his office." Once inside, Lauer allegedly asked the woman to sit down, after which Farrow writes (below):
"He joked about how much he disliked work cocktail parties like the one they'd just attended. Then, she told the colleagues, he unzipped his pants and exposed his erect penis."
Ugh…
Lonner reportedly "remembered reeling" in response to seeing it, and nervously joking about not wanting to be intimate in his office because "everyone else has done it" (OK, what the F**K, Matt??) before turning him down. Once rejected, the now-61-year-old Lauer allegedly called her "a f**king tease" before getting angry.
The producer eventually went to on-air host Ann Curry with the story, and Curry told two NBC senior executives about it, along with the fact that Lauer "has a problem with women."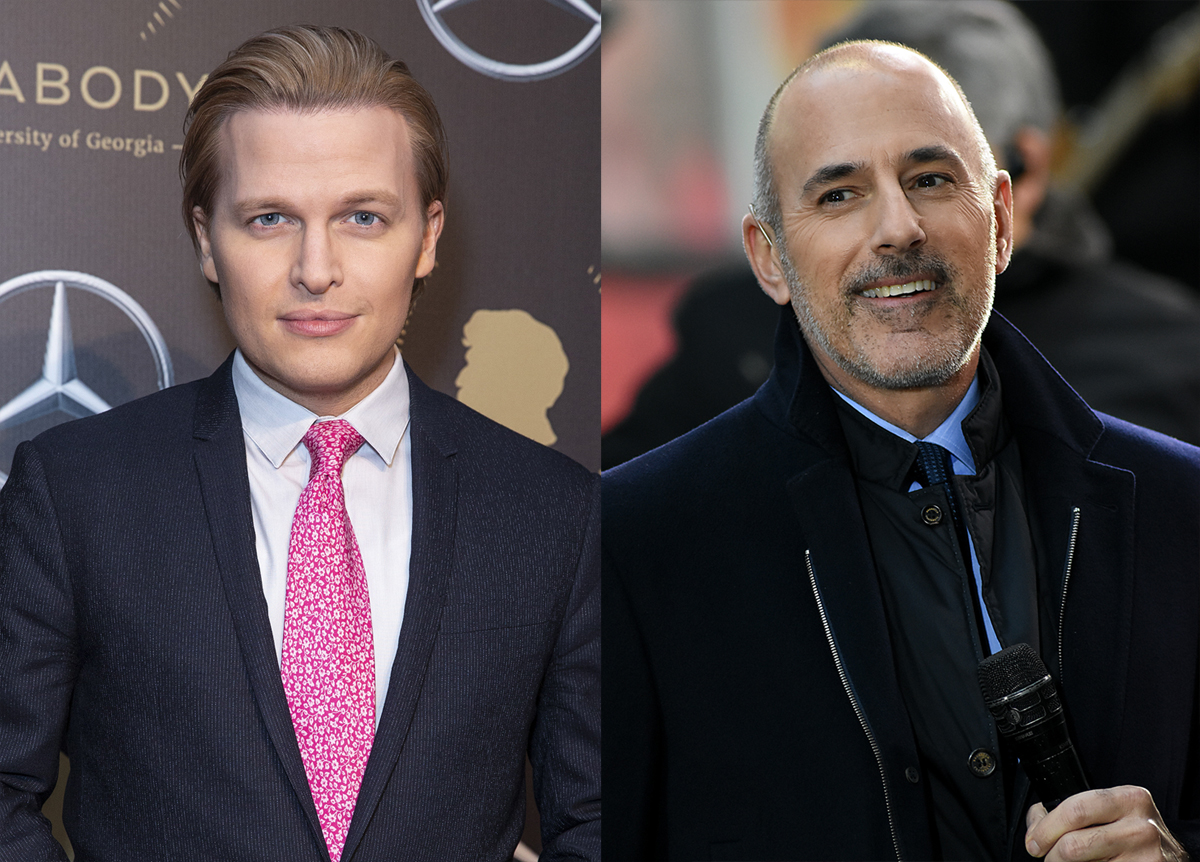 However, "as far as Curry ever heard," according to Farrow's book, "nothing ever happened" to Lauer as a result of this alleged incident, either. No kidding…
On Monday, as we reported, NBC prez Noah Oppenheim did his best to walk back Farrow's claims in the book, denying them in a statement to reporters about Lonner's allegation, Curry's involvement, and more. Here's the key part about Lonner's allegation (below):
"At the time of [Lonner]'s exit, three years later, she still had made no complaint about Lauer, was paid 22 weeks of severance based on her years of service and was asked to sign a separation agreement that was standard for departing employees at the time. The standard separation agreement included a routine confidentiality clause that was designed to protect proprietary company information.  It was not drafted to prevent an employee from reporting misconduct, and it has never been used that way … Farrow says she disclosed her allegation to Ann Curry in 2010, and asked her not to share it. Curry says she then told two executives – both of whom are no longer with the company – that Lauer 'had a problem with women.' By her own account, Curry relayed no specific complaint, nor did she say Lauer's 'problem' regarded any specific workplace misconduct. NBCU was able to speak with one of those former executives during the 2018 review and she denied having been told even this."
Hmmm…
Oh, and one remarkably macabre final note: pro-Lauer sources speaking to Farrow also deny Lonner's claim… but their denial actually helps make her case! According to the author, insiders close to the TV host said he'd never expose himself in the way Lonner is accusing, but he definitely did "make lewd gestures" towards the TV producer.
Related: Jennifer Aniston Opens Up About Lauer And 'Piggish' Harvey Weinstein
So they're saying he didn't expose himself because he was too busy making lewd gestures?! Goodness gracious, Matt… get your f**king s**t together!!!
Reactions to all this, Perezcious readers?! It's unreal…
[Image via Dan Jackman/WENN]
The post Matt Lauer's Rape Accuser Brooke Nevils Attempted Suicide & Was Hospitalized '21 Times' After Incident With TV Host appeared first on Perez Hilton.