We've been watching the Marvel Studios movies for a decade now — and we've been watching the press tours, too.
One thing that's been overwhelmingly obvious is how much the original Avengers get along.
In group interviews, games, and behind-the-scenes footage, they always look like a bunch of teens on the last day of high school, having a great time together and not giving an eff.
Video: Chris Pratt Shares 'Really Illegal' Endgame Vid
Even as they've added new cast members, it's always seemed like a big, fun club — which is amazing considering all the egos of all the big stars in play.
However, some fans think they've spotted the first real crack in the suit of armor around the world:
Brie Larson.
The Oscar winner has been a magnet for controversy thanks to her outspoken (but at times pretty clumsy) championing of more diversity in Hollywood.
And of course, sadly, just her existence as a female lead pissed off a certain group of man babies. (Yes, they're the same ones who think Arya Stark is a "Mary Sue." Look it up, SAME GUYS.)
The latest attacks on the actress seem to be a projection of how these fans feel personally about her — onto her castmates.
Related: Thankfully The Reviews For 'Captain Marvel' Were Controversy Free — Though Pretty Mixed
Basically they're saying not only do they hate Brie Larson, but all the Avengers cast they love ALSO hate Brie Larson.
One YouTube channel even analyzed the body language between Brie and costars Chris Hemsworth and Don Cheadle during an interview.
The "body language expert" (who advertises a paid tutorial at the beginning of her video in which she'll teach YOU how she does it) looks at a clip and says things like:
"They're analyzing everything that comes out of her mouth. Lack of trust."
Much hay is made over a moment in which Brie elbows Cheadle, and he doesn't like it: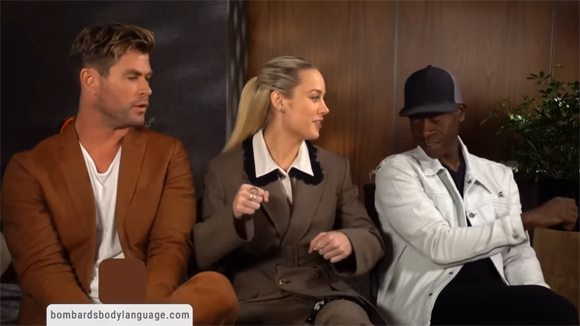 There are many videos which posit the same theory; there are now rumors going around about Brie being "difficult" and a "diva" on set.
But this one caught the attention of one of the actual actors in question — one who doesn't mind getting into the fray on social media.
Don Cheadle broke out the War Machine guns to blast the vid, tweeting:
you should see my "body language" right now … https://t.co/cJtHRUMSSQ

— Don Cheadle (@DonCheadle) May 1, 2019
 this is some of the funniest stuff i've ever heard … brie was trying to keep her ponytail behind her because her hair stylist kept flying in and fixing it. she's actually being OVER accommodating … amazing … https://t.co/cJtHRUMSSQ

— Don Cheadle (@DonCheadle) May 1, 2019
The video does seem to take everything out of context.
You never know when watching an interview what JUST happened beforehand, what the conditions are like.
They DO look uncomfortable. Even the normally gregarious Hemsworth.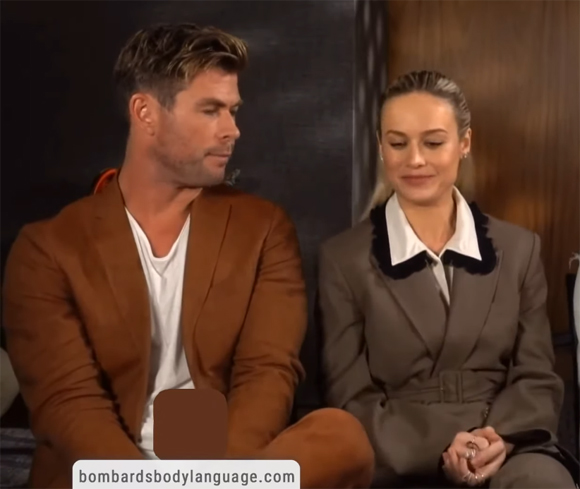 We can also tell the actors are shoved together pretty awkwardly for the camera. And that's probably their 200th time answering that same question. These are things the "body language expert" doesn't seem to be taking into account.
Not to mention Cheadle's explanation of the hair stylist which, shockingly, the "expert" didn't pick up on. Almost like she didn't see everything that was happening around them and in between editing. Huh.
Look, you know how much we love hearing about the tea when it comes to feuds between stars.
But this isn't tea, y'all. This isn't even herbal tea.
Do YOU buy the rumor the OG Avengers cast has a problem with Brie Larson??
The post No, The 'Avengers' Cast Don't Hate Brie Larson! appeared first on Perez Hilton.