Pink has absolutely had it with trolls online taking aim at her kids, so this time she beat 'em to it!
On Tuesday, the Walk Me Home singer posted a sweet photo of her two children, eight-year-old Willow Sage and two-year-old Jameson, running through lawn sprinklers and enjoying a hot, summer day as most little ones do.
And before the mommy-shamers of the world could find a reason to pick apart the fun snap, Pink left a special, sassy message for them in the caption of her Instagram post.
Related: JWoww Opens Up About Her Son's Autism Struggles: 'He's Come So Far'
The Grammy winner used a heaping amount of sarcasm and wit to describe the potentially "controversial" shot (below):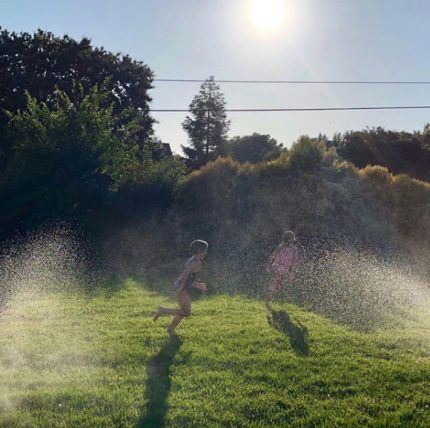 She wrote:
"Here's a picture of my child running through water. It wasn't even filtered. What a waste of water.

And no helmet? I hope she had sunscreen. If she slips and falls she may be traumatized for life. And her mother wasn't even there. I was….. gasp…. working!!!! In another country! "
Ha! We definitely sense the disdain behind those words right there.
After all, this is hardly the first time the So What singer has had to defend her parenting choices, regardless of how minuscule or non-life threatening they may be.
The momma of two added the following hashtags, making sure her message reached its intended audience:
"#instagramisfun #fucktheparentingpolice #ifyoufeellikeunfollowingpleasegoddoitquickly #opinionsarelikeassholes #somanyassholes"
You catch that, parenting police? This woman is OVER your harsh and unwarranted opinions, so either hit that unfollow button, or keep them to yourself!
As we told you back in April, the songstress announced she would no longer be sharing photos of her kids on social media after receiving particularly nasty comments on an IG photo of her family on vacation together. Critics slammed Pink for allowing her son to engage with a pelican after she had taken off her son's swim diaper.
At the time, she explained the decision to limit how much she shares while appearing on The Ellen Degeneres Show. She told the talk show host:
"People went as far as saying someone should call child services because he didn't have a diaper on and how dare I … some of the nastiest things. I cried so hard after that because I like to share my family. It's my proudest moment. I'm prouder of my kids than anything I've done in my whole life."
The Just Give Me A Reason singer added she isn't above constructive criticism, but she is against people spewing hateful comments just because someone believes they can:
"I understand people saying, 'You need to be more careful because you are in the public eye and you should have thought of that.' And they're right. But there's a nicer way to say that."
Well, even if her critics have found a nicer way to voice their concerns, the 39-year-old starlet has disabled the comments on her post, so no one was able to write their reactions to the sarcastic caption.
So, instead, leave them here! Tell us, what do YOU think of the feisty mama's caption?
[Image via Adriana M. Barraza/WENN]
The post Pink Says 'F**k The Parenting Police' With A Clever New Photo Of Her Kids! appeared first on Perez Hilton.