Jonathan Van Ness doesn't need your archaic gender labels, henny.
The Queer Eye star got real about his gender identity in a new interview with Out Magazine, revealing that he's more fluid when it comes to how he identifies as a person.
Related: 'Queer Eye' Star Tan France Secretly Started Bleaching His Skin At Age 10
Explaining how he doesn't consider himself a cisgender man, the 32-year-old grooming genuis said:
"The older I get, the more I think that I'm nonbinary. I'm gender nonconforming. Like, some days I feel like a man, but then other days I feel like a woman."
He's not alone! According to the APA, it's estimated that nonbinary individuals make up 35% or more of transgender populations alone.
Thanks to the growing number of celebs who've come ocut as nonbinary or gender fluid — including Ruby Rose, Cara Delevingne, and Ezra Miller — that number is increasing.
Research from the Higher Education Statistics Agency (HESA) shows that 1,025 students in U.K. higher education don't label themselves as male or female in 2017; up from the 480 students in that group from the previous year. Similarly, a 2017 study out of UCLA identified 27% of California's teens (or 796,000) from ages 12 to 17 as "highly gender-nonconforming."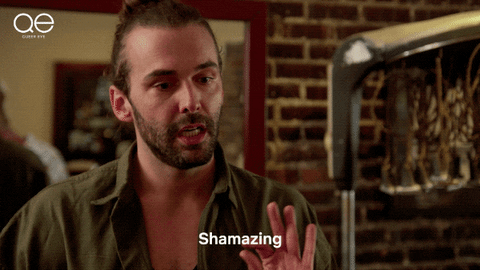 Overall, more people are starting to view gender less as binary and more as a spectrum. Van Ness, who said he still uses he/him pronouns, is in this camp, as he explained to Out:
"I think that a lot of times gender is used to separate and divide. It's this social construct that I don't really feel like I fit into the way I used to."
As fans know, JVN has never shied away from expressing his feminine side through fashion. He's been photographed rocking heels, skirts, and other types of ensembles that are traditionally worn by women.
He revealed:
"I've been wearing heels and wearing makeup and wearing skirts and stuff for a minute, honey. I just didn't know that that meant that I had a title."
While Van Ness is regularly applauded for his fierce looks these days, that sadly wasn't always the case.
Related:Â Karamo Brown & Antoni Porowski Had 'Extreme Amount Of Conflict' On Set!
The makeover guru admitted that he "put on every nail polish, every heel, every scarf," growing up, and it often made him the target of bullies at school. He recalled:
"When I would play with those things, I knew it needed to be before the sun came up or after the sun came down, like, in the basement and it needed to be something I couldn't wear to school. When I would do it, it had to be behind closed doors."
Ugh!
Thankfully, a lot's changed since then, and JVN is free to dress as his authentic self — whether that be more masculine or feminine.
He still isn't exactly sure how to label himself, though:
"I just am either like gender-bendy or nonconform-y or nonbinary and somedays I feel like a boy and somedays I feel like a girl. I didn't think I was allowed to be nonconforming or genderqueer or nonbinary — I was just always like 'a gay man' because that's just the label I thought I had to be."
Sounds like the only labels he's concerned about are the ones on his clothes. That's the way it should be!
Keep doing you, sis!
[Image via WENN]
The post 'Queer Eye' Star Jonathan Van Ness Comes Out As Nonbinary: 'Somedays I Feel Like A Girl' appeared first on Perez Hilton.