January 6 will be here before we know it — and with it, Pete Weber ascends to the Bachelor throne to (hopefully) find love in the 24th season of the iconic reality show!
On that first Monday night in 2020, ABC will host a three-hour (!) special episode to kick things off for Pilot Pete and the 30 women vying for his attention. But wait… will there actually be 31 women competing this year?!
Seriously, what the heck is going on with Hannah Brown's apparent return to the reality TV franchise??
Related: Hannah Apparently Thought 'The Bachelor' Was 'For Losers' Before She Got Cast!
Last we heard, Hannah Beast was somehow involved with Pete's upcoming season, and early teasers were REALLY making it seem like she was about to up and join the show as an unexpected contestant. But, like, could that actually happen?! After all, she was super busy all Fall on Dancing With The Stars, so there's no way she could've filmed both things at once, right?
And yet… the network has teased the upcoming group of lovely ladies to supposedly include "one hard-charging career woman who has already had a chance encounter with the Bachelor and sparks flew then." Hmmm… you don't think… ???
Beware — Spoilers Below!!!
Thankfully, there are a few things we don't have to guess about any more.
According to a brand new press release sent out by the show's producers on Tuesday, we're finally clear on what we can expect from this season's premiere — including Peter apparently getting rid of EIGHT contestants during that opening three-hour episode. The hunky pilot also takes nine (!) other girls on a group date to flight school — and one lucky contestant will accompany our leading man to his parents' vow renewal, as well.
Wow! Talk about a big first night!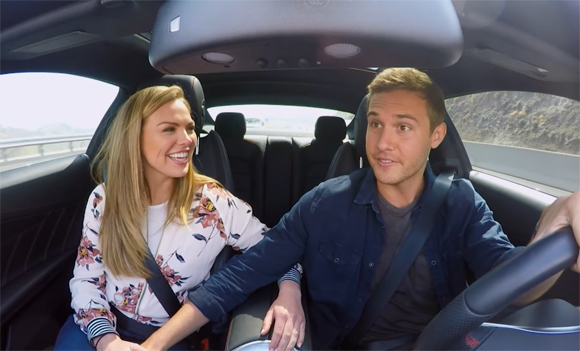 But where does Hannah come in to play here?!
Well, she pops up to host the second group date, according to that same press release, which reveals (below):
"In another huge surprise, Hannah B. hosts the next group date. She explains to the nine enthusiastic women that they will be revealing their most memorable sex stories and fantasies in front of a live audience. But what happens when Peter discovers a distraught Hannah backstage? What she shares with him will leave them both as confused as ever. Do the two of them still have feelings for one another and share the same sizzling passion? Will Hannah join the group of women in the Bachelor mansion and continue to date Peter?"
Ooooooh boy… here we go!!!
So we know she's at least making an appearance for the group date… and that wild teaser from late last month makes it clear she interacts directly with Peter, too. And we know these two have some, um, unfinished business to clear up after their infamous windmill incident. Does this all mean she actually joins the show, though?!
She couldn't possibly go back on The Bachelor again, could she?! There's just no way… is there??
Related: Jed Wyatt (Remember Him?!) Spotted In Nashville With New Girlfriend…
Guess we'll have to wait until 2020 to find out!!!!
What do U think, Perezcious readers?! Are we due for a LOT more Alabama Hannah in the New Year?! Will she finally rekindle all that built-up sexual energy with Pilot Pete?? Or is this all a red herring, and she's only around to host the group date?!
Sound OFF with your opinions and best guesses in the comments (below)…
[Image via Avalon/WENN/Instagram]
The post So THIS Is Why Hannah Brown Is On Pete Weber's Upcoming Season Of 'The Bachelor'! appeared first on Perez Hilton.