By now, we know that filming Game of Thrones was no walk in the park. The cast has regularly spoken out about how draining the grueling schedules were, with more than a few admitting it had affected their mental health.
Sophie Turner was certainly no exception. But for her, the struggles that came with filming were only exacerbated when she was asked to lose weight for the role.
In the June issue of Marie Claire Australia, the 23-year-old revealed that her body reacted to the demands of filming by slowing down her metabolism — which caused her to experience a minor weight gain that was apparently noticeable on camera.
Related:Â Did Sophie & Joe Jonas DITCH Their Other Wedding Plan?
She explained:
"I have experienced mental illness firsthand and I've seen what it can do to the people around [the sufferers] as well. My metabolism suddenly decided to fall to the depths of the ocean and I started to get spotty and gain weight, and all of this was happening to me on camera."
This weight gain, according to the newlywed, caused HBO execs to request that Turner lose weight — making the already demanding task of playing Sansa Stark all the more daunting for her.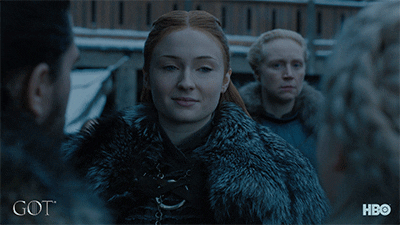 Like her on screen counterpart, the Dark Phoenix star was able to suck up her pain and deal with the pressures of her role. But Sophie had two resources Sansa didn't have: a therapist… and Joe Jonas.
Praising the wonders of talk therapy, she added:
"Everyone needs a therapist, especially when people are constantly telling you you're not good enough and you don't look good enough. I think it's necessary to have someone to talk to, and to help you through that."
For the actress, therapy was a life-saving resource, seeing as the negative comments about her weight were really starting to affect her mental health. In a recent interview with Dr. Phil, Turner admitted how debilitating her depression was at the time, explaining:
"I had no motivation to do anything or go out. Even with my best friends, I wouldn't want to see them… I would cry and cry and cry. Just having to change and put on clothes, I said, 'I can't do this. I can't go outside. I have nothing that I want to do.'"
In addition to therapy, Sophie's new husband, whom she recently tied the knot with in a surprise Las Vegas wedding, has also done wonders for her mental state.
Related: Sophie Hilariously Recaps Maisie Williams' MAJOR 'Thrones' Moment!
She added:
"I love myself now, or more than I used to. I'm now with someone that makes me realize, you know, that I do have some redeeming qualities, I suppose, and when someone tells you they love you every day, it makes you realize why that is, and I think it makes you love yourself a bit more."
Great to hear!
Sadly, not everyone struggling with mental health has easy access to a therapist or Jonas Brother. Hopefully, that will change as society realizes how important mental wellness is.
[Image via HBO]
The post Sophie Turner On How Pressures To Lose Weight For 'Game Of Thrones' Affected Her Mental Health appeared first on Perez Hilton.