Novak Djokovic clearly worked very hard during tennis lessons, but something tells us he may have slept through science class.
The Serbian tennis superstar drew some intense criticism last month after voicing his grossly ignorant hot take that he might refuse to be vaccinated for COVID-19 even if it was a requirement to resume the tennis season. Wait, whut??
Yes, as he explained in a Facebook Live chat:
"Personally I am opposed to vaccination and I wouldn't want to be forced by someone to take a vaccine in order to be able to travel."
That's right. He is opposed to vaccination. He is one of the growing number of folks around the world who are, with basically no evidence, against a medical procedure which has been protecting humanity from diseases like hepatitis and chicken pox. This isn't just a ridiculous but mostly harmless anti-science theory like, say, Flat Earthers believe. It's also proving quite dangerous already as parents refusing to vaccinate their children have helped caused outbreaks of whooping cough and other ailments.
Related: Coronavirus Conspiracy Theories — Debunking The Myths!
To say you are already opposed to a new vaccine which hasn't even been invented yet because you're convinced they're inherently dangerous? That's just absurd. His response was to say he has "the right to express my views."
We mean, yes, technically he is allowed to speak his mind but considering he isn't an expert in any of this, using his platform as a top athlete to give people his opinion on medical topics like this is actually pretty unethical.
Anyway, that was last month…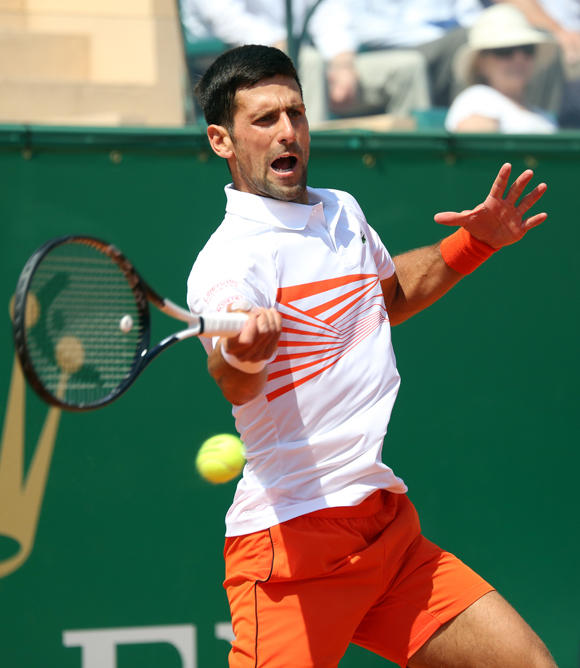 Today he's back in hot water for some far more bizarre nutritional ideas — which should show his fans just how much they can trust his scientific theories.
During an Instagram Live chat with his pal Chervin Jafarieh (who claims to use "the scientific method to create alchemy") on Wednesday, part of a series he's calling The Self Mastery Project, Djokovic warned:
"This is something that is not linked to any form of official way of presenting nutrition and how you should eat and drink."
Yeah, no s**t. He continued with a theory about using the power of the mind to remove toxins from food:
"I know some people that, through energetical transformation, through the power of prayer, through the power of gratitude, they managed to turn the most toxic food, or maybe most polluted water into the most healing water, because water reacts."
Yep. Using their minds to remove poison from food.
We cannot believe we have to say this for the second time in a month, but PLEASE EVERYONE READING THIS, DO NOT CONSUME POISON! No matter how strong your will, honestly, you do not have magic powers!
Novak continued:
"Scientists have proven that in experiment, that molecules in the water react to our emotions to what has been said. I truly believe that we should continuously every single day remind ourselves when we sit, that we sit without cameras, without phones, without watching things and stuff. Or even worse, having nervous [and] conflicting discussions at the table with your close ones during your meal."
While we certainly don't think it's a bad idea to take some time every day to reflect with no noise, we must say again, THIS WILL NOT GIVE YOU MAGIC POWERS!
Responding on The Tennis Channel, commentator Mary Carillo said:
"We know that he believes in meditation, in prayer, in holistic healing.He hated that he had to get his elbow cut, he tried to stave that off for a long time because he genuinely thought he could heal his own body…"
Djokovic has said he cried at the fact he agreed to have elbow surgery when he finally realized he couldn't HEAL IT WITH HIS MIND. The takeaway there should not be how bad the surgery made him feel, it should be that medical science was there for the tennis champ even if he didn't believe in it. And that he doesn't have magic powers.
Castillo continued:
"I'm very disturbed that Djokovic and that other guy are saying you can change toxic water to drinking water.This is dangerous stuff and when I looked at it… it already had half a million hits. I really hope he backs down from that."
Agreed!
Tennis writer Jon Wertheim said:
"He really needs to be careful, there are consequences to this.It's a very short jump to these conspiracy theories which now, more than ever, are really dangerous… I think there's a real responsibility that comes with being No. 1 and that includes respecting science and objective truth."
Hear, hear!
Remember, kids, 17 Grand Slam titles are an amazing achievement — but they are not a substitute for a medical degree!
[Image via WENN/Instar.]
The post Tennis Star Novak Djokovic Getting Dragged For INSANE Food Conspiracy Theory appeared first on Perez Hilton.