Is it just us, or is Tristan Thompson just the worst boyfriend of all time??
It seems like no matter who you believe, the Cleveland Cavaliers power forward just comes across has a sneaky, cheating jerk!
Last week old court docs leaked revealing Jordan Craig's claims against her baby daddy.
Related: Are Kylie Jenner & Jordyn Woods Friends Again?
She called out Tristan for cheating on her with Khloé Kardashian, whom he very publicly started dating WHILE SHE WAS PREGNANT WITH THEIR SON.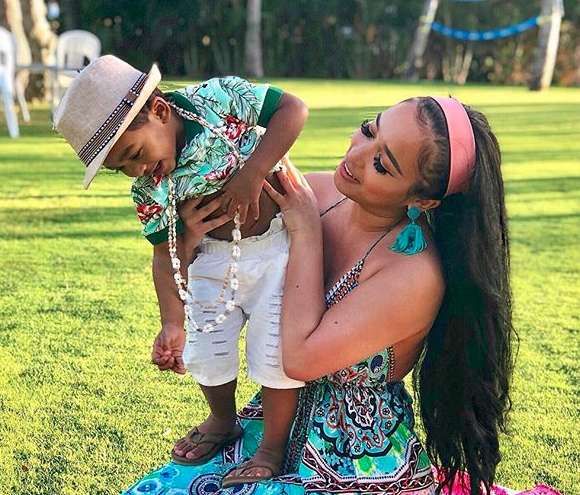 Khloé defended her part in the dalliance.
In a lengthy public explanation on Instagram, she claimed Tristan told her his ex was pregnant but assured her they were no longer dating. She even double checked with Tristan's mother and lawyers to be sure!
Y'all. If you trust a man's word so little that you ask his lawyers… maybe consider that a dealbreaker?
We should note people already aren't buying the KUWTK star's version of events.
But the latest reveal may prove Tristan was even less done with Jordan than anyone realized!
According to a January court deposition obtained by Radar Online, Jordan claimed Tristan paid her over $100 grand to remain single! While he was dating Khloe!
As part of the ongoing custody battle, she told lawyers her ex paid her a hefty installment in November 2017 (months after he and Khloé had gotten pregnant). When asked why, she explained:
"Well, if we really want to put this on here, that was part of a bribe."
A WHAT now??
"[Tristan] would help me if I wasn't, like, dating anybody or talking to anybody and that I would have to come see him."
He paid to keep his ex single? What, in case he decided to go back? What, did he think he could just keep leasing her like a spare apartment??
Jordan said she accepted the money — $112,000 in total — to help her take care of their child, which seems rational to us. (But shouldn't he have been paying child support anyway?)
Tristan fired back in his own deposition, saying:
"No one ever said about not see or date anyone. All I please said is, if you're a single woman, I wanted to request her not to have random men around my child."
That sounds to us like it could be the same ask — just worded differently. And he isn't denying the payments. Huh.
In any case, Tristan should have been paying to take care of Prince regardless of what his baby momma was doing or with whom she was doing it.
So long as the child is safe, her love life should have been none of his concern.
Again, unless he was trying to keep his options open just in case this whole Khloé thing didn't work out?
THAT at least we believe Khloé didn't know anything about!
What do YOU think, Perezcious readers? Does this sound like the kind of thing Tristan would do??
[Image via Khloe Kardashian/Jordan Craig/Instagram.]
The post Tristan Thompson's Ex Claims He PAID Her To Stay Single While He Dated Khloé Kardashian! appeared first on Perez Hilton.