One of the most enduring conspiracy theories about the Donald Trump presidency is that the Unindicted-Co-Conspirator-In-Chief never actually wanted to be president in the first place.
Essentially, the plot goes Trump makes a ton of waves running for office, boasting nonstop about how he has secret ways to fix everything (without ever actually giving anyone firm descriptions of policies). He complains the "rigged" Washington system will never let him win, so when he loses he can blame the swamp and continue to rail against whoever's in the White House — maybe even with his own Fox News-like 24 hour news network called Trump TV.
Video: Trump Jr's Embarrassing Appearance On 'The View'
According to this theory the problem was actually that he won, which meant he suddenly had to do this job for which he was woefully unqualified. Not to mention he was suddenly in a Producers-style pickle where any illicit things he did during his campaign — which would likely have been forgotten had he lost — were suddenly put under a microscope by federal watchdogs, oversight committees, prosecutors, etc.
Hence the slew of investigations into Russian cyber attacks, hush money payments to porn stars, and even funneling money from his charity into his campaign.
[Per a brand new ruling by the NY Supreme Court, he absolutely committed this last offense — he has officially been ordered to pay back $2 million to nonprofit organizations. The judge actually went easy on him, declining to BAN HIM AND HIS KIDS FOR LIFE from working in charity again, something which was actually on the table.]
OK so back to that whole Producers theory…
One of the biggest pieces of evidence keeping the idea going? Trump doesn't seem to like being president.
He spends so much of the time at his golf courses, at exorbitant taxpayer expense of course, and live-tweeting daily viewings of cable news. The only part of the job he really seems to revel in is his campaign rallies, which for some dumb reason never stopped once he got elected. It seems normalized now, but think about it… he has been running for president THIS ENTIRE TIME. He never stopped.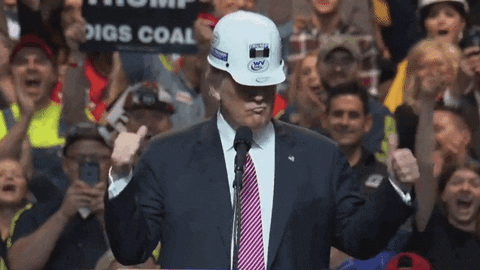 Is it because he wanted to run but didn't want the job?
Well, there's a new piece of evidence backing that up today. According to a report in The Daily Beast, Trump and his Apprentice producer Mark Burnett have kept in contact because he still plans on going back to reality TV.
Per the outlet, the POTUS has "confided to close associates" he really misses his old job, and according to one person "with knowledge of the situation" they're even workshopping ideas for the next show for right after he leaves office.
Yep. It's The Apprentice: White House. The source says:
"There have been several discussions between Burnett and Trump about The Apprentice: White House. It is something Burnett thinks could be a money-spinner and Trump is very keen on doing."
Another source corroborated the wild claim, saying,
"They actually talked about an Apprentice: White House."
But this one also noted, "as far as I know, the discussion did not go far."
Here's the thing. We want this to be true so, so badly.
Not because we fancy the office of the President of the United States having more dignity removed from it, and certainly not because we were missing that stupid, fake ass reality competition show in our lives.
No, we want this to be true because we want Trump to have a GOAL in leaving office. Something to look forward to.
Frankly, the way he's been going the past couple years everything has tilted away from buffoonish faux billionaire TV star and toward authoritarian dictator.
The attacks on the free press, the war with the FBI and our national intelligence agencies, breaking commitments to our allies, reaching out to corrupt leaders like Kim Jong-Un and Vladimir Putin… Most recently his lawyers have made the argument in court that he is above the law, not even able to be investigated if he literally shot someone on 5th Avenue.
If all these red flags lead to an embarrassing reality show instead of the end of American democracy, we'd be so happy to be wrong.
A spokesperson for Burnett has already denied the report, saying:
"The quoted statements attributed to Mr. Burnett are absolutely false. Among other things, The president and Mr. Burnett have not discussed making television shows in any shape or form."
Of course, this wouldn't be the first time Burnett has covered for Trump, as he has been lambasted in the past for refusing to release b-roll footage of Trump on Celebrity Apprentice, which many sources have claimed would show the TV star being racist, sexist, and perhaps even more effective at severing his ties with his base — a complete moron.
Do YOU think Trump will try to return to reality TV??
[Image via Alberto Reyes/Carrie Devorah/WENN.]
The post Trump In Talks To Make 'The Apprentice: White House' — REPORT appeared first on Perez Hilton.