Does Wendy Williams have a new man in her life already?
We can't help but think so after the TV host posted a very telling photo of herself and a new, mystery man hanging poolside together on her Instagram feed on Monday.
Yes, her actual feed and not her IG story. So we have to assume this guy is important!
Related: Wendy Breaks Down Over Questions About Her Son & Estranged Husband Kevin Hunter!
As we've reported, the Wendy Williams Show host is in the midst of her separating from her husband and longtime manager Kevin Hunter. The decision to part ways came after some long and hard conversations about Hunter's infidelity, which included fathering a love child with his mistress Sharina Hudson.
Wendy's been putting on a brave face through it all though! She told her studio audience back in May that not only has she been working on her physical and mental health, she's also been "rediscovering" a "love of men" and going on dates as a single woman living in NYC.
So maybe we shouldn't be so surprised that she posted this romantic shot (below):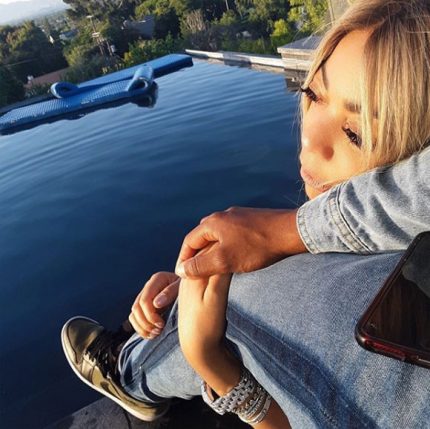 She captioned the post with her unidentified bae, saying:
"Last night was the most beautiful sunset in Sherman Oaks with special people. Thank you, California! You've won me over! I'll be back for the Hip Hop Festival in August! #92.3 #oldenoughtobeyourmother #verysexyman #mynewlife"
Although we have no idea who the lucky guy is yet, those last few hashtags certainly give us a few clues!
For starters, Wendy just officially joined the cougar club as she hints that she's old enough to be her new man's mother. Ha! We're not mad at it, gurl!
And the guy is apparently good looking too, if the #verysexyman bit is to be believed. At the very least, he appears to be well-dressed in that Canadian tuxedo he's rocking along with those trendy sneakers. A younger look, indeed!
We do have something a bit more concrete, though.
Sources close to the former radio personality told TMZ that mystery bae is in his late 20s, and that they met over the weekend while Williams was hanging out with Blac Chyna. The sources add that although she's not ready to jump into a relationship just yet, Wendy does like him enough to keep him around.
Considering everything she's gone through over the years, from personal health struggles to literally giving her all to a marriage that left her broken on so many different levels — we are more than happy to see Wendy smiling and in a good place with someone new!
Even if it is something as casual as a young fling. The woman certainly deserves a bit of personal happiness right now!
What do YOU guys think about all this? Is it too soon for another potential relationship, or is the best way to get over someone is by getting under someone else? LOLz…
Sound off in the comments below!
[Image via IZZY/WENN]
The post Wendy Williams Teases New Romance With 'Very Sexy' Mystery Man — See The Photo! appeared first on Perez Hilton.