Britney Spears is on the long — but stable — road to recovery!
According to an Us Weekly source, the Pop Princess is feeling "revitalized" after her 30-day stay at a Los Angeles-area mental health facility, and is working to get herself back to the state she was in before her dad, Jamie Spears, fell ill in November 2018.
Related: Britney's Collaborator Says Things Are 'Off' Amid Her Wellness Struggles
The insider revealed:
"She's going to continue with outpatient [treatment] three days a week and she's taking her medication as prescribed."
Sounds like doctors finally found the right cocktail to stabilize the songstress with — which, as we reported, was something they were struggling with throughout her stint in the treatment center.
Aside from pharmaceutical assistance, Brit is also said to be getting nonstop help from her loved ones. The Us source noted that the Grammy winner's mom, Lynne Spears, is staying with her while dad Jamie apparently continues to recover from his health scare.
Naturally, the Toxic performer's boyfriend Sam Asghari is also continuing to be a sculpted pillar of support for her. Per the source, the 25-year-old has been visiting her Thousand Oaks, California home "around the clock to make sure she's OK."
Related:Â Miley Cyrus & More Celebs Send Britney Love!
The source noted that Britney "has a long road ahead" before she's ready to return to the spotlight, adding that she's been keeping busy by "working out, doing yoga, meditating and really trying to get herself back to the place she was before her father got sick."
Endorphins are great for the mind! Just see how at peace the mother-of-two looks in a workout video she posted last week (one that fans are convinced was not recorded recently and merely uploaded by Brit's management to keep up Insta-appearances amid the #FreeBritney movement):
The update on the 37-year-old's health comes amid undying fan speculation that her situation is much more dire than these "sources" are making it seem.
While the official story is that Britney made the decision to check herself into the wellness center because she was having a hard time coping with her dad's health issues, #FreeBritney believers argue that Jamie had made that up — and that the pop icon was actually being held against her will.
These unsettling rumors eventually caused the songstress to break her social media silence with an Instagram video update, telling her fans that "all is well" and asking them for privacy as she deals with her situation.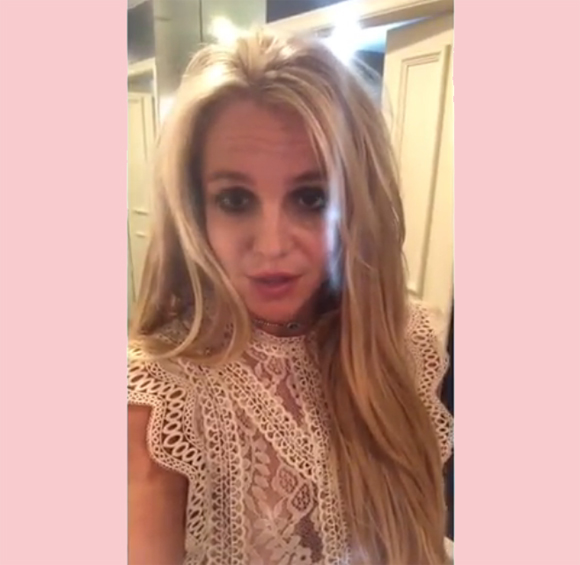 Still, many weren't convinced that Brit was in control of things — including her ex-manager Sam Lutfi, who suggested that the singer was forced to break her social media silence by her management. Many fans agreed, flooding her page with comments in support of the #FreeBritney movement.
As we reported, Britney was released from the wellness center on Thursday, April 25, nearly four months after announcing that she was taking an indefinite work hiatus.
She may be free… but based on these new claims, it might be a minute before fans get to see her out in public again.
[Image via Judy Eddy/WENN]
The post Yoga, Meditation, & Meds: Inside Britney Spears' Recovery Journey After Her Mental Health Treatment appeared first on Perez Hilton.