Twenty years ago, Anne Heche and Ellen DeGeneres made history… and now, the 51-year-old actress is looking back on it fondly, and with the wisdom of perspective!
Heche is the cover girl for the September issue of Mr. Warburton magazine, opening up about dating Ellen back in the day as part of the many topics she discusses in a wide-ranging look at her career, life, and legacy for her feature interview.
Related: Kevin Hart Meets Up With Ellen For Lunch Amid Ongoing Talk Show Scandal!
Despite Ellen's more recent talk show controversies of the past several months, it's clear Heche has nothing but warm memories of the now 62-year-old comedian and their time together as a couple (shown above at the 1999 Vanity Fair Oscars party).
She explained more to the mag (below):
"Our time was a beautiful part of my life and one that I wear with honor. I was a part of a revolution that created social change, and I could not have done that without falling in love with her."
Of course, the world was a very different place twenty years ago, too. Heche was escorted out of her own red carpet premiere for the 1997 disaster film Volcano, simply because she brought DeGeneres — who had just come out as gay on her sitcom, Ellen — as her date to the major media event. It's almost unthinkable that something like that would happen now, but that's how far we've come in two decades.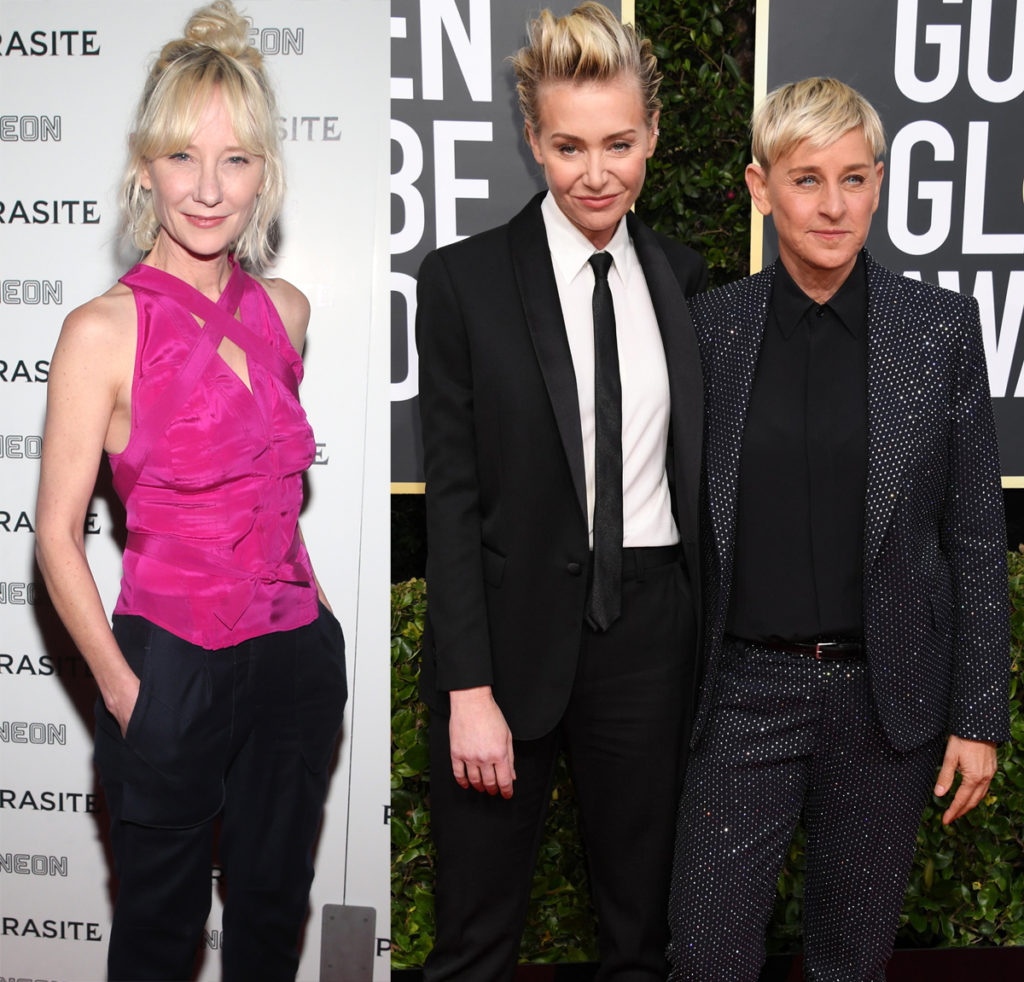 Heche recalled that time in her life for the mag, further imploring readers to continue to fight for equality, kindness, respect, and justice in all forms, saying:
"The difference between what would happen today and what happened then is that I would not have been ushered out of my own premiere and fired from a multi-million dollar picture deal with Fox for taking a girl as my date. I am proud to have been part of a revolution that helped move equality forward, but there is still work to do. I think every interaction we have should begin with whether or not we can look at and talk to other human beings with 100 percent respect. My answer will always be 'yes.' We have to agree that it's a possibility and that we all deserve it."
Amen!!!
Heche, who split up with Ellen in 2000, was also asked about the TV talk show host's more recent workplace controversies, too. The Ohio-born actress ultimately deferred to say much on that, though, noting it'd been years since she'd really been in the loop on Ellen's life:
"I haven't spoken to Ellen in years. I'd listen to the people who have. If I'm standing someplace and I don't like what's going on there and I stay there, it's my fault. So what are the actions that got me there and why can't I get out of it easily if that's not something that I want to be engaged in? Ellen is standing where she walks, and that is hers to continue that journey."
Interesting… if not a little hard to decipher. While not entirely clear, Heche seems to put her support by those who have interacted with her ex, so we can only guess she means the current and former staffers who have spoken out! Reactions, Perezcious readers? Sound off with your take on everything here down in the comments (below)…
[Image via WENN]
The post Anne Heche Reflects On Her Time Dating Ellen DeGeneres Amid Toxic Workplace Scandal: 'There Is Still Work To Do' appeared first on Perez Hilton.