Clayton Echard is clapping back HARD at his alleged baby momma!

As we previously reported, the 30-year-old was slapped with a paternity lawsuit from an unnamed 33-year-old podcast host in Arizona last month who claims she is pregnant with twins following a one-night stand with him back in May. She claimed after telling Clayton she was pregnant that he refused to believe he could be the father, saying they "only had oral sex." The alleged baby momma offered multiple times for him to take a paternity test, but he hasn't complied with her request.
Related: Two Bachelorette Alums Rescued From Sinking Boat!
Even when they eventually scheduled a test for August 23, The Bachelor alum allegedly never showed up. What a crazy situation, right?! You would think Clayton would do whatever it took to prove he is not the father, considering how much he denied it. However, Clayton insisted the woman's allegations were "baseless" and "lacking in merit." And now, he is attempting to clear his name.
The television personality took to Instagram Stories on Thursday and posted a screenshot of a receipt showing he allegedly paid $725 on September 21 for a paternity test. He also included an email to the clinic stating he will take his portion of the test on September 27 while the woman will take hers on October 2:
"Results will then take about a week to get back. I believe we're all on the same page now."
Clayton also noted that "this is the timeline" and "the truth will always set you free." And hours later, he dropped a bombshell claim of his own! Clayton followed up the screenshots with a post that read:
"Since posting, I've been notified (and have confirmed) that there are other individuals out there with nearly identical accusations being made against them by the exact same person. Some of the court cases are still publicly accessible and active."
Umm… WHAT?! See the posts (below):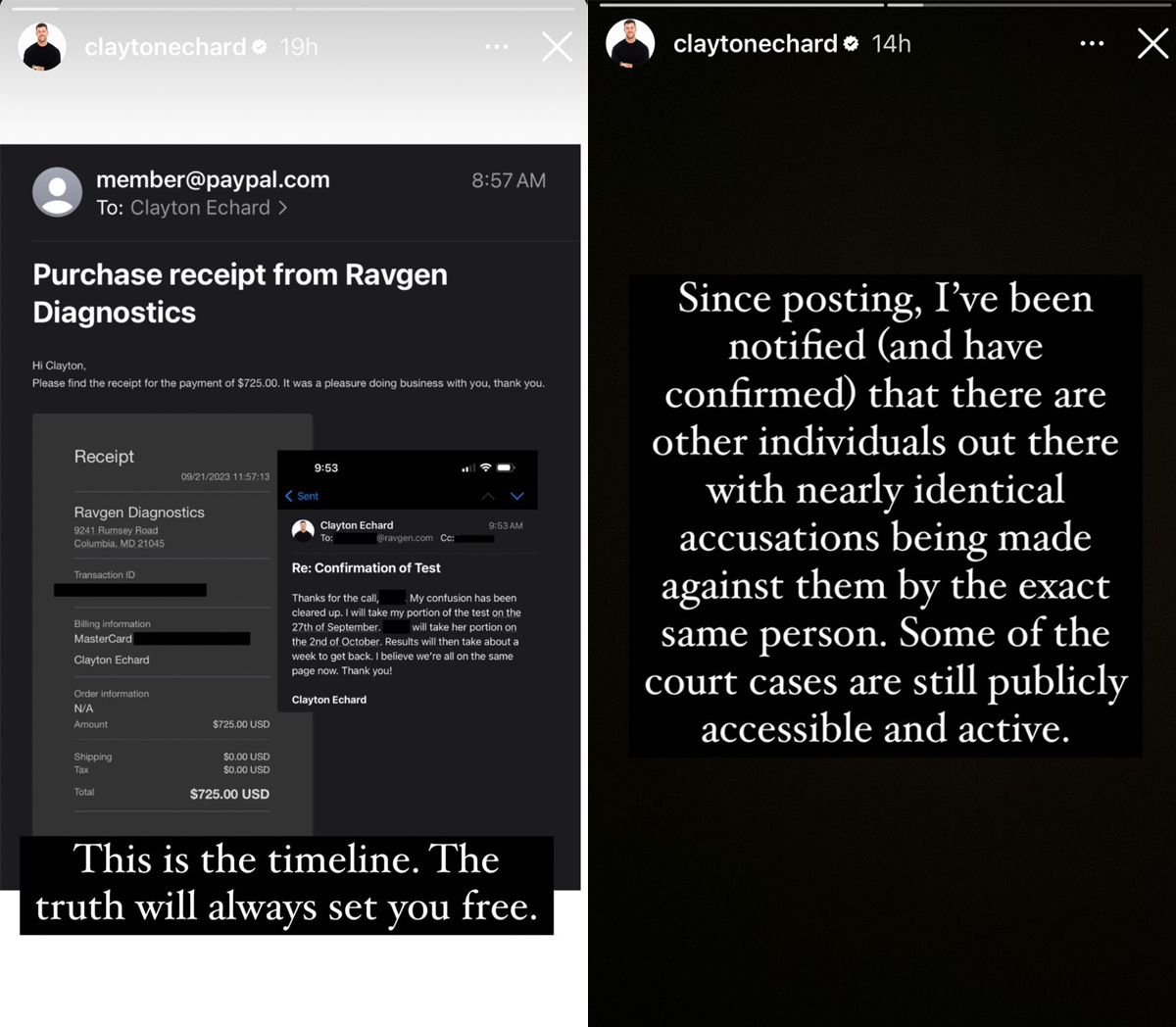 No other details have been shared by Clayton or come out, so take this new accusation from him with a grain of salt. But damn, this is turning out the be more dramatic than a season of The Bachelor and The Bachelorette!!
Moving forward, both Clayton and the woman will need to take the paternity test and attend an early resolution conference before heading to court on September 28. Then, apparently everyone will have to wait a week or more for the answers to this messy situation!
Thoughts, Perezcious readers?!
[Image via Bachelor Nation on ABC/YouTube]
The post <i>Bachelor</i> Alum Clayton Echard Claims Alleged Baby Momma Made 'Nearly Identical Accusations' Against 'Other Individuals' Amid Paternity Lawsuit! appeared first on Perez Hilton.