Danielle Maltby is telling her side of this sordid split story!
The 37-year-old Bachelor alum had been riding on cloud nine for the last year after meeting fellow reality TV star Michael Allio on Bachelor In Paradise early last summer. In fact, Danielle dug the 39-year-old and his 7-year-old son James so much that in February, she moved from Nashville to Cleveland to be with them!
But that all ended two months ago when Michael abruptly broke things off. And now, we are FINALLY getting the full story on how that split came about!
Related: Gisele Bündchen Admits 'Breakups Are Never Easy' Amid Tom Brady's Pursuit Of Irina Shayk!
On Monday, Michael went on fellow Bachelorette alum Jason Tartick's podcast Trading Secrets. During the show, he hinted cryptically that his months-old split from Danielle had been due to various incompatibilities. Seems simple, right? Case closed!
Or… NOT!!!!! On Friday morning, Maltby took to her Instagram Stories to reflect on Allio's comments. First, Danielle was shocked to find out Michael had dished publicly about the reasons behind their split at all. But mostly she was frustrated with how incorrect those claims were!
The newly-single star began by saying the split was "not a mutual decision" they'd reached together regarding "some perception of incompatibilities" as he'd implied. Instead, Allio dumped her — out of nowhere:
"Hi friends. Thank you all for the kind messages this week. I've been getting many notifications regarding Jason's podcast and while I was shocked to find out my breakup would be announced in this fashion, I feel I have to address it now. This breakup was not a mutual decision arriving at some perception of incompatibilities. However, I do hope the best for Michael and I will always have James in my heart as we move forward separately."
She went on to reflect how painful the last few months have been for her in a new city all alone:
"I know so many people were rooting for Michael and I, and I appreciate your support so much. I don't regret the love I gave for a second. While these last couple months have been extremely difficult and painful for me, I am succeeding in finding moments of joy in building a new life in this city, regardless of how I came to it. I have been extremely invested in my job, which I love and I feel hopeful again to discover what the future holds for me."
She then teased she was going to discuss the situation on the newest episode of her WoMed podcast later in the day on Friday:
"I will be talking about this a little more on today's episode of The WoMed only because there was no way around it – human emotions surrounding the egg retrieval process being what they are. Out of respect for the time we shared. love I have and honoring the fact there is a child involved, I won't be addressing this further. I would really appreciate the respect, time, and space to continue to heal and grieve what I believed was forever and hope you extend the same to Michael. I truly thank you all for the kindness and support you have shown me along the way."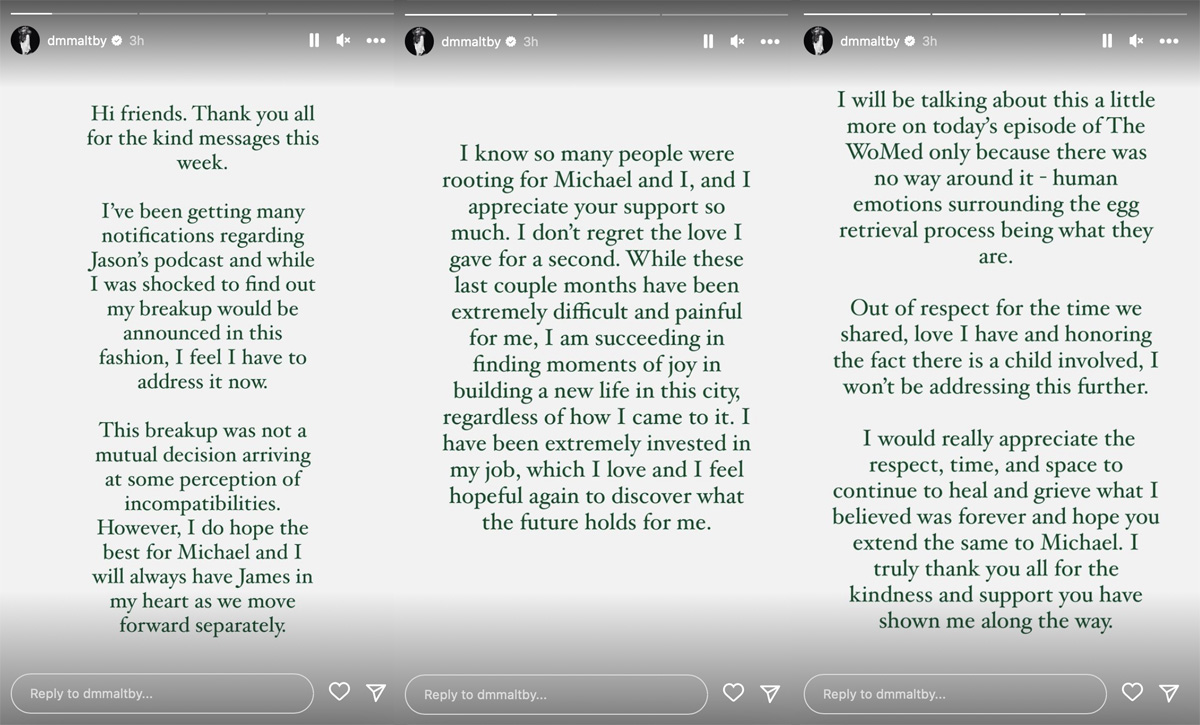 Sad!
And discuss she did! When the WoMed ep was released later on Friday, Maltby really opened up to close pal and co-host Jackie Camardo about the split.
Related: Celebrity Breakups Of 2023!
Most notably — and most shockingly — Danielle revealed Michael broke up with her with no warning ONE DAY AFTER SHE FROZE HER EGGS!!!!! She said:
"What's hard in talking about this really isn't the procedure itself, it's what came after. … The day after Michael and I got home from freezing my eggs, he broke up with me and I was very, very blindsided by it. Obviously still very emotional and hurt and confused. I still don't really have any answers."
Coming down from the hormones she took in the egg-freezing procedure made the breakup and its aftermath even harder:
"It was really difficult to come down off of this experience that I was so excited for and then to have to come down off the hormones while being in complete shock, like complete physical shock, I was just completely blindsided."
She also says she's mourning the relationship, including the loss of her connection to Michael's son:
"I'm grieving the loss of him. I'm grieving the loss of the future that I really believed in and I'm grieving the loss of James. And I'm grieving the loss of safety that I felt with him for the first time. He was the first person that ever made me feel safe in a relationship, that made me feel like I was enough. And then that was taken away."
Ultimately, with her future being "extremely uncertain," Danielle is at least glad she has eight frozen eggs with which she can start a family if she so chooses:
"It's really hard thinking back on the whole experience because it was a really beautiful trip. I was so proud of myself. Michael took great care of me and it was a very, very love-filled weekend and I ended up being able to freeze eight eggs, which now I am just incredibly, incredibly grateful for, as I am now alone."
Well, that's one way to look on the bright side.
Still… ONE DAY after freezing her eggs?! And no warning or signs beforehand?? That's brutal! What do YOU think, Perezcious readers??
[Image via Danielle Maltby/Instagram/Michael Allio/Instagram]
The post Bachelor Nation Drama! Danielle Maltby Says Michael Allio Dumped Her ONE DAY After She Froze Her Eggs For Him?! appeared first on Perez Hilton.