Dwayne Johnson and his family contracted coronavirus.
The Rock made the reveal in an 11-minute long Instagram video where he told his followers that not only did he test positive for the novel virus, but so did his wife Lauren Hashian and their two daughters, Jasmine, 4, and Tiana, 2. Calling it "one of the most challenging and difficult things" they've "had to endure as family," the actor described its emotional toll on him before later getting into their physical symptoms.
Related: Maskless Nancy Pelosi Under Fire For Getting A Blowout Inside Closed Cali Salon
The 48-year-old shared:
"Testing positive for COVID-19 is a lot different than recovering from nasty injuries, getting evicted or being broke, which I've been more than a few times. The reason I feel this is different is my No. 1 priority is to always protect my family, protect my children, my loved ones… so this one was a real kick in the gut. But I am happy to tell you guys that we as a family are good."
Thankfully, he and his brood are "no longer contagious."
"We are counting our blessings right now because we are well aware that it isn't always the case that you get on the other end of COVID-19. Some of my best friends have lost their parents, their loved ones, to this virus that is so incredibly relentless and unforgiving and it is insidious."
Without going into too much detail, the Jumanji: The Next Level star revealed his baby girls only suffered from a "little sore throat." He continued:
"Other than that they bounced back and it's been life as normal. Happy babies running around and playing."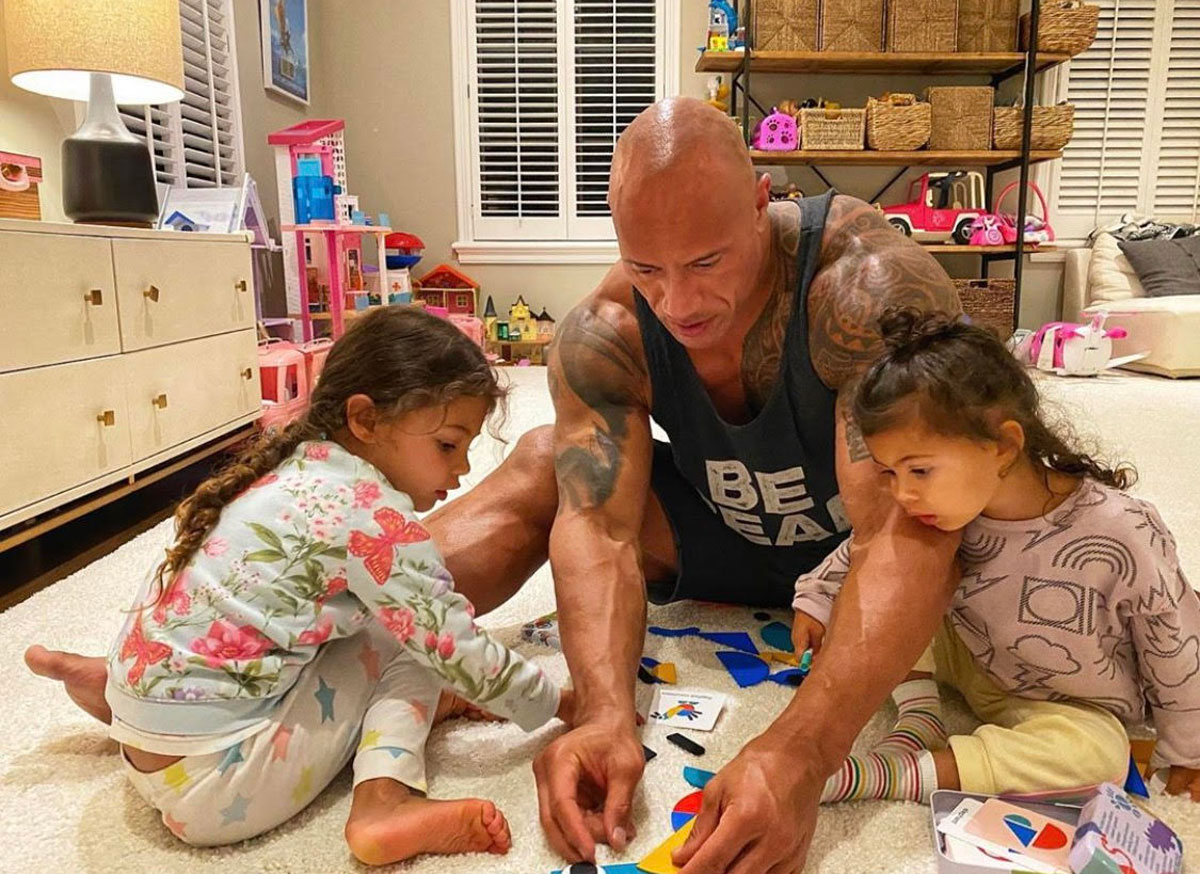 Dwayne and his wife had it much worse though, only describing their experience as a "rough go."
While he shared they've isolated themselves as a family, they contracted the illness from close family friends. Adding how they were "devastated" to have passed it on to their whole brood, their pals weren't even sure how they themselves caught it. Despite being "extremely disciplined" and "on lockdown," it seemed that a visit from those friends, even though they'd been strict about social distancing, still led to them getting coronavirus.
The former WWE star told followers:
"Having your friends over… of course you want that… Apply an even greater discipline to having people over to your house. If you guys are having family and friends over to your house, you know them you trust them, they've been quarantining just like you guys, you still never know. You never know. So, take an even aggressive measure… have them tested the day before. and if they test positive, you stay away. If you don't, you come over. "
He continued:
"Wear your mask, it is a fact, it is the right to do, it is the responsible thing to do, but also, not only for yourself or for your family or loved ones, but also for your fellow human beings… I am not a politician, I am a man who cares about my family deeply and will do everything I can to protect them, but I am also a man who cares about all of you guys."
Johnson concluded his important PSA with a note to echo his caption, which read in part:
"Stay disciplined.
Boost your immune system.
Commit to wellness.
Wear your mask.
Protect your family.
Be strict about having people over your house or gatherings.
Stay positive.
And care for your fellow human beings."
Watch his full video (below) to hear even more from The Rock about his experience, as well as what you can do to protect yourself and others!
Wishing the Johnson family a healthy and speedy recovery!
[Image via WENN/Instar]
The post Dwayne 'The Rock' Johnson And His Whole Family Got Coronavirus! appeared first on Perez Hilton.