As James Corden tells it, his Airpool Karaoke session with Kanye West involved a lot of turbulence before they ever got off the ground!
The late-night talk show host recently appeared on Jimmy Kimmel Live! and spilled the tea about the CRAZY process it took to get the Jesus Is King artist and his massive church choir to finally film their unique Carpool Karaoke segment in October.
Related: The KarJenner Fam Stars In Kanye's Music Video For 'Closed On Sunday'
As one would expect, it wasn't an easy task to lock down Kim Kardashian West's husband for the memorable singalong interview. Ye's schedule had been packed with Sunday Service appearances across the country and the rapper had been hard at work, revamping his once secular image into a more spiritual one.
We guess the musician couldn't keep up with his commitments since Corden revealed Kanye canceled on him TWICE early on!
The first time wasn't a big deal but the second time around, West and his team waited until the very last minute to notify James their one-on-one wasn't happening, at which point, he was already outside of the star's house!
UGH. We get it, things happen. But that's gotta suck for everyone involved…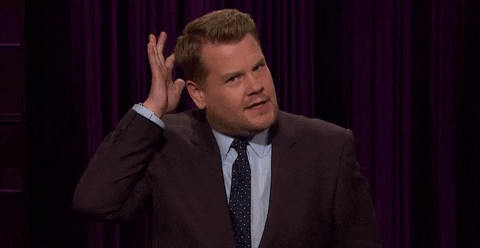 After dropping the ball two times in a row, Yeezy decided to kick things up a notch!
In an effort to make good on his promise to appear on James' show, he suggested they include his choir members (all 150 or more of them) and film the segment on "a bus or truck." The problem was Mr. West made this request on a Saturday and wanted the interview to happen two days later on a Monday — leaving Corden's crew very little time to organize permits and have everything in order beforehand.
The two decided it would be best to push things back to the following Wednesday but at 11 a.m. that morning, Kanye's team notified the British personality their meeting was off yet again. Sigh.
After three cancellations, Corden was all but convinced he wouldn't get to sit down with one of his dream guests. Luckily for him, the 42-year-old rapper circled back a fourth time with a huge alternative, explaining he wanted to get a plane for the special show.
Not only did that solve their space problem, well, would we expect anything less from the dude?
The 41-year-old host told Jimmy Kimmel he thought Kanye was going to cancel up to the very minute he stepped foot on that jet. However, he was pleasantly surprised the entertainer showed up and delivered the experience of a lifetime.
Reflecting on the heavenly, "incredible" moment, he explained:
"I will never ever forget what that choir sounded like on that aeroplane. It was an astonishing thing and I really thought, 'This is a once in a lifetime thing that I'll never ever be able to…I'll never ever forget it.'"
Their conversation did end up being quite memorable in the end and it sounds like it was all worth it to James!
Heck, it certainly should've been nothing less than that since those first few scheduling mishaps reportedly cost the Late Late Show $45,000 in expenses.
WATCH him tell it in his own words right around the four-minute mark, (below):
Perezcious readers, do YOU think the pair's nearly 20-minute discussion was worth all of the drama it took to make happen? Sound OFF with your thoughts in the comments…
[Image via The Late Late Show with James Corden/YouTube]
The post James Corden Says The Making Of Kanye West's 'Airpool Karaoke' Episode Was FULL Of Dramatics! appeared first on Perez Hilton.