Janelle Monae isn't getting ready for Hot Girl Summer. She's about to be Hot Girl Summer!
The Glass Onion star has forgone the Mona Lisa mystery and chosen to bare absolutely everything in a brand new tease for her new music! In a jaw-dropping Instagram video, Janelle steps out of a pool wearing a skin-tight wet t-shirt with the word "Pleasure" prominently featured in the area, let's face it, everyone was going to be looking anyway!
Related: Padma Lakshmi Blasts Trolls Upset About Her Boobs: 'I Have Nipples!'
At the end, the words Lipstick Lover, along with the date 5/11/23 fade in. Something tells us a lot of folks are going to be seeing that message over and over! See for yourself (below)!
The comments section, understandably, went wild, with SZA finding herself at a loss for words, writing:
"I typed and deleted 3 times . Ionno what to say but "
Champion sporting goods hilariously wrote:
"No one is even gonna notice those are our shorts. Excited for the drop tomorrow"
Taraji P. Henson just put up some blown mind emojis! Twitter felt the same way! Just look at some of the most hilarious reactions!
Lemme see why Janelle Monae is trending.

I hope nothing is wrong. pic.twitter.com/ECaqZmY9Ac

— dhoodson on spoutible too ???? (@dhoodson) May 10, 2023
Trying to see why Janelle Monae is trending on your work computer pic.twitter.com/LSDz1hggGf

— Sean. (@Melanism) May 10, 2023
"Luke, how many times have you watched the Janelle Monáe clip?" pic.twitter.com/LqdqhyUBlG

— I Partenopei (@hashy_larry) May 10, 2023
We're right there with ya! We were not prepared — funny enough, in retrospect Janelle was trying to get us ready tho!
The historically tuxedo'ed singer went glam — but lately has been fully dropping into her super sexy era. Just check out her revealing Met Gala look from last week!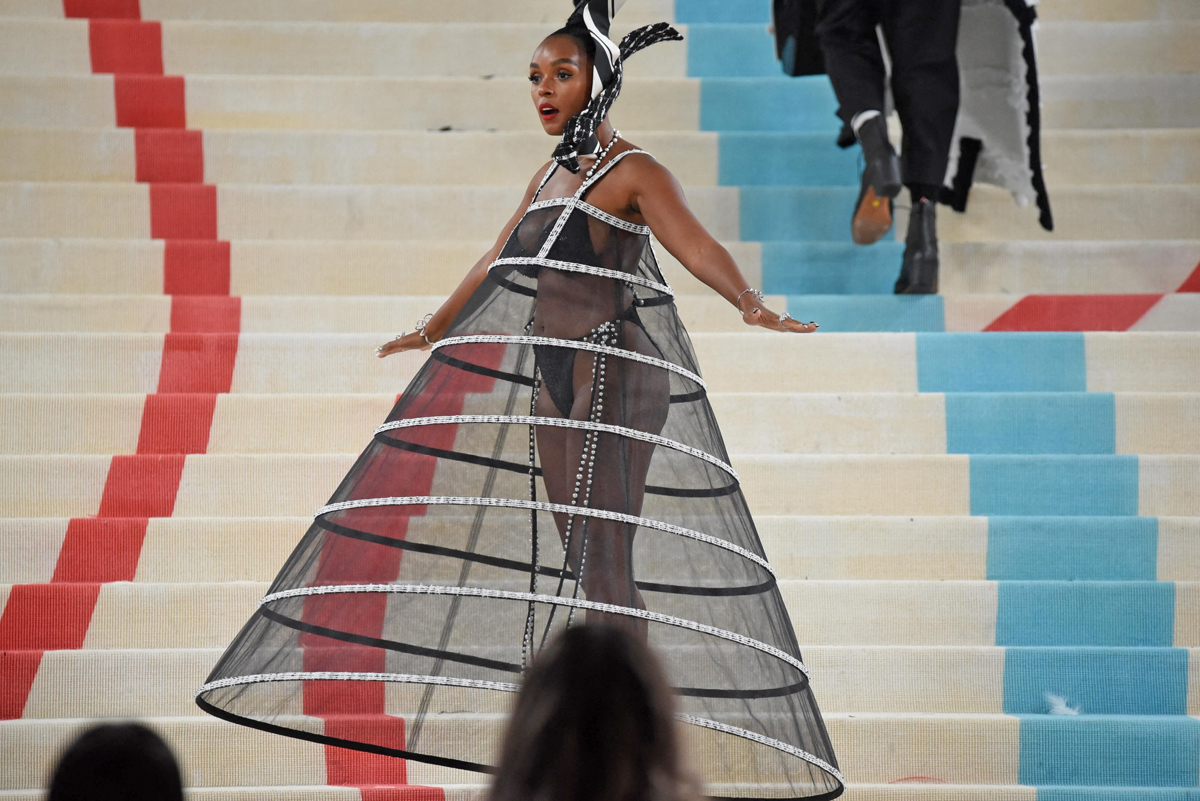 And it got even steamier when she performed at the after party!
Janelle Monáe teases Met Gala after party with new music pic.twitter.com/QJqBVqEIIn

— RNB RADAR (@RNB_RADAR) May 4, 2023
Ooh, fanning ourselves so hard we might take flight right now! Yeah, Janelle is about to be the moment on Thirsty Thursday — so this time listen up and BRACE YOURSELVES!!! LOLz!
[Image via MEGA/WENN/Janelle Monae/Instagram.]
The post Janelle Monae Leaves NOTHING To Imagination In Wet T-Shirt Vid To Tease New Music! appeared first on Perez Hilton.