Did anyone see this coming?! Kaley Cuoco and her husband, Karl Cook, have decided to call it quits after more than three years of marriage.
That was so out of nowhere…
In a joint statement to People on Friday, the 35-year-old actress and 30-year-old equestrian explained that while they still have a "deep love and respect for one another," they have decided to go separate ways. The former couple also mentioned that although they have been an open book about their relationship over the years, they now plan to keep their divorce private, saying:
"Despite a deep love and respect for one another, we have realized that our current paths have taken us in opposite directions. We have both shared so much of our journey publicly, so while we would prefer to keep this aspect of our personal life private, we wanted to be forthcoming in our truth together. There is no anger or animosity, quite the contrary."
Very vague reason, if you ask us. The exes continued, asking for privacy during this time:
"We have made this decision together through an immense amount of respect and consideration for one another and request that you do the same in understanding that we will not be sharing any additional details or commenting further."
Wow…
Related: Kaley SLAMS German Coach Who Allegedly Punched A Horse At Tokyo Olympics
As you may know, this is the second marriage for Cuoco, who married Cook during a small equestrian-themed ceremony in San Diego in 2018. The pair first met in June 2016, after the Big Bang Theory star finalized her divorced from her first hubby, Ryan Sweeting.
Since then, they have had quite the "unconventional" romance. Kaley and Karl actually did not even move in together until almost 2 years after their wedding. The 8 Simple Rules alum opened up about their decision to not live under the same roof during an interview with The View in 2019, saying they chose the living arrangement "because of work, and his business and his horses are a few hours away from where I was currently living." She then added:
"We're actually building our house together right now. We just haven't been under the same roof. But by the way, it's been working great and we love it. We love it, so I don't know why people have such an issue."
Perhaps living together was what ended their marriage? They do say you never truly know someone until you live with them sooo…
Innerestingly this seems to have come out of nowhere for the couple as well. Just a couple months back in June, the pair celebrated their third wedding anniversary. Kaley reflected on their whirlwind love story in a sweet Instagram post, gushing:
"NY, June 30th, 2016 is the year we met. 2 years to the day before we got married and now 3 years married! Why have you stayed married to me for so long?! I'm sincerely impressed @mrtankcook lol I love you oh so much you have no idea…happy anniversary!!!"
Her old flame also added in his own tribute:
"I agree @kaleycuoco I am just as amazed it's been been three years, feel like just a flash. I love you so much and I can't wait for a million more years!!"
Two months later, and look where they are now. It makes you wonder what could have possibly happened in just a couple of months…
The only thing we know for sure is that Kaley has been filming a romantic comedy with… Pete Davidson. Who also just broke up with girlfriend Phoebe Dynevor like two weeks ago. Huh.
OK, not that onscreen romances don't cross over from reel life into real life on occasion, but that really would be out of nowhere.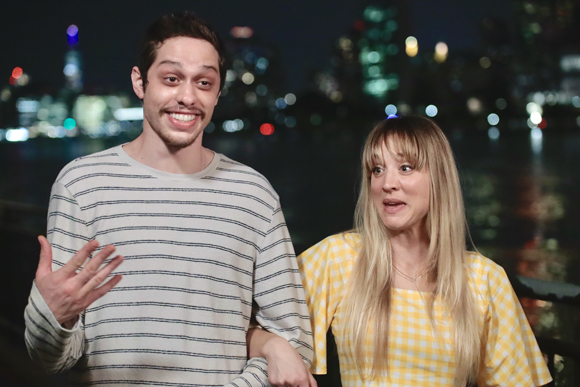 Are you surprised this couple broke up, Perezcious readers? Drop your reactions in the comments (below).
[Image via Adriana M. Barraza/WENN]
The post Kaley Cuoco & Husband Karl Cook Split After 3 Years Of Marriage! Read Their Shocking Announcement! appeared first on Perez Hilton.