Lea Michele has a message for fans hoping to see her on Broadway.
On Wednesday, the Glee alum took to Instagram to inform followers that she'd be bowing out of her Funny Girl performances that day, after her 2-year-old son, Ever, whom she shares with husband Zandy Reich, had been hospitalized with a "scary health issue." She uploaded a pic of the little one in what looks to be a hospital bed with a stuffed animal by his side and her arm draped over him, writing:
"I'm so sorry but unfortunately I will be out of @FunnyGilrBwy today. We are at the hospital with our son dealing with a scary health issue that I need to be here for."
Related: Hoda Kotb Emotionally Reveals Daughter's Hospitalization In Today Return
The 36-year-old apologized once more, asking fans for some "strength" as her son received care:
"I'm so sorry. Please send us some love and strength."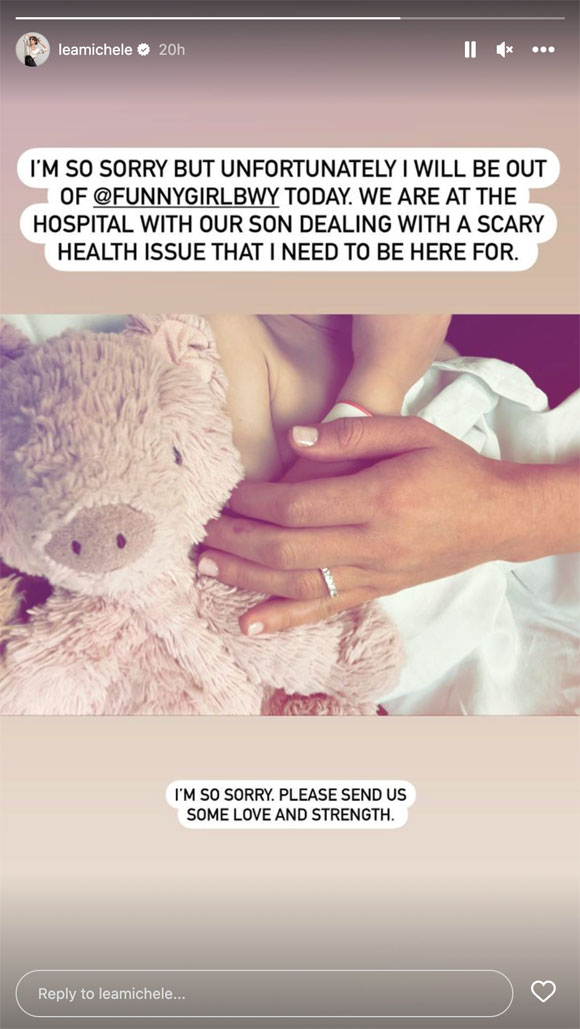 How terrifying — literally any parent's worst nightmare!
The Scream Queens star didn't specify exactly what her little boy was going through, but it has to be pretty serious if he wound up in the hospital. We just hope everything ends up okay.
Producers of the Broadway musical later confirmed Lea's absence from the Wednesday showings, adding a bit more details on Twitter:
"Lea Michele will be out of both the matinee and evening performance today, Wednesday, March 22."
But the show must go on, as they informed fans that Broadway darling Julie Benko would be filling in for Lea, who plays the role of Fanny Brice:
"Julie Benko will be your fabulous Fanny!"
As of now, there has been no word if Lea's absence will be limited to just Wednesday, or if she'll need to take an extended leave to deal with her son's situation. We'll just have to keep our eyes peeled for more updates… But in the meantime, we wish a fast recovery for little Ever and send lots of strength!
Related: Lea Says Her Glee Co-Stars' Criticism Has Been 'Eye Opening'
This, of course, all comes after producers revealed last July that the Brunette Ambition author would be stepping in to take over the Fanny Brice role from Beanie Feldstein, the younger sister of Don't Look Up actor Jonah Hill. At the time, Beanie announced her departure on Instagram, and the next day, Lea was cast. Sources say Beanie was "basically fired" after receiving bad reviews and poor ticket sales, which led producers to cut her contract short. However, a source at the time explained:
"Beanie decided it was best for her to leave on July 31st. The producers were aware of and in support of her decision. The producers and Beanie worked on this together professionally, respectfully and graciously."
From there, Lea stepped in, and ticket sales soared. As of now, the Broadway show is expected to close out later this year on September 3, with Lea set to ride until the end.
What are your thoughts on Lea's reveal about the show and her son's health, Perezcious readers? Let us know, and share your support in the comments down below!
[Images via Lea Michele/Instagram & ABC/YouTube]
The post Lea Michele Takes Break From <i>Funny Girl</i> After Son Ever Was Hospitalized For 'Scary Health Issue' appeared first on Perez Hilton.