Suddenly the birthday post makes so much sense…
Tom Sandoval and Rachel Leviss may have gone their separate ways after their affair was exposed, but it doesn't sound like the cover band star wanted things to end this way. Like, AT ALL!
His Special Forces: World's Toughest Test co-star Tyler Cameron sat down with The US Sun on Thursday to discuss all things Scandoval and what it was like filming with the Vanderpump Rules star in the middle of his media crisis. When asked if the other celebs on the show were showing any animosity toward the reality start 'cause he cheated on Ariana Madix, Tyler dished:
"Well, I don't think so. I think some people knew [about] it and everyone was curious to see how he really was. So, I think everyone took him for what he was in that moment."
Million-dollar question: what was he like?!
Related: Lala Kent Calls Rachel Leviss A 'Coward' For Blocking Tom Sandoval!
Tyler and him got into some "trouble" at the very start, he recalled:
"He would always get us in trouble, but he was always fun to be around. He brought a whole different element to it all, and he's definitely different, and he was something."
When pressed for more, he detailed:
"The first day, [Tom] got me in trouble because we were switching clothes and it was just funny, little stupid s**t. You know, running into places, being in places we weren't supposed to be and all that."
We wouldn't expect much else from Sandoval, TBH!
But rest assured, when he wasn't goofing off on set, the topic of his scandalous love life was all over, The Bachelorette alum noted:
"It definitely got talked about and he spoke about it. He was definitely open about everything."
The 30-year-old went on to reveal he was surprised Tom and Rachel weren't an item anymore. Reacting to the fact the SUR waitress brutally blocked her ex on socials after he wished her a happy birthday last week, the reality star shared:
"I was shocked. I thought he was going to try and make it work with her."
Hah! That message was DEF him trying to slide back in her DMs then! And it royally backfired!
We've already heard the TomTom co-owner "snuck in" photos of his ex-girlfriend to keep her close while going through hell on the competition show. So, he was obviously still attached! Meanwhile, Rachel was hard at work in a mental health facility — apparently working on how to cut him out of her life for good. Oof.
Teasing lots more to come on the Scandoval front, Tyler encouraged everyone to tune in by sharing:
"But there's some good story on that you have to watch on the show."
We're intrigued!
While Cameron couldn't reveal how long the bar owner stayed on the show, he "got what he asked for" — AKA to get punished HARD! The Florida native added:
"Oh yeah, he gets beaten up. I mean, he definitely put himself through punishment and the [producers] didn't take it light on him at all. They went after him."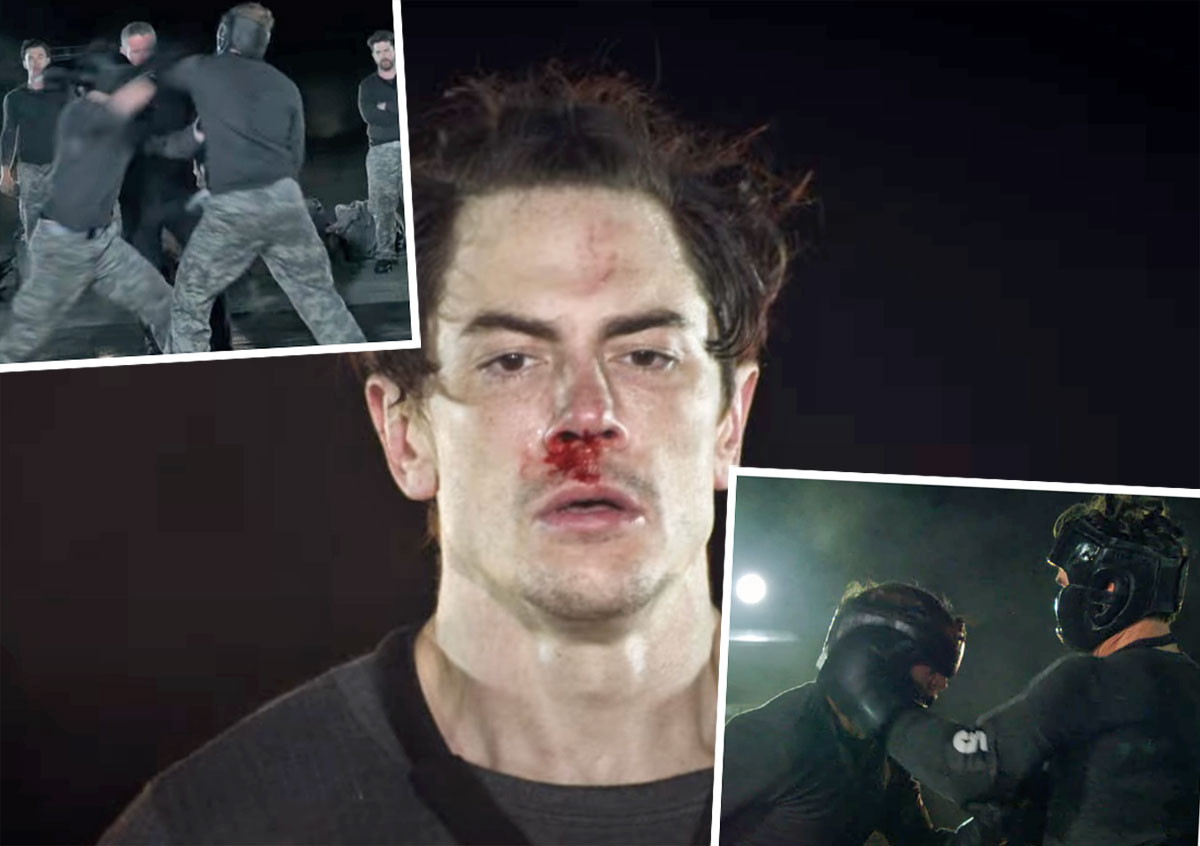 Whether it was all the punches to the face or the chance to look back on his life, Tyler thinks the 40-year-old "definitely" changed as a result of the FOX series, musing:
"I don't think anyone going on the show would not be [changed]. […] It got me more motivated again, got me more regimented, more disciplined and all that."
The Schwartz & Sandy's owner has been moving on with a new woman and seemingly leaving Rachel be (now that she's thrown up some boundaries), so, maybe that's proof he's ready to start a new chapter? But we'll have to wait for Special Forces and the new VPR season to confirm all that…
What are YOUR predictions, Perezcious readers? Is an endurance test all Tom needed to whip him into shape?
The post Tom Sandoval Wanted To 'Work' On Rachel Leviss Relationship -- But SHE Pulled The Plug! appeared first on Perez Hilton.