This is yet another story we can't believe Prince Harry put in his memoir!
The Duke of Sussex covered a ton of his family drama in the pages of Spare, which was released earlier this month, the wildest of which has been covered online. But even stories we already knew can be tinged with controversy based on how they're told…
Today, we're talking about the way Harry and Meghan Markle announced they were expecting their first baby. More specifically, the time and place they chose to do so!
Related: How The Royals Reacted To Kim Kardashian Buying Princess Diana's Necklace!
In the pages of his tell-all, the 38-year-old revealed how happy he and the Suits alum were to discover they were expecting their first child just months after tying the knot in 2018. The arrival was so exciting, they apparently couldn't wait very long to tell everyone — so they decided to break the news at Princess Eugenie's wedding in October! Yes, AT the wedding! That story was true!
Insisting the couple was "deliriously happy" for Eugenie and her groom Jack Brooksbank to be taking the next step in their relationship, the Archewell founder noted how he and his wife delayed the departure of their first royal tour as a married couple so they could attend all the festivities. The extra time at home also gave them "a chance to pull aside family members one by one and tell them our good news." His father, King Charles III, was first, he detailed:
"At Windsor, just before a drinks reception for the bride and groom, we cornered Pa in his study. He was sitting behind his big desk, which afforded his favorite view, straight down the Long Walk… He was delighted to learn that he was going to be a grandfather for a fourth time; his wide smile warmed me."
Then he sought out his brother Prince William, continuing:
"After the drinks reception, in St. George's Hall, Meg and I pulled Willy aside. We were in a big room, suits of armor on the walls. Strange room, strange moment. We whispered the news, and Willy smiled and said we must tell Kate [Middleton, AKA Princess Catherine]."
Harry then seemingly tried to blame William for making the announcement a bigger deal — yet he didn't make any acknowledgment that perhaps sharing baby news at someone else's wedding wasn't exactly appropriate to begin with. He added:
"She was across the room, talking to [her sister] Pippa. I said we could do it later, but he insisted. So we went and told Kate and she also gave a big smile and hearty congratulations. They both reacted exactly as I'd hoped — as I'd wished."
Just three days later, Buckingham Palace made an official announcement about the baby for the rest of the world to hear, as Harry and Meghan were beginning their royal tour. At the time of the wedding, insider guests claimed Harry and Meg had been blabbing about their pregnancy, but this is the first time it was actually confirmed by the couple. We kinda thought they'd stay quiet about it — or at least tell it with a little retroactive humility, seeing as most folks consider it gauche to upstage the bride!
By the way, we asked our Perezcious readers their take on this controversy at the time, and they largely agreed it was super rude of Harry and Meg to do such a thing. Ch-ch-check out the results (below)!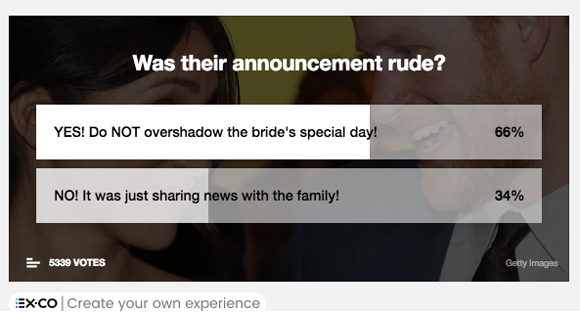 While Eugenie never acknowledged the shady situation, her sister actually seemed to two years ago! Back in May 2021, Princess Beatrice and her hubby Edoardo Mapelli Mozzi announced they were expected on May 19. You know, the date of Meghan and Harry's royal wedding back in 2018. Definitely intentional, right?! Perhaps not as bad as overshadowing a bride on her big day, but it's a solid riposte!
Luckily, it doesn't seem like Eugenie herself holds much of a grudge. She and Harry have maintained a strong relationship, even amid all his other family troubles. In fact, she's one of the only relatives he's still in touch with! And she and Meghan reportedly formed a bond as new moms!
Related: Chrissy Teigen Shows Off Newborn Daughter Esti's Face For First Time
Of course, this particular excerpt of the book caught fans' attention this week seeing as Eugenie and Jack just announced they will be welcoming their second child this summer. In an Instagram post, Prince Andrew and Sarah Ferguson's daughter gushed:
"We're so excited to share that there will be a new addition to our family this summer."
The palace quickly followed with an official statement, adding:
"Princess Eugenie and Mr. Jack Brooksbank are pleased to announce they are expecting their second child this summer. The family are delighted and August is very much looking forward to being a big brother."
So far as we can tell, there's nothing shady about this announcement date. The baby will be the first great-grandchild of Queen Elizabeth II to be born following her death in September. The tyke will be 13th in the line of succession to the British throne. So, now that you're caught up on all the baby drama, what do you think? Should Eugenie have been pissed about how Harry revealed his good news?! Should he have been apologetic in his book?? SOUND OFF (below)!!
[Image via John Rainford/WENN]
The post Yes, Prince Harry & Meghan Markle Broke Baby News At Princess Eugenie's Wedding -- And He's Not Sorry!! appeared first on Perez Hilton.